Comic book characters tell of life's journey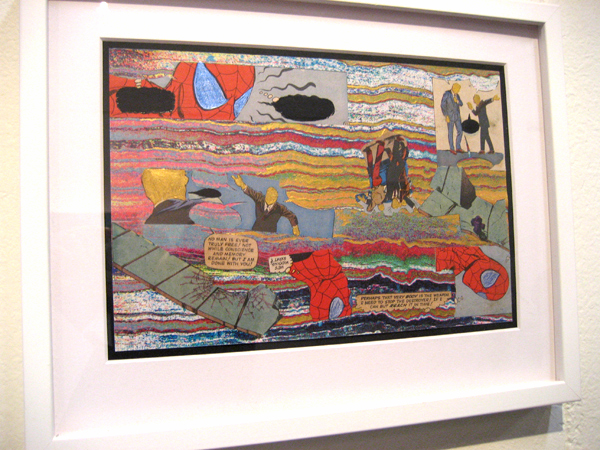 22 July 2015
By Andrea Moxham
Nik Sala's work as an artist speaks of childhood memories, his personal journey, overcoming obstacles and transformation.
"At the moment I'm laying down the actual comic pages on the canvas and painting on top of them, and glued to the surface, they're wrinkling, scaring and forming lumps, creases and marks like skin on the fabric. So even though the surface of the paper is smooth the way they've attached to the surface adds layers and becomes textured."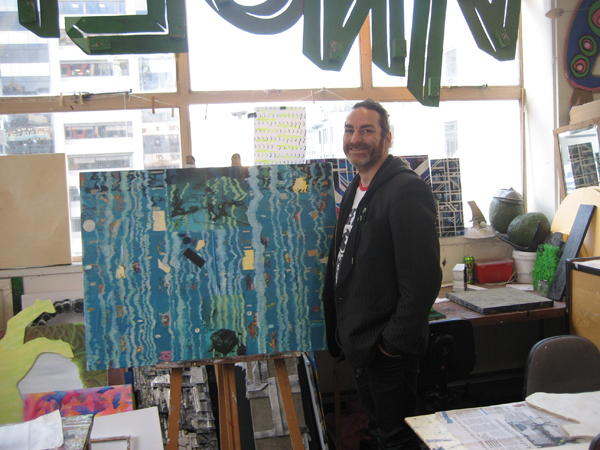 "I use British and American comic book characters I read as a child and teenager. These characters contrast action and violence, embedded in narrative, with the beauty of light, paint and colour in my painting," Nik explains.
As a young child he was influenced by Picasso and Cezanne. His mother encouraged his interest in art by taking him to the library to look at books on art.
Nik also works with wave forms, a ubiquitous pattern often used in stock market graphs, brain waves and radio transmission charts. He first discovered this wave pattern in nature when he photographed straight fence lines being distorted or bent in the water.
Therapeutic benefits of art
Nik says he used to experience post-traumatic stress disorder; he described how his experience with PTSD meant that his emotions and fears of earlier traumatic events would flood into the present. This flooding of emotions affected his memory and it became fragmented. He explains how the narrative in his art is also fragmented, as bits of memory, are recalled imperfectly.
Nik says therapy helped him to work through his experiences as a child and he finds that his art has therapeutic benefits as well.
In the late 1990's and early 2000's Nik majored in painting at AUT Auckland art school and he was able to partake in a prestigious Pittsburgh university scholarship for six months.
"I find doing art and education as a process in the arts, confrontational. At art school when issues came to the surface I didn't have the support or knowledge of who to seek for support," Nik says, "I didn't really know how to speak to the issues".
"In the comics there was violence and trauma but I didn't register that consciously as a child. The comic figures in my paintings have an element of shock, trauma or violence which corresponded with what I had to deal with in school and at home," Nik says, "sometimes physical violence but, more lastingly, the subtleties of psychological and emotional violence".
Vincents Art Workshop
Since August 2013, Nik has been working on his art every day, having found Vincents Art Workshop, an inclusive community art space, where he works from three times a week.
In the future Nik wants to keep working on his art and experiment with different mediums and materials.
He has an exhibition at Vincents Gallery running from 8-24 July, showcasing mostly his collage and painting artworks.
"For me this exhibition is a personal triumph. I've overcome something. It's been nine years since I've done a solo show."
The exhibition runs till 24 July at Vincents Gallery. Level 4/84 Willis Street, Wellington.