Access Radio gives voice to arts in community
16 February 2012
"Artists and their work are an integral part of our communities and access radio is a great way for people to hear about their projects," says Richard Benge, Executive Director of Arts Access Aotearoa.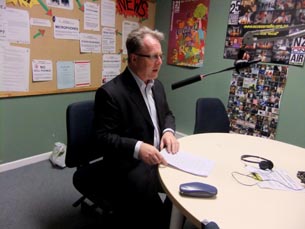 "The twelve stations across the country provide everyone with the chance to showcase their talents – either through an interview or producing your own radio programme."
This week, Richard was interviewed by Wellington Access Radio's Community Zone host Janice Ikiua. She asked Richard about the one-off Arts For All grants made by Creative New Zealand and being administered by Arts Access Aotearoa.
"We have a great relationship with Wellington Access Radio and they are always receptive to our story ideas," Richard Benge says. "They've covered our Arts For All stories – for instance, interviewing a blind person about her experience of an audio described performance of a play at Circa Theatre. They have also done excellent interviews with the recipients of our Big 'A' Awards."
Mobile studio
In August last year, Access Radio Taranaki got the go-ahead to buy a mobile studio that would give access beyond New Plymouth to more people in the Taranaki region.
Daniel Keighley, Manager, Access Radio Taranaki, says the mobile studio has already been very useful in providing radio access to everyone in the region. The very first use was in bringing the voices of Kuia at Parihaka Pā to the community in a way that would otherwise have been difficult.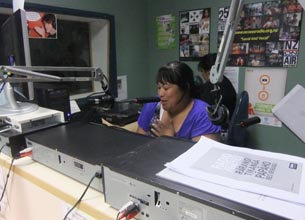 And South Taranaki's Youth Transition Services are in the process of building a show that will use the mobile studio.
Michele Burnside at the Taranaki Disability Information Centre says access radio "gives people an opportunity to explore radio as a medium they can use to produce their own shows".
The Taranaki Disability Information Centre runs a fortnightly radio show, covering a huge variety of people and themes. At the same time, they give each group as much control as they would like.
Michele recounts a time when they were approached by the local branch of the Royal New Zealand Foundation of the Blind wanting to produce a show. "Essentially, we stood back and let them do the show they wanted. In other circumstances, we bend over backwards to give groups as much support as they need to bring a show to air."
The new mobile studio at Access Radio Taranaki doesn't have much impact on the Disability Information Centre because it's based in New Plymouth and close to the studio. However, Michele says disability advocacy groups in South Taranaki are very interested in utilising the service.
Commitment to production opportunities
Other access radio stations around the country have the same commitment to providing production opportunities to the community. Jeff Harford, Community Liaison, Otago Access Radio hosts the Oarsome Morning Show.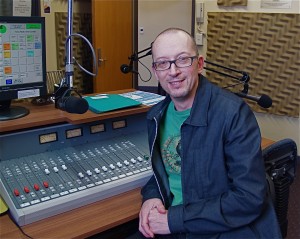 The programme is always on the lookout for community artists and events to talk about, Jeff says.
From broadcasting live performances of music to inviting performers to talk about new productions and tours, the Oarsome Morning Show is open for all. Richard Benge, for instance, was interviewed by the station when Arts Access Aotearoa visited Dunedin to introduce its Arts For All programme to the Dunedin City Council, arts organisations, venues and the disability sector.
The Oarsome Morning Show is just one of many programmes on the station, however, and Jeff says that the station's credo is "making programmes by, for and about communities – and that includes the accessible arts community. Come in if you have an idea, and we'll talk about how we can get you on the air."
He outlines what Otago Access Radio will do for prospective broadcasters. "Staff will sit down and help you outline what your needs are; identify the key people that would bring the show together; and train you to use the studio equipment so that you have complete control over your show.
"There are virtually no barriers to what we can help you to broadcast."
Artsenta and Airwaves show
Artsenta is a fine example of a community arts organisation in Dunedin that has a valuable relationship with Otago Access Radio. Every second Wednesday at 2pm, Artsenta hosts a radio show called Artwaves. Showcasing the creative space's musicians, singers and songwriters, the show covers a range of music, including original songs, along with poetry and story readings.
Jill Thomson, Director of Artsenta, says that Artwaves is another "string in our bow".
"Each fortnight two or three of us go down to the studio – sometimes playing favourites, music from our own musicians and requests from people listening back at Artsenta," Jill says. "It's also a chance to inform the local community of upcoming exhibitions and other activities. We've also managed to include folk from Oamaru, Balclutha and Alexandra as part of our Outreach Programme.
"We find that sometimes those who are shy to perform in front of an audience are happy to be behind the mike. Some just come alive in that situation and surprise themselves with a new found talent."