A brief to please himself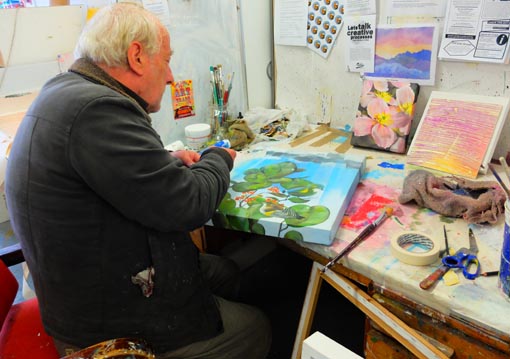 02 October 2013
By Susie McShane

"It keeps the creative process alive," says Michael Cox, a retired graphic designer, sitting at his paint-spattered desk surrounded by his latest works of art, colour palettes, picture frames and paint brushes.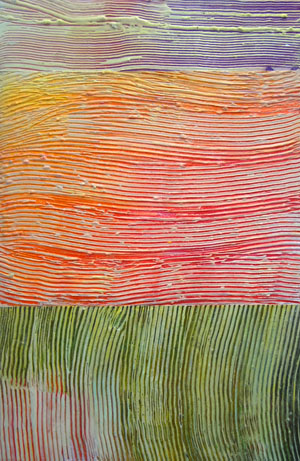 Michael worked in advertising for more than 20 years but when he stopped working, he found he couldn't simply stop creating. He needed somewhere else to channel his creativity, something to keep him going, a way to occupy his mind. He has found that "somewhere" at Pablos Art Studios, a community-based art centre in the heart of Wellington.
Michael attends Pablos five days a week for up to six hours a day and has been preparing work for a group show at ROAR! gallery called "Old Spice", running from 3 to 26 October 2013. He's also been working on pieces for the annual Pablos Art Auction on Tuesday 19 November.
These days, the creative process is different. The brief isn't to please a client but to please himself.
Now his art is more "sincere" and "personal". He isn't selling a product anymore; rather, he sees himself as selling a philosophy.
Combing the surface
A textured painting with muted pinks, purples and yellows rippling through it is propped up against his desk. He talks about how this effect is achieved. Firstly, pigment is applied to the canvas, plaster is pasted on and PVA glue mixed on top. He then takes a comb and combs the surface so the colour bleeds through the grooves.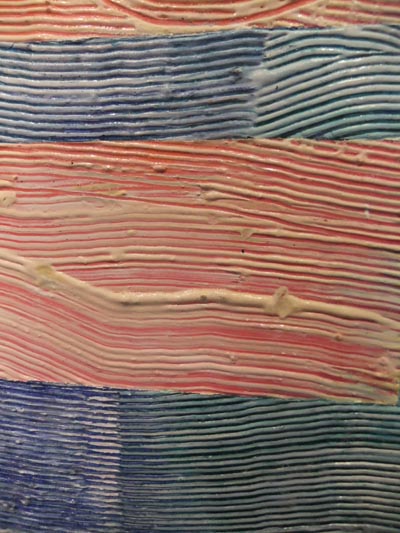 The resulting flowing lines represent a sense of movement, a kineticism, the passage of time and the connection between the past and the future. In essence, Michael says, they represent "time marching on".
Now that he isn't working all the time, Michael has a new-found appreciation for his surroundings.
"Before I would walk past a punga tree and not think anything of it. But just the other day, I saw a punga in my neighbour's garden and I thought 'wow, a punga'. I really looked at it and it inspired one of my paintings.
"Similarly, I've lived confronting the Hutt Hills from Brooklyn all of my life but I've never really seen them creatively until now. There are things I express through my paintings that I probably wouldn't express normally. I am more aware than ever before about what I'm doing."
However, Michael hasn't completely left the graphic designer in him behind. The hallmarks of his trade can be seen in the geometric shapes and patterns he uses to depict nature.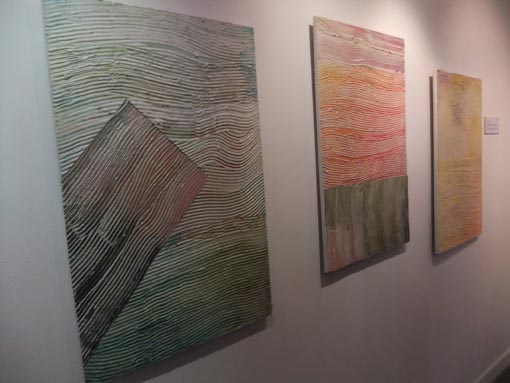 He prides himself on being able to combine "a design attitude and a natural feel". For Michael, it seems, the creative process itself is just as – if not more – important than the end result.
This process can vary. Sometimes it's instinctive. He has a picture in his mind and he creates it. Other times the process takes more time. He makes a sketch and builds on and develops the idea until he gets the spark he needs to start painting.
But each process has a common thread: they are all a voyage of "self-discovery".
The four works Michael is exhibiting in "Old Spice" are called Connectivity Warp; Insight Pathways; Future, Past Connects; and A Sunny Hypothesis. "Old Spice", an exploration of nature, time and memories, also includes work by fellow Pablos artists Bill Allan and Mark Addison. It's on at ROAR! gallery from 3 to 26 October.