C. S. Art: responding to the artist
Creative space: C.S. Art, Invercargill



C. S. Art in Invercargill, recipient of Arts Access Aotearoa's Big 'A' Creative Space Award in 2007, provides a safe and supportive environment for its artists to express themselves creatively and exhibit their art.
Michelle Dawson, co-founder of C. S. Art, says that receiving the award was a wonderful experience. "It was the inaugural award so to be honoured for our work was thrilling and quite a feather in our cap as we were a small, fairly new group at the time."
Exclusively for disabled people, C. S. Art operates from a rented room at the WEA building in the centre of Invercargill. "It's a very accessible facility and we are fortunate that the owner of the building gives us a very substantial discount in rent."
Tapping into creativity
The facilitators are Michelle Dawson, co-founder, art tutor and artist, who has a skill for tapping into an artist's creative self, and Lois McMillan, who is an exhibiting artist with creative flair and described by Michelle as having "real empathy for our artists". There are two relievers, Gina van Wichen and Richelle Waldron, who are "creative and artistic as well as instinctive and respectful".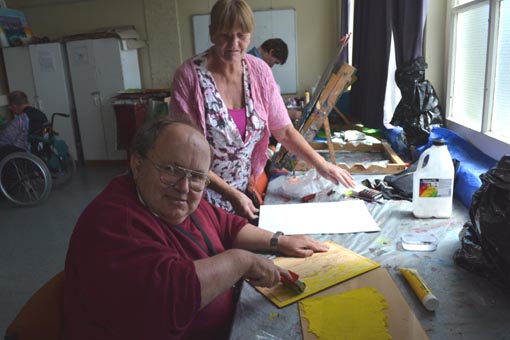 Rather than following a structured curriculum, C.S. Art prefers to focus on individual attention.
"It depends on what the individual artist needs and that's why it is so important to be instinctive when getting to know someone. It's like tuning into a television station. You watch and listen to find out what that person is saying visually. Then the expertise of the facilitator comes into play by offering different media, techniques and ideas to the artist."
People who attend C. S. Art are usually associated with other organisations in the community and come from a wide variety of backgrounds. "We work with the individuals and their organisations to make sure they can participate in as much as possible within the community. Once a placement is secured at C. S. Art, it is often kept for years."
Southland funders and support
Most of the funding for C. S. Art is provided by the Community Trust of Southland. Other contributors include the Invercargill Licensing Trust, Invercargill Creative Communities and Southland Education.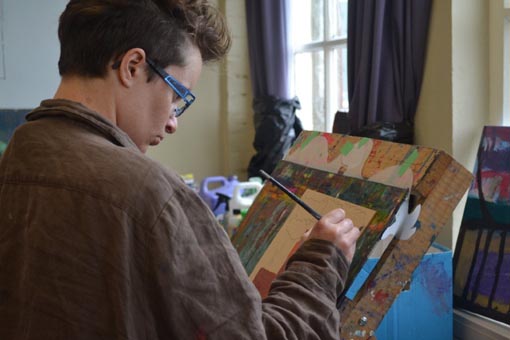 "We are fortunate to have the funders that we do here in Southland as they are local entities that all support what we're doing," Michelle says.
For artists attending C. S. Art, classes cost $5 each.
C. S. Art has an annual exhibition at the Southland Museum and Art Gallery in Invercargill. This year's exhibition, called Blocks – breaking the barriers, runs from 21 February to 23 March 2014.
C. S. Art will be making and selling greeting cards with images from previous exhibitions. "We would also love to collaborate with visiting artists who may come and share their teaching skills within the studio."
For more information:
Michelle Dawson
Art tutor, C. S. Art
T: 027 465 7337
E: michelledawson@slingshot.co.nz
Last updated 9 January 2014