Disability and dance strategy launched
6 December, 2010 "You can have all the working parties in the world looking at invalid benefits and the like, but if you want to see real progress and real value, come dancing."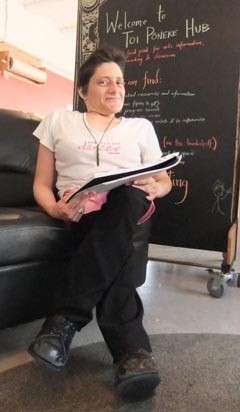 So says researcher and writer Bronwyn Hayward, author of the New Zealand Disability and Dance Strategy.
Subtitled Would You Like This Dance, the strategy is intended as a blueprint for the development of dance participation, creation and performance for disabled people.
As part of her research, Bronwyn surveyed disability service providers and organisations, disabled people and dance organisations throughout the country.
"I got back a really clear idea of what was or was not happening within the world of dance and disability."
Barriers identified by respondents were organised into five categories – visible (integrated dance recognised as part of the wider dance industry), accessible (dance spaces, information and experiences), skilled (education, training, mentoring and support), connected (networks, organisations and partnerships), and viable (visible, accessible, skilled, connected and funded).
'Chokka with actions'
The strategy is, in Bronwyn's words, "chokka with actions". There are more than 180 suggestions for removing or getting around the barriers.
"That's actually my point. I'm hoping that any individual or provider or organisation can find something they can start with."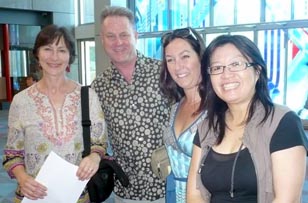 A common perception Bronwyn encountered during her research was that disabled people become involved in dance for therapy.
"Dance is dance. If you go dancing and find an aspect of it happens to be therapeutic, jolly good. But just because you're disabled doesn't make it therapeutic.
"Dance is transformative. I belong to a group called Integrated Dance Wellington. We meet on Saturday mornings. A young woman joined us five weeks ago. At the beginning of each exercise we let her know what we'd be doing and encouraged her to join in, but for most of the first two sessions she stood in the corner of the room, primarily with her back to us.
'Something beyond price'
"Last Saturday she and I did this amazing duet in front of the class, with her grinning from ear to ear. That is something beyond price."
Raising the visibility of integrated dance and educating young people about its value are key recommendations of the strategy.
"Starting early is absolutely critical," says Bronwyn.
"One can talk about disability awareness, or you can actually do it. We need to be providing and modelling real meaningful choices from early childhood onward, showing children that disabled people are valued members of society to be treated no differently from other people.
"If we want to expand the knowledge base of disabled dancers and teachers of integrated dance in the future, we need to be looking now at how we can set up career pathways. We can't wait for it to magically appear."
The strategy is supported by Dance Aotearoa New Zealand (DANZ) and funded by Sport and Recreation New Zealand (SPARC).
Blueprint for change
DANZ executive director Dr Tania Kopytko says although the strategy is for dance, "it provides a blueprint for how our environment can change in order that disabled people participate in our society more fully".
Bronwyn says the strategy is intended as a living document. The next step will be the setting up of a reference group to determine and drive the priorities.
"I'd like the reference group to cover able-bodied and disabled, dancers and non-dancers. It is important that the group – and the strategy – is New Zealand-wide. It's really hard dancing alone."
What Bronwyn doesn't want is for people to sit back and wait for things to happen.
"I want every single individual and organisation to take ownership. There is something in the strategy for everyone to work with. There are so many do's – and they don't all cost money. Start date is Saturday."