Up Down Boy tour opportunity
9 November, 2010 Communities, venues and creative spaces throughout New Zealand are being asked to consider hosting performances next year of a poignant British comedy inspired by the extraordinary life story of a boy with Down syndrome.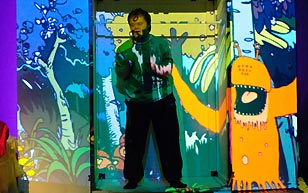 Up Down Boy will have its New Zealand premiere at the Capital E National Arts Festival in Wellington in March 2011, and the plan is to tour the production to other centres following the festival.
Workshops about the subject matter the production explores are also being offered as part of the New Zealand tour.
Produced by Myrtle Theatre Company from Bristol, Up Down Boy sets the imaginative inner world of the central character, Matty, against the reality of his mother's life on the day he is sent off to college.
She won't miss the slamming doors, the queue for the bathroom and the phone bills. But Matty is no ordinary teenager. Will his mum cope without him, will he cope with the challenges that lie ahead, and how will they fit the life-size model of Buffy the Vampire Slayer into the back of the car?
In this unique production, the gifted and charismatic Nathan Bessell plays Matty, drawing on his own life experiences.
As well as text, original music and dance, animation is used to highlight Matty's quirky yet honest humour.
Up Down Boy will appeal to mainstream audiences aged 12 and over, as well as being of significant interest to families that include a member with a learning disability, in particular those with Down syndrome, professionals who work with Down syndrome including teachers, social workers and health professionals, and people with Down syndrome themselves.
The Capital E Festival provides a dynamic platform for young New Zealanders to have access to professional, inspirational, quality arts experiences.