Challenging perceptions of who can dance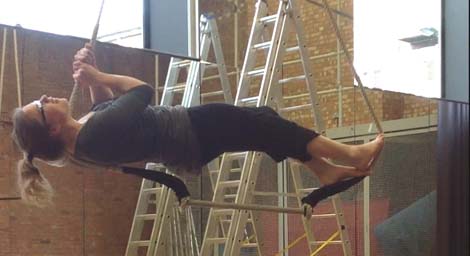 4 December 2013
By Elizabeth Henwood
Many of us would like to fly, to spin and flip through the air with grace and agility. Most of us don't get the chance but for Alisha McLennan, it's what she does for a living.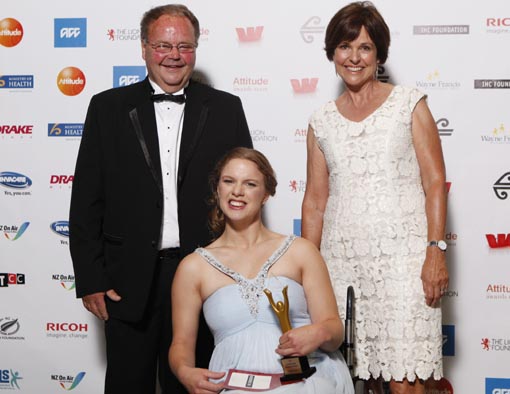 Alisha McLennan, a dancer in Auckland-based inclusive contemporary dance company, Touch Compass, specialises in aerial work with bungee and static rope. She recently added trapeze, silks and cocoon to the list.
Alisha's skills were acknowledged on 3 December when she received the Artistic Achievement Award at the 2013 Attitude Awards.
For Alisha, who has cerebral palsy, the Attitude Awards' recognition was a lovely surprise. "It's really nice being recognised for doing something I love. When people see me they may think that I'm not capable of being a performer but I am. I just love challenging people's perceptions of who can dance."

Hooked on dance
Alisha first got involved with Touch Compass and aerial work when she was ten-years-old. She had never danced before. "I did a couple of workshops and really enjoyed it. The second one was an aerial workshop and I was hooked. It's what got me into both the aerial work and contemporary dance."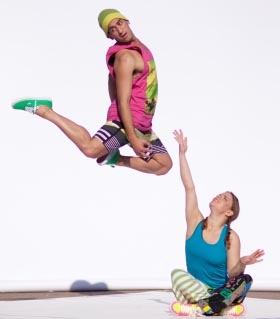 She first performed with Touch Compass at its launch in 1999 at the Auckland Art Gallery Toi o Tāmaki and then went on to dance in the youth flying performance, My Room.
At the age of 14, she joined the company, toured with Lusi's Eden in 2002 and performed in Lighthouse later that year.
Alisha has remained a member of the company. "I am one of the dancers and also work as a support teacher. We also get the opportunity to develop our own choreography, something I would like to explore more."
In a review of the InterACT Festival in October 2013, the reviewer described Alisha's performance with Touch Compass as "hypnotically watchable" and a "real stand-out".
She recently co-created with Melanie Turner a work called Two-Way Street, which was performed at You Dance and the Takapuna Grammar School Dance Evening.
She also tutors the Touch Compass youth class with Rebecca Solomon and Adrian Smith, and says she finds the work both challenging and rewarding.
"But all my experiences in workshops and classes here in New Zealand and internationally have given me so many skills and perspectives to draw on when I'm working with young people and also within the company."
Specialising in bungee-assisted dance
Alisha has attended workshops in England in aerial work and contemporary dance. An AIMES Award grant in 2011 supported her to travel to England the following year and participate in a four-day workshop with Wired Aerial Theatre, a company in Liverpool specialising in bungee-assisted dance.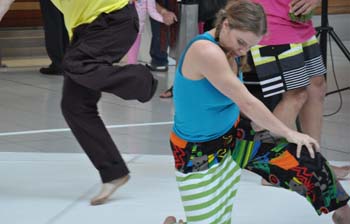 "The bungee was fairly new to me and it was my first experience of the vertical wall, where dancers work in harnesses next to a surface, much like a vertical trampoline," she explains.
This year, Alisha attended two workshops in England to learn new techniques and skills: a Candoco summer lab at Lancaster University and a Paralympic aerial legacy workshop in London.
"When I was applying for the Candoco Summer Lab I also heard about the Paralympic workshop and realised the two things could work together," she says.
"I was really driven by these two workshops and applied for a couple of grants. I also got a small grant from the Cerebral Palsy Society, which helped me get to the UK."
Alisha was one of only 15 participants selected to attend the Candoco Summer Lab and describes it as life-changing experience.
"I spent a week at the Candoco lab learning improvisation techniques. It was great being in a different environment. There were also optional evening classes so it was pretty full on.
"In the Paralympics workshop we worked on the silk, cocoon and trapeze. I was in the afternoon group and there were only four people in that workshop. There were only four teachers and so we got some great one-on-one sessions."
Looking ahead
Recently back from England, Alisha was straight back into performing. Looking ahead, she hopes to get the chance to do more choreography, and work more with Touch Compass's school and youth projects.
"Maybe even attend DanceAbility's teacher training … It's been on my to-do list for a few years now."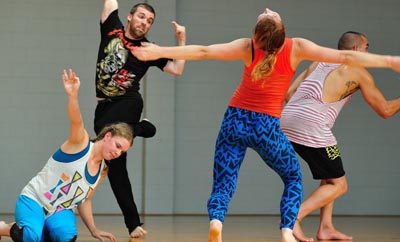 Asked what she rates as her greatest achievement in dance, Alisha says: "If I was asked that question ten times over the past three years, I think I would have given ten different answers.
"There are so many highlights. Touch Compass's fifteenth anniversary, three international workshops, watching students make huge progress and perform, an AIMES award, receiving the Attitude Artistic Achievement Award … and so much more. I really can't choose one. It's been an incredible few years."
Touch Compass is New Zealand's only professional inclusive dance company. It receives recurrent funding from Creative New Zealand.