Verbatim accounts of impact of violent crime
19 August 2011
Five years researching, devising and performing in the play Verbatim had a "massive impact" on her life, says Miranda Harcourt, a leading New Zealand theatre practitioner and patron of Arts Access Aotearoa.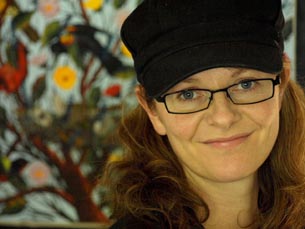 "It changed the way I act, direct and teach," she says. "The exposure to people who are in real pain because of what they have been through increased my humanity. It made me a broader person and even a better parent.

"I have seen very clearly the restorative power of drama in a prison context. We have to find ways to heal people to reduce recidivism, and drama therapy is one of the ways we can do that."
Drama therapy is the use of theatre techniques such as mime, role playing and improvisation to facilitate personal growth and promote mental health. It can help people solve problems, and gain personal insights into their behaviour and the choices they can make in the future.
A powerful and simple tool
For Miranda, who ran workshops in Arohata Women's Prison and then in prisons as part of the Verbatim performance, theatre is a powerful and simple tool that can heal and help the rehabilitation process.
"The great thing about theatre is the immediacy of the spoken word and its accessibility. Just about everyone can speak and most people can hear. Not everyone is literate, with free and easy access to the written word.

"Theatre is about story and telling your story can be empowering. Often with inmates, there's a strong desire to tell their story but to tell it to police, a probation officer or prison psychologist is risky. With drama, you can tell your story with no risk of a negative outcome. It's very freeing."

In addition, theatre is about fellowship, working as a team and developing relationships.


In 1990, Miranda did postgraduate study in drama therapy at the Central School of Speech and Drama in London. One of her placements was at Wormwood Scrubs Prison in London, doing drama therapy with inmates there.

When she returned to New Zealand in 1991, she wanted to mount a show that reflected back to prisoners what their actions had meant for their families.

"I'd found that violent offenders weren't interested in the impact on their victims. What did interest them was expressing their own experience and hearing from their own families so they could see the impact of their behaviour. What happened to my mum, my dad and my children as a result of my actions?"
Research for play
As part of the research, Miranda and the show's writer, William Brandt, visited a dozen prisons and spoke to between 40 and 50 people who had committed murder. They then talked to members of their families.
"Interestingly, we never talked to any fathers because none of the people we talked to had any contact with their dads," Miranda says.

The resulting play, Verbatim, was devised and written by Miranda and William. It consists of a series of monologues from six characters: Aaron Daly, who is serving a life sentence for murder, and five members of his family.
All the characters were performed by Miranda, and are fictional composites of the people she and William spoke to during the research phase. As the title suggests, every word in the show comes from a real person.

Verbatim was performed in every prison in New Zealand, in schools, and in theatres and festivals in New Zealand and overseas. An important part of the prison performances was the follow-up workshop where audiences discussed the play with Miranda.

"It was a huge experience and I think it took me years to recover," she recalls. "Sometimes, I was performing three times a day. But I would not have missed the experience for anything."

William and Miranda also produced another show, Touch and Go, about the impact of rape. Again, this was performed in prisons and in public venues around New Zealand.