Arts plans, education and the community
28 May 2013
By Jacqui Moyes
I've been in the role of Prison Arts Advisor at Arts Access Aotearoa for nine months now. There are so many great arts-based programmes and projects happening in prisons around New Zealand. The commitment of Corrections staff and volunteers to help reduce re-offending through arts activities and cultural programmes is impressive.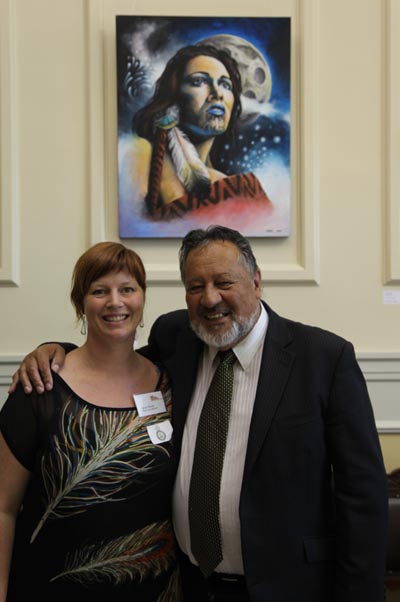 My role is to assist and guide Corrections staff to provide arts programmes that match the needs of each prison and its offenders. It's helpful to define what Arts Access Aotearoa means when it talks about "the arts". The following list is broad and inclusive:
• visual arts, including painting, drawing, sculpture, printmaking, graphic design
• performing arts, including dance, acting, singing, music-making, storytelling
• creative writing, including short stories, poetry, novels, song writing, memoirs, graphic novels
• traditional and contemporary Māori and Pacific arts, including weaving, taonga pūoro, whakairo, whaikōrero, mau rākau, tukutuku, fibre arts
• crafts, including knitting, quilting, sewing, crochet, jewellery, mosaics, toy-making, collage, origami.
Part of my advisory role is to help staff plan the delivery of arts programmes and activities that will benefit prisoner rehabilitation and reintegration. Currently, each prison is developing an annual plan for prison arts delivery.
Efficient, effective and relevant
The purpose of each individually tailored plan is to establish arts-based activities and programmes that are efficient, effective and relevant. Our objectives in assisting staff and volunteers with the planning process are to:
• enable each prison to increase or better utilise its art-making resources
• promote to Corrections staff the purpose and benefits of arts activity for prisoners
• provide advice so that appropriate arts programmes, projects and events are well organised and promoted
• build co-operative links between prisons and their communities
• obtain additional resources from the community.
Earlier this month, I visited staff and prisoners at the Hawke's Bay Prison to discuss the development of the Hawke's Bay Prison Arts Plan. While I was there, I visited Te Whare Tirohanga Maori (Maori Focus Unit).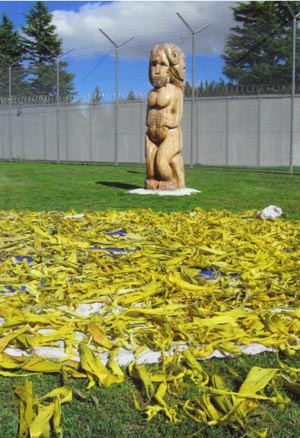 I was welcomed with an incredible haka powhiri, which demonstrated the prisoners' skill in the art of whaikōrero. Back in 2010, Wiki Turner was contracted by Corrections to establish a Tikanga Programme. This compulsory programme is managed by Wiki (also the mahi raranga tutor) and has three strands: te reo Māori (the Māori language), toi whakaari (theatre) and mahi raranga (weaving).
Te Whare Tirohanga Maori's involvement with arts practice is visible through the quantity and quality of the weaving and carving on display. Even the artistic planting of the gardens in a giant koru shows the commitment to upholding an artistic presence in the unit.
The mahi raranga classes provide many opportunities for the prisoners to engage in learning. For instance, they learn tikanga me onā harakeke (the customs of flax). These are customs that teach the concept of family bonds, human relationships, and guardianship and protection – all valuable skills that can be transferred to a life on the outside.
Gifted to the community
The carving and weaving work produced in Te Whare Tirohanga Maori is often gifted to the community. The men create work that reflects a particular kaupapa and acknowledges their Māori heritage, their whakapapa.
When the work is presented to the community, there is a formal handover process. The history and kōrero behind the work is explained.
This helps to foster a positive relationship between Corrections and the community. It also helps break down the barriers to support for the men or women when they are released back into the community.
Arts planning questions
An important part of the arts planning process is to identify the opportunities and benefits that art activities can offer. Some good questions to ask as you are planning arts activities are:
• If prisoners are participating in a painting class and learning new skills, how can we add educational qualifications such as NCEA to the work they are doing?
• If a prisoner has shown skill and commitment in graphic design, for example, can a mentor in the community help to increase employment prospects for that person on release?
• How can the prison make the most of the resources it has?
• How can staff engage with local iwi so they can support the rehabilitation and reintegration of prisoners through arts and cultural practice?
A planned approach to arts delivery encourages the safe and sustainable delivery of these activities inside a prison. A strategic, comprehensive arts plan can extend to educational opportunities and engage practical support from individuals and organisations in the community.
If you need help with your arts planning process or would like advice or information about delivering arts-based programmes, activities or events please contact Jacqui (T: 04 802 4349 E: jacqui.moyes@artsaccess.org.nz).