Attitude Award winners announced
2 December, 2010 Karekare makeup artist Celeste Strewe has won this year's Attitude Artistic Achievement Award.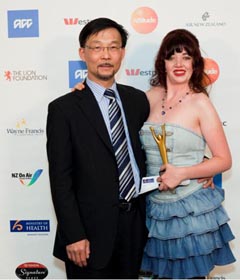 The Attitude Awards celebrate the outstanding achievements of New Zealanders living with a disability and have grown out of the Attitude TV series, which screens on TV ONE on Sundays and TVNZ 7 on Thursdays, Fridays and Saturdays.
Celeste is a trained makeup and special effects artist. She is currently working on the American TV series Spartacus as well as the New Zealand feature film Journey of a Story.
Born with severe hearing loss and living with dyslexia, Celeste first realised her talent in 2007 when she entered the Body Art Awards with no experience.
She won runner-up in her category and won the award for best emerging artist.
Her family is made up of prominent artists. Her mother is a jeweller, her brother is a bronze sculptor and her father is noted painter Dean Buchannan.
Having completed her training as a special effects makeup artist, and with a dozen feature films under her belt, Celeste is now working her talents in TV, film, commercials and theatre.
The other finalists in the artistic achievement category were Andrew Blyth of Sandringham and Susan King of Northcote.
Attitude TV executive producer Robyn Scott-Vincent says the awards celebrate the achievements of people who deserve greater recognition.
Supporting the drive for inclusion
"We hold these awards with a very clear purpose - to continue to support the drive for inclusion and acceptance of people who live with disability. We believe the 'Attitude' TV series shows their lives add real value to New Zealand society and our communities. However, we have much to do to ensure this country is truly inclusive."
ACC was the principal sponsor of the awards. Other supporters are the Lion Foundation, Air New Zealand, Westpac, Wayne Francis Charitable Trust, Drake Medox and the Ministry of Health.