Awards recognise arts leadership in prisons
A leader in developing an innovative arts programme in Northland Region Corrections Facility, and a creative project led by Hastings secondary school students and young offenders in the Youth Unit of Hawkes Bay Regional Prison have been recognised at Te Putanga Toi Arts Access Awards 2018.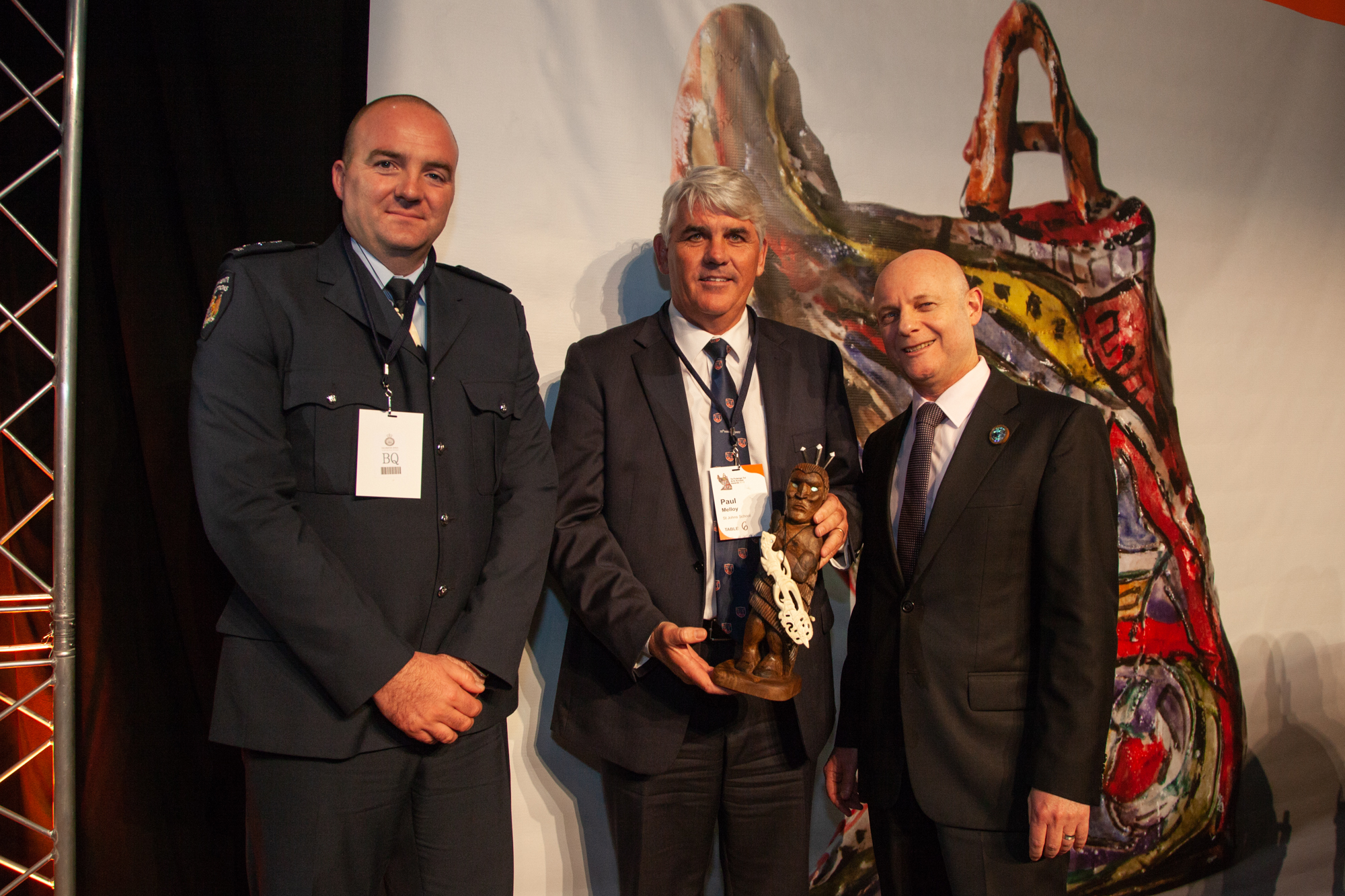 The annual Te Putanga Toi Arts Access Awards were held in the Banquet Hall of Parliament on Wednesday 1 August. The awards celebrate the achievement of individuals and organisations providing opportunities for people with limited access to engage with the arts as artists and audience members.
Two of the awards recognise leadership in using the arts as a tool supporting prisoners' rehabilitation and reintegration.
Ray Smith, Department of Corrections Chief Executive, has attended the Arts Access Awards for the past six years. He presented the Arts Access Corrections Whai Tikanga Award to Hawkes Bay Regional Prison and St John's College in Hastings.
Minister of Corrections, Hon Kelvin Davis presented the Arts Access Corrections Māui Tikitiki a Taranga Award to Beth Hill, programme leader for arts, self-directed learning and living skills at Northland Region Corrections Facility.
"It's great to see these groups being recognised with these well-deserved awards," Ray Smith said. "Each of these award winners has done and continues to do a fantastic job in helping prisoners towards a crime-free future, which is safer for all our communities. We're very grateful for their support and dedication.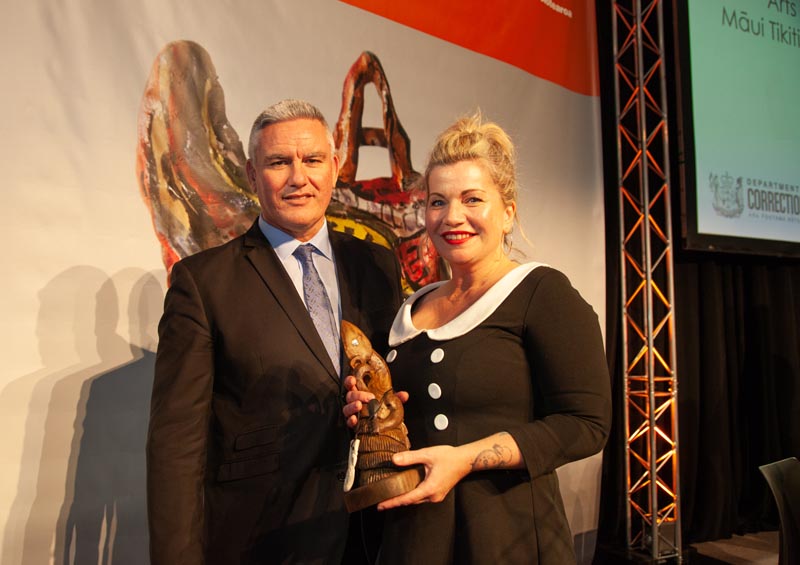 "Arts programmes are hugely beneficial ways for prisoners to increase their literacy, express themselves, channel their emotions and connect with their family and friends. These critical life skills help prisoners better engage with the other education, rehabilitation and employment programmes we deliver in prisons."
Beth Hill also received the Arts Access Accolade, presented by Arts Access Aotearoa staff and board to acknowledge an individual who has inspired the Arts Access Aotearoa team and helped the organisation achieve its vision of a society where all people in New Zealand have access to the arts.
Highly Commended certificates
Highly Commended certificates were also presented. These were:
Rue-Jade Morgan, Dunedin, Highly Commended, Arts Access Corrections Māui Tikitiki a Taranga Award 2018, for his use of mau rakau (martial arts) and tikanga at Otago Corrections Facility to inspire positive change, and for encouraging released prisoners to take up education opportunities at Otago Polytechnic where he works as a lecturer.
Bundy Waitai and Arrin Clark, Northland, Highly Commended, Arts Access Corrections Whai Tikanga Awards 2018, for their cultural programmes at Northland Region Corrections Facility that empower prisoners to reconnect with their culture, gain a sense of identity and make positive change.
In addition, Write Where You Are Trust, New Zealand Festival, and Rimutaka and Arohata Prisons, Wellington, were Highly Commended in the Arts Access Te Auaha Community Partnership Award 2018 for working together to deliver the Prison Voices event. This was a safe, valuable experience that had many positive outcomes for all involved, in particular for the women and men inside.
Read more about the Highly Commended recipients.
MEDIA HIGHLIGHTS
Te Putanga Toi Arts Arts Access Awards
Arts Access Corrections Whai Tikanga Award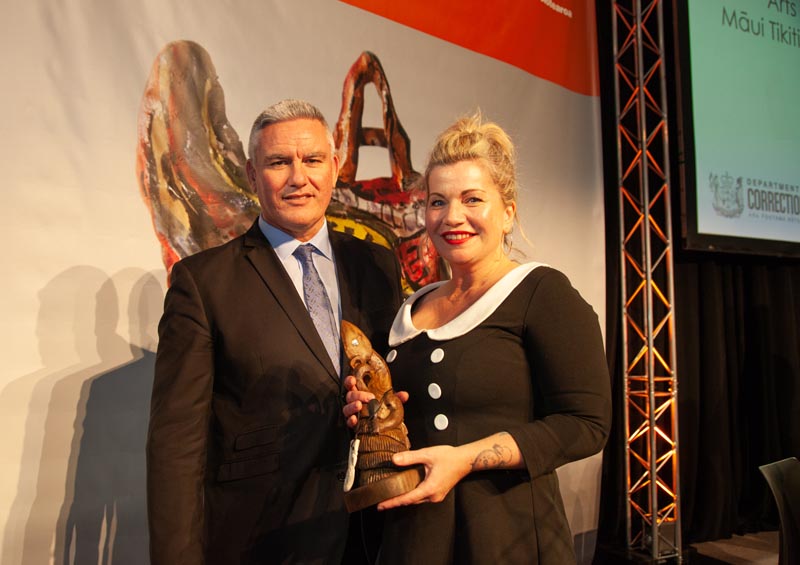 Arts Access Corrections Māui Tikitiki a Taranga Award
Beth Hill, Arrin Clark and Bundy Waitai:
Growing arts in Northland's men's prison, Nine to Noon, RNZ
Northland wins two awards, Northland Age
Rue-Jade Morgan:
Unlocking potential, Otago Daily Times