Big 'A' Awards celebrate unsung contribution to the arts
7 July 2009 A talented young writer who has overcome the odds, a mixed-ability dance company, a theatre project inspiring teenagers and the elderly, and a prison arts advocate were recognised last night at the Big 'A' Awards 2009, presented at Parliament by Arts Access Aotearoa.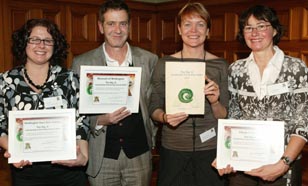 The Awards were hosted by the Hon. Christopher Finlayson, Minister for Arts, Culture and Heritage and the Hon. Judith Collins, Minister of Corrections, in the Grand Hall of Parliament. The four recipients are:
The annual Big 'A' Awards are the only awards in New Zealand celebrating the outstanding achievements of individuals and organisations working to enhance the artistic lives of people who have been marginalised by the mainstream.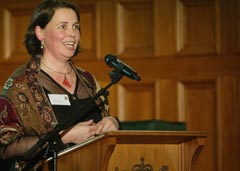 Marianne Taylor, Executive Director of Arts Access Aotearoa, said the Big 'A' Awards pay tribute to the artistic work happening in New Zealand communities.
"Everyone has the right to participate in the arts and express themselves creatively," she said. "These awards are a way of acknowledging the people and organisations that help make this possible."
Arts Access Aotearoa called for nominations to the awards in December 2008. The four recipients were selected by a panel of judges, comprising Des Ripi, National Senior Adviser, Kaumatua, Department of Corrections; Lara Macgregor, Associate Artistic Director, The Court Theatre; Jo Randerson, artist and writer; and Marianne Taylor, Arts Access Aotearoa.
The judges said: "We were struck by the commitment to making a difference that shone through. These awards are an important recognition of the often unsung individuals and sectors of our society. The recipients showcase best practice and outstanding achievement but we applaud the work of all those nominated."
Spark Studio, Mt Albert, Auckland and Vincents Art Workshop, Central Wellington received "special mentions" in the Big 'A' Creative Space Award. Auckland City Council and Ngati Whatua o Orakei Volcano Sport and Cultural Club
received a "special mention" in the Big 'A' Community Partnership Award.

The Hon. Judith Collins, Minister of Corrections, presented three of the awards. The Big 'A' Winton and Margaret Bear Young Artist Award was presented by Wellington writer Maggie Rainey-Smith, Chair of the Wellington branch of the New Zealand Society of Authors.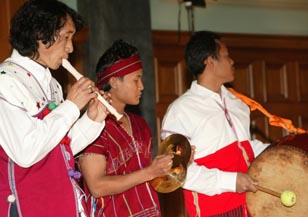 The evening also featured traditional Burmese music; a dance performance by Jolt Dance Company; artwork by artists from Spark Studio and Vincents Art Workshop; and a reading by Mary Dennis.
Arts Access Aotearoa is the national voice for artists and communities that have been marginalised (e.g. refugees, mental health consumers, disconnected youth, the justice sector, and people with disabilities). Working in partnership with individuals and organisations, it helps ensure New Zealanders have access to the arts and can create, perform and develop their own arts.
Arts Access Aotearoa receives major funding from Creative New Zealand, the Department of Corrections and the Ministry of Social Development.
Click here to listen to Mary Dennis and former Wellington East Girls College student Jasmine Rangi Williams talk on Wellington Access Radio 783am.