Article
Arts Access Aotearoa

CONNECTING COMMUNITIES: This video shows the power of music therapy and features the Cantabrainers Therapeutic Choir and SoundsWell Singers, Wellington. It was produced by Liminal Pictures, with support of the Hugo Charitable Trust.
Cantabrainers a constant voice
24 October 2019
By Penny Griffith
"Two of our men have gorgeous, chocolatey, rich baritone voices. We have people from all walks of life: policemen, milkmen, auctioneers, business owners. Many have never sung before and in no time they are loving it," says Angela Reimer, a speech language therapist working with members of the Cantabrainers Therapeutic Choir in Christchurch.
"There's this wonderful vibe when you go into our rehearsal room. When people are absolutely exhausted by the end of it, we know we have done some great therapy."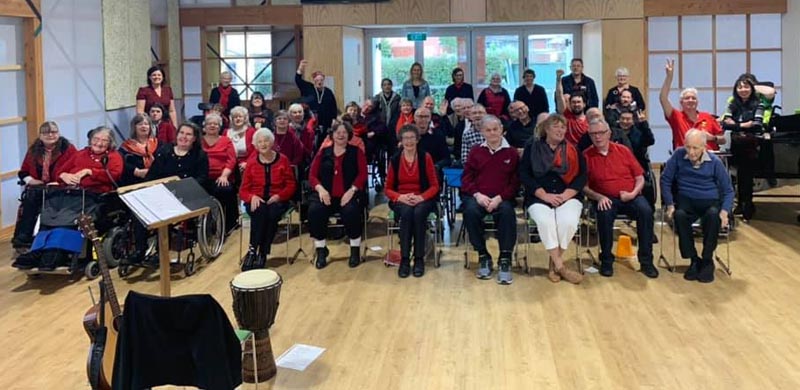 Cantabrainers is led by registered music therapist Kimberley Wade and registered speech-language therapist Angela Reimer, and run by the Cantabrainers Therapeutic Choir Charitable Trust. It's a choir for people with neurological conditions and aims to improve their voice and communication through singing.
The choir's co-ordinator, Louise Wakefield, says: "This is a professional neurological rehabilitation choir with registered therapists. We have lots of carers and family members who volunteer to help out at the sessions, and the winter and Christmas concerts."
The name Cantabrainers was created by the choir members and is made from the words canto (singing), brain and Canterbury.
"Most of our members' lives were changed dramatically by the onset of their disability," Louise says. "The choir is a constant for our members every Wednesday morning. We are a community and lifelong friendships have been formed."
Activating different pathways in the brain
Kimberley leads the sessions from the front of the choir while Angela moves around the singers offering individual therapy to the singers. Together, they get people communicating again by activating different pathways in the brain.
"People can sing the words they struggle to speak," Kimberley says. "This is an incredible job. I get to see my private clients working on their goals in a community setting and among people who understand what they are going through."
Angela says that after a stroke, people can develop aphasia and have difficulty understanding or producing speech. "If we use a very familiar song, the memory of those words, tucked away somewhere, is activated. Singing triggers a different part of the brain to the spoken word.
"People with Parkinson's disease or multiple sclerosis often have a timing problem so we use songs with a strong rhythm."
"My heart swells with pride"
There are 44 people (an equal mix of women and men) in the choir, aged from the early 30s to late 70s. The following comments by some of the choir members speak for themselves:
"I am sitting at the table during our choir tea break and my heart swells with pride as I look around at my fellow choristers. Their excitement and anticipation is infectious. We all belong, unconditionally. Yes, my heart swells with pride." – Jonathan (Jo) Salm
"I'm 72 years young! About eight years ago I got diagnosed with Parkinson's disease. Purely by chance, a taxi driver mentioned Cantabrainers to me. Associating with people with similar challenges can only expose me to new experiences, so I took the plunge. I find the group really helps me to have a positive approach to dealing with my health issues. Wednesday morning choir practice is the highlight of my week. Lots of company, fun, and sometimes yummy morning teas!" – Bruce Whitfield
"My eight years' experience with Cantabrainers Therapeutic Choir gives me the feeling of amazement at the number of people who, in a short space of time, have made progress in gaining confidence, singing, speaking and performing in public through therapeutic music." – Lois James
The choir is now working towards its Christmas Concert, to be held at 10am on 18 December at the Salvation Army, 853 Colombo Street, Christchurch.
Cantabrainers Therapeutic Choir holds weekly two-hour rehearsals at the Mary Potter Community Centre, 442 Durham St North. For more information, visit its website.

FINDING YOUR VOICE: This video shows the power of music therapy for people who have had a stroke and developed aphasia (difficulty understanding or producing speech). Produced by Liminal Pictures with support from Hugo Charitable Trust.