Developing an accessibility policy
Arts organisations and venues wanting to improve their accessibility are encouraged to download and read the guide How to develop and write an accessibility policy, written by Arts Access Aotearoa.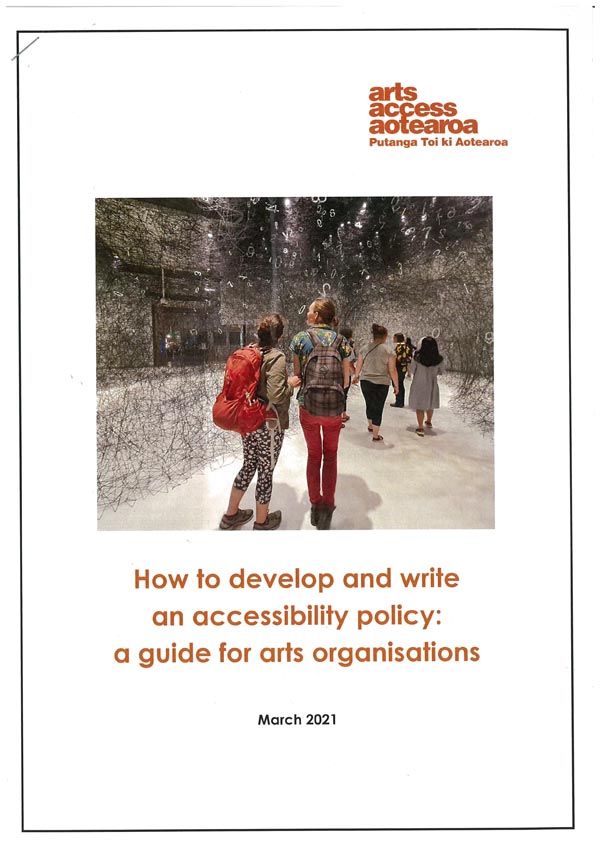 The 23-page guide covers what we mean by accessibility and why arts organisations need a policy about it. It also outlines the ten stages of the "Policy Cycle" – from examining the status quo through to consultation, making it public, implementing the policy, and monitoring and evaluating its effectiveness.
Richard Benge, Executive Director, Arts Access Aotearoa, says the arts can enrich our lives, giving voice to our cultural expression and making us feel better about ourselves and the world.
"Many people, however, experience barriers to participating in the arts and so are excluded from their benefits," he says. "Developing an accessibility policy will support arts organisations and venues to provide long-term accessibility without relying on champions to drive change."
Over time, Arts Access Aotearoa will respond to feedback, refresh the information and let members of the Arts For All Network know about updates.
"Many arts organisations, local councils and others in the Arts For All Network are already working towards increased accessibility," Richard says. "Thank you for your commitment to making a difference.
"I trust this guide will be another step in our dialogue on how Arts Access Aotearoa can support members of the Arts For All Network to develop and implement accessibility policies."
Download
How to develop and write an accessibility policy: a guide for arts organisations (WORD)
How to develop and write an accessibility policy: a guide for arts organisations (PDF)