The diverse abilities of Daniel King
19 August 2012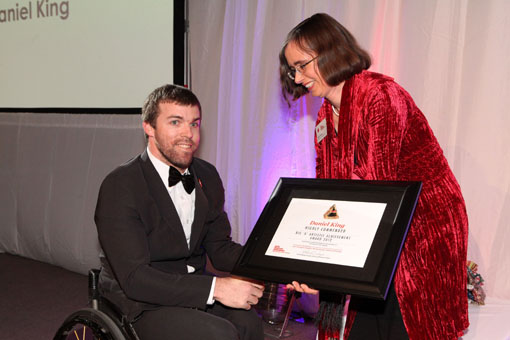 By Brendan McBryde
Daniel King – performer, globetrotter, entrepreneur – is constantly pushing himself to extend his abilities and ambitions.
The Aucklander was recognised in July when he received a Highly Commended certificate in the inaugural Big 'A' Artistic Achievement Award, one of six award categories in Arts Access Aotearoa's Big 'A' Awards. Daniel says he was "humbled by the recognition," having never before received an award for his work.
Judges commented that Daniel challenged perceptions about who could dance, describing him as "a talented, motivated dancer and a role model for people of all abilities".
Diagnosed with left-sided hemiplegia at the age of two, Daniel grew up in California before moving to New Zealand and settling in Nelson as a 15-year-old in Nelson.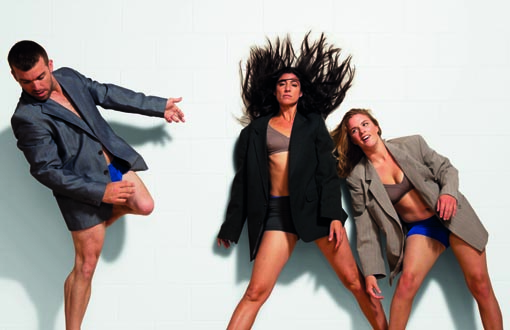 After school, he completed a two-year performing arts and theatre course in Nelson in 2000. One of his tutors knew Catherine Chappell, founder and Artistic Director of Touch Compass Dance Trust, and through this connection, Daniel auditioned for a position in the company and joined the troupe.
Daniel uses a wheelchair although not necessarily for dancing. His hemiplegia restricts his movements and he says his choreography can often be a collaborative effort based around "loose direction."
Catherine Chappell says: "Daniel can do things with his body we just can't do … He has a unique physique and is incredibly strong, powerful and a joy to watch. He is an established and valued member of the company."
Exploring his abilities
Daniel made a permanent move to Auckland in 2006, after a handful of international trips to travel recreationally, and to strengthen and explore his abilities. Highlights were a DanceAbility teacher-training workshop in Tier, Germany in 2003 and a 2005 programme in Oregon, the United States. These workshops explored and developed unique body language and non-verbal communication between partners and within groups. He spent much of his remaining time travelling alone through Europe, the States, and parts of southern Asia.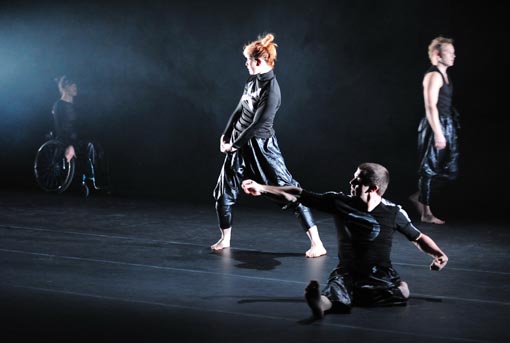 Daniel has been with Touch Compass long enough to be called a veteran and says he has seen the company blossom over the years. Unable to recall his extensive catalogue of performances, Daniel prefers looking forward to new works and challenges rather than reviving past repertoire. Any performances that warrant travel are particularly memorable, most recently a day-trip to the capital in June for a Creative New Zealand conference.
In July this year, Touch Compass celebrated its fifteenth anniversary, marked with a triple bill performance called Run, Slip, Spring. Daniel performed in the Run and Slip segments of this show, which used bungee ropes and improvisational movement to convey personal life stories.
Thrill of stage performance
Daniel certainly sees himself staying in Auckland with Touch Compass for the foreseeable future, feeding his love for "the feeling of movement and the thrill of stage performance",
He prefers to describe himself as a "performer" rather than a "dancer" to avoid closing any doors. He will spend the rest of 2012 working with Unique Extras, a screen media talent project conceived by Philip Patston's Diversityworks Trust. Funded through the Ministry of Social Development's Making a Difference fund, the project is working with media/production companies to encourage them to employ disabled or Deaf people in popular media roles, including advertisements, television, drama and films.
As an aside to the world of performance, Daniel is the founder and chief coffee roaster for Spaceman Coffee Co., and business is good.