Easy access to Dunedin studio and gallery
30 October 2012
Studio 2/Margaret Freeman Gallery is a small gallery and studio space in central Dunedin where disabled people are supported to create artworks, and exhibit and sell their work if they wish.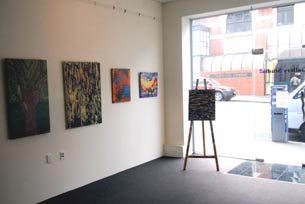 A move in 2011 to 83 Moray Place, close to the Dunedin Public Art Gallery and Temple Gallery, has meant it is much more accessible to the public.
The new space also meant the creative space was able to create its own gallery, which runs like a dealer gallery and is named after Dunedin artist the late Margaret Freeman, an artist who was passionate about art and attended Studio2.

The first official exhibition was in December and featured the work of regular studio artist Tanya Faiva. It was her first solo show.
Increased profile and expectations
"The artists really had to lift their game," Marnie Walters, Programme Administrator, explains. "We are near some well-known establishments and it's exciting. It's really raised our profile and expectations are higher. The old studio was in a back alley and we didn't exhibit there. Now the public are coming in to view our work because they're walking around the area and looking at other exhibitions."
Studio 2/Margaret Freeman Gallery artists have opportunities to exhibit in the new gallery. So too do artists connected to other similar organisations, such as creative spaces Artsenta and Art Space.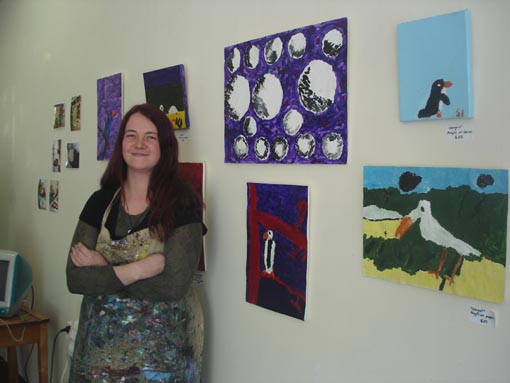 There are opportunities for individual artists not attached to an organisation to participate in exhibitions. However, this is determined on a case-by-case basis and anyone interested in exhibiting work un the Margaret Freeman Gallery should contact Marnie to discuss possibilities.
Studio 2/Margaret Freeman Gallery has two sessions a day from Monday to Friday: 9.15am to noon and 1pm to 4pm. Marnie works there fulltime and is always present to support artists when the studio is open.
Artists are part of a small group but work on their own individual art projects. Anyone who requires constant one-on-one assistance brings their own support person, who works under the guidance of Marnie. There are also two volunteer visual artists who come in during week to work with the Studio2 artists.
More than 35 people use the studio, but numbers are limited to four or five artists per session.
"A small studio with less people allows for plenty of encouragement and attention. We work hard to create a close and supportive environment," Marnie says.
Artists are encouraged to hold solo exhibitions and to use the studio's Trade Me site to sell their artwork. There are also several group exhibitions a year. One of these usually takes place during the Dunedin Fringe Festival.
Performance and painting
This year as part of the Fringe Festival, Studio2 organised a project involving performance and painting, in collaboration with JOLT Dance and local musicians. The three artists wore white painting overalls and were each assigned a colour (purple, red or blue) and a musician (bass player, key boardist or drummer).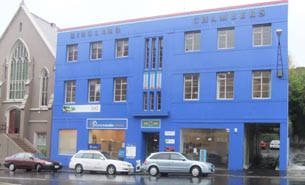 The artists danced and painted, with the musicians responding to their different movements. The main focus was to see what would happen with the relationships between the artists, the musicians and the paint.

Marnie is already thinking about Studio2's involvement in the 2013 Dunedin Fringe Festival. Ideas include sculptures and large canvases, using the festival's theme of "monsters".
Marnie describes how Studio 2/Margaret Freeman Gallery is funded. "Because of the nature of the space we can't access long-term funding and we rely primarily on grants from charitable trusts and a $5 fee per session for attending artists."
It is very grateful to organisations such as the Lotteries Grants Board, Dunedin City Council Community Grants, Otago Southland Presbyterian Synod, United Way and Otago Healthcare Trust, which provide grants on a regular basis and enables Gallery/Studio 2 to continue to operate.
For more information, please contact:
Marnie Walters
Programme Administrator, Gallery/Studio 2
T: 03 474 5949
E: artstudio@xtra.co.nz