Kawakawa kids follow simple vision
Creative space: Nga Kaiwhakairo-A-Opua Trust, Northland
The name might be a mouthful, but Nga Kaiwhakairo-A-Opua Trust's philosophy and vision is simple: give the kids something to do.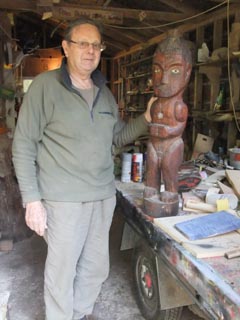 In 1995 after becoming unemployed, coordinator Rob Reed needed something to do, so he started carving in his garage. A couple of primary school children who wandered past decided to investigate. They joined in, spread the word, and now Rob has an average of 20 children per week attending his loosely structured carving workshops.
And they're still held in his garage.
"It developed pretty organically," says Rob. "A few kids came by, told their friends at school, and it went from there. The majority of them are primary school aged. Once they reach high school they tend to drop off, but some are still here."
Northland's population has a high proportion of Maori, and although not Maori himself, Rob uses his knowledge and research of Maori culture, customs and mythology to inspire the children's designs and carvings.
Rob organises the Kawakawa Primary School's graduation leaving gift, a carved bone pendant with a kawakawa leaf design. "The veins of the leaf relate to all of the rivers that flow into the Taumarere River, and represents the coming together of the students at the school."
The principal caught wind of it. "He contacted me one day," Rob says, "and told me if I ever gave up my carving for God's sake don't leave him in the lurch, and that I would need to get someone else to take over."
Supporting the children's interests
The main activities at Nga Kaiwhakairo-A-Opua are bone and wood carving, and sometimes this leads to sales of work and participation in craft shows. Rob likes to support the children's interests. They come up with ideas for what they want to achieve, and he provides the space, time, resources and skills to enable it to happen.
"When we were first going, one of the kids said, 'We'd like new skateboards, all our skateboards are old and our parents won't buy us new ones, can we make them?' So that's what we did. They painted them up and everything. My garage wall had some tagging on it. So they painted a mural on it. It looks much better.
"The kids here are mixed gender and mixed ethnicity. Mainly Pakeha and Maori, but we have a South Korean boy and a Belgian boy. I'm it for these kids. If I wasn't here there's nothing else to do. They'd be bored."
With the children's input, Rob has lobbied and written proposals to local government bodies, other community groups, and charities like Rotary and the Masons, attempting to get grass and concrete areas for sports and play, and a skateboard park. "Nothing's been done yet. Some of them don't even respond."
Rob organises trips to the Mokoia Taiaha Wananga and makes nominations for Community Achievement Awards. Many New Zealand Herald Young Kauri Awards have been achieved. He also encourages the children to get involved with community events.
For more information, contact:
Robin (Rob) Reed
T: 09 402 7256, M: 021 132 5187
E: rs.mm@xtra.co.nz
Last updated 23 October 2013