Laughter, creativity and drama
Creative space: Ranfurly Care Centre, Auckland


Visitors wander through African safari scenes, flamingo sculpture and papier mâché Mexican skulls – all part of the annual exhibition by artists at Ranfurly Care Society in Epsom, Auckland.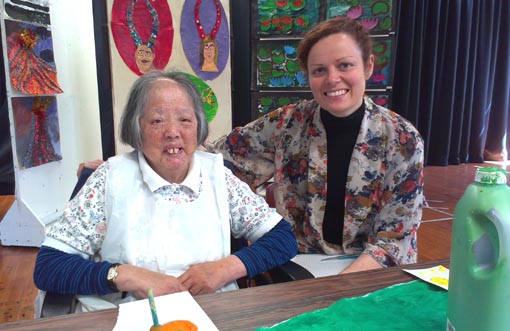 Called Worlds Collide, the exhibition was held at the Ranfurly Activity Centre. For the exhibition, the centre's artists had worked on themed projects, producing vibrant art displays. The kitchen provided treats throughout the night, and the evening was filmed and posted on YouTube.
The Ranfurly Care Society provides residential care and an activity day centre, open to adults with intellectual disabilities from the wider Auckland region. It has a roll of 61 and every day, approximately 45 clients ranging in age from their 20s to their 60s attend the centre.
Working towards goals
Its philosophy is to provide a happy, supportive and encouraging learning environment; promote community contact; and build a sense of achievement for all.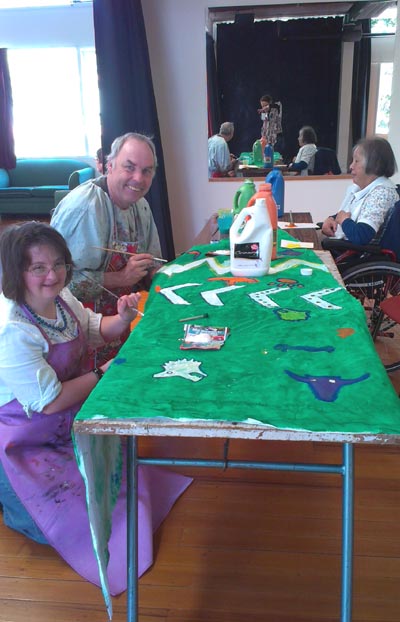 A realistic level of independence and choice is offered to each student and supported employment is promoted as appropriate. Each person has a staff member "coach" to help them develop and work towards goals as part of their Lifestyle Plan.
The Activity Centre is based in a large building surrounded by grounds. It contains a number of separate classrooms and studios such as the pottery shed, art room, prop room, mosaic room and outdoor recreational spaces.
Eight support staff attend each day so participants are able to choose from a range of activities and classes. The creative classes include art, photography, drama, music, line dancing and crafts (e.g. mosaic, beading, knitting, embroidery, pottery, card-making and scrapbooking). Visits to galleries inspire both the artists and tutors with ideas about what they can work on.
As well as creative classes, participants take part in communication and computer skills, cooking, gardening, physical activities, and classes that encourage community interaction and voluntary work.
Teaching experience
Melissa Durbin, art director at the Activity Centre for the past five years, teaches art three days a week. She has an honours degree in art and design from the Auckland University of Technology and has had teaching experience in its design department.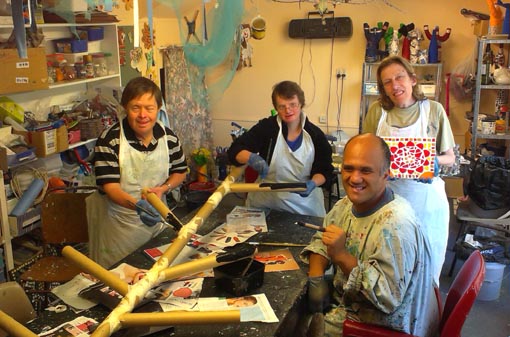 "It's a great space," Melissa says. "Everyone's very active and involved. There is always a lot of laughing and fun."
Melissa distinguishes between "product driven" and "process driven" activity, with the former challenging the artist to develop skills and techniques and the latter focusing on the beneficial nature of the experience for the artist.
"A positive and creative experience involves both of these," she says.
Brett Ihaka, creative director at the Activity Centre since 2005, teaches classes in drama, filmmaking and outdoor adventure two days a week. Drama classes teach basic dramatic techniques such as making eye contact with an audience, communicating in front of others and using your voice, he says.
The Ranfurly Players, as the group is called, was established in 2005. Students at the Activity Centre are not expected to learn a screenplay but are given a character to work with, using improvisation and ad libbing.
As Brett tells his students, "Adopt a character. It's your interpretation." They watch a scene from the film and then rehearse. When the cameras roll, there may be a number of takes.

For more information, please contact:
Linda Nelson, Manager
Ranfurly Care Society
T: 09 630 3010 E: info@ranfurlycare.co.nz
W: ranfurlycare.co.nz

Last updated 3 November 2013