Mosaics on Nikki Dixon's mind
4 April 2013
By Janelle Cheesman
Mosaics are always on Nikki Dixon's mind. When the Toi Ora Live Art Trust artist and tutor isn't working on a mosaic piece, she's still thinking about the next piece she'd like to create.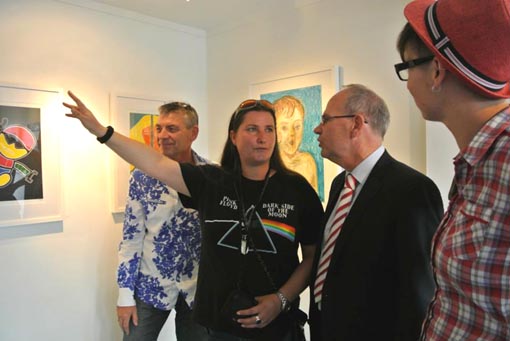 Five years ago, Nikki discovered Toi Ora Live Art Trust, situated in the Auckland suburb of Grey Lynn, through word of mouth and started attending its mosaics class.
"I love being at Toi Ora," she says. "Doing mosaics there is so much fun. It's a sociable environment, and everyone has so much respect and acceptance for one another.
"I've also attended classes in other artforms such as photography and lead lighting but I decided to focus on mosaics. I find it so enjoyable."
Nikki, along with fellow Toi Ora artist Tricia Hall, had an exhibition opening on Tuesday 2 April at the Toi Ora Gallery. Auckland Mayor Len Brown attended the opening where 20 of Nikki's artworks were for sale. "It's all original work and it's a little unusual, so expect to be amazed."
"Teaching is so much fun"
Nikki's mosaics skills and talents were recognised back in 2011, when her mosaics tutor asked her to help teach mosaics. She's been tutoring on Wednesday mornings ever since. "Teaching is so much fun. I learn something new every day, and enjoy seeing all the different things people create."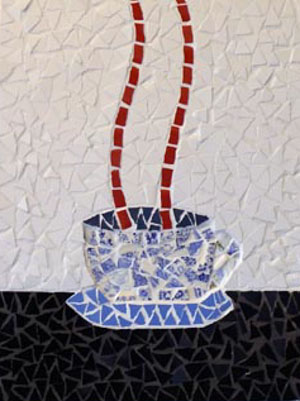 When creating a mosaic piece, Nikki says that she doesn't follow any set plan. "Usually there's a bit of planning required but it's mostly about spontaneity when I'm making a mosaic piece. If I need to, I have a break and think about my next step before I get back to it but I prefer to just go with the flow."
One piece takes her approximately eight hours to make. This includes design, gluing, grouting and wiring.
Nikki doesn't do mosaics every day and sometimes, she will have a break for a week or two. But, she says, mosaics are always on her mind. "Even when I'm having a break from it, I'm always thinking about the next piece I'd like to create. I find mosaics really therapeutic."
As well as the enjoyment, mosaics also provide an income. "I mostly sell my art through Toi Ora and exhibitions, but I also sell through word of mouth."
Recently Nikki made a 30 square centimetre mosaic logo for Crossroads Clubhouse, a community-based organisation in Auckland that focuses on recovery from mental illness. "I was really happy with the result. It turned out great."
Nikki encourages people to give mosaics a go. "Doing mosaics takes a lot of concentration and can be quite physical work but it's well worth it when you see your finished piece."
The Mosaics Workshop at Toi Ora Live Art Trust runs on Wednesdays from 10am till 12pm. Classes are popular so contact Toi Ora now to get on to their waiting list.