Neo-pop artist pays tribute to pop music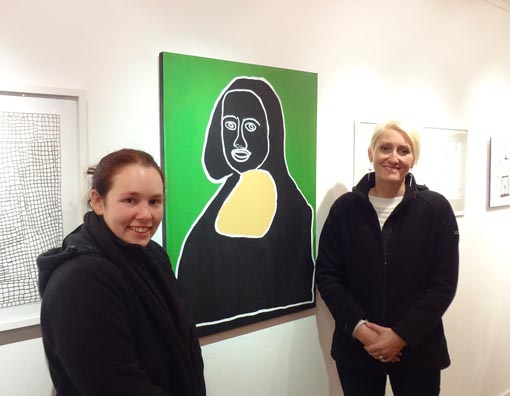 29 July 2013
By Alison Murray
Popular music is a passion for visual artist Tiffany Collett and it is an enduring theme in her colourful neo-pop art paintings.
Tiffany, a regular artist at Sandz Studio and Gallery in Hamilton, is gearing up for her first solo exhibition. She is also a finalist in the artistic achievement category in this year's Attitude Awards.
Although Tiffany is shy about her work, her reputation has been building in the past two years with sales, commissions and participation in several national exhibitions.
Her latest offering is a pop-art portrait of Mona Lisa, which features in Creative Species 3, a national exhibition at Pablos Art Studios' ROAR! gallery in Wellington over August and September.
Creative Species 3 features up to 100 works and it is the largest exhibition that Pablos Art Studios has organised of works by creative space artists from around New Zealand.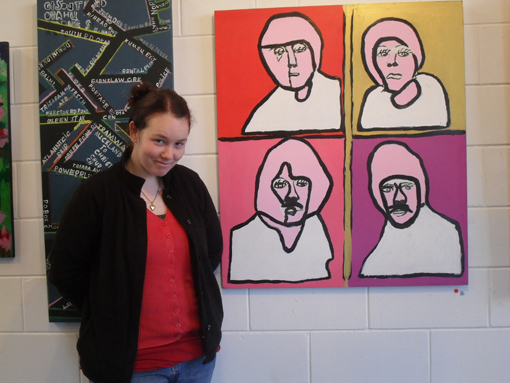 Tiffany, who is in her mid-20s, is now working toward her first solo exhibition at Sandz in November, and is aiming to have between 18 and 20 paintings of popular musicians from the 1960s to the 90s ready for the show.
Her works are mostly colourful portraits using bold, simple lines and vibrant block colours, reminiscent of 60s artists such as Andy Warhol. She says the artist she admires most is American pop artist Jim Dine, particularly his screenprints.
Although Tiffany had some painting lessons when she first went to Sandz about two years ago, she now works independently on her own projects, researching and painting.
A second opinion
However, if a second opinion is needed, Sandz Team Leader and practising artist Lorraine Pemberton is on hand to offer advice. Tiffany says if she is unsure about a painting she is working on, Lorraine can give her a second opinion.
Lorraine says Tiffany is very focused and committed to her art practice. "When we started talking about a solo exhibition for her, she made up a timeline and a week-by-week planner.
"Tiffany is highly motivated and self-directed and is working towards a solo exhibition at Sandz Gallery in November. She has a detailed timeline and a strict programme, including her themes and a complete range of colour charts that she selects from."
Researching musicians
Using the computer at Sandz, Tiffany researches the musicians who sing her favourite songs. "These are then carefully rendered in Tiffany's style. First she selects an image, then the colour scheme styled around neo-pop art. After that, she begins painting each step," Lorraine says.
Since attending Sandz, Tiffany has learned more about paint quality, colour mixing, experimenting with her chosen media and art history. She has also prepared a PowerPoint presentation of all her art history research, Lorraine says.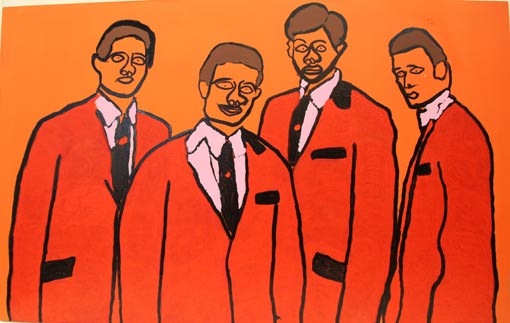 While she was doing this research, Tiffany looked at the work of Leonardo Da Vinci and produced her own version of the Mona Lisa, the bold green, black and yellow work on show at ROAR! gallery in Wellington.
Her painting of The Four Seasons featured in Original Voices, a national exhibition presented by Arts Access Aotearoa in August 2012 and curated by Stuart Shepherd.
Her painting of the Beatles in last year's IHC Art Awards sold and Tiffany was commissioned to do two more paintings of the pop group.
"Tiffany is a little overwhelmed by how fast her success has happened. I don't know anyone more entitled to be proud of their work. Tiffany sets her goals and works hard to make sure that they are met. She is dedicated to her theory research and her art," Lorraine says.
Originally from Te Awamutu, Tiffany says she has been painting since she was 13 when she was at boarding school. She now lives in Hamilton.