News
Arts Access Aotearoa
Karin Claydon: actor and painter
30 September 2015
By Andrea Moxham
Karin Claydon loves acting in Playback Theatre and creating Māori-inspired designs on canvas with paint and graffiti pens. "On Fridays next door we do drama at one o'clock with Claire," Karin says.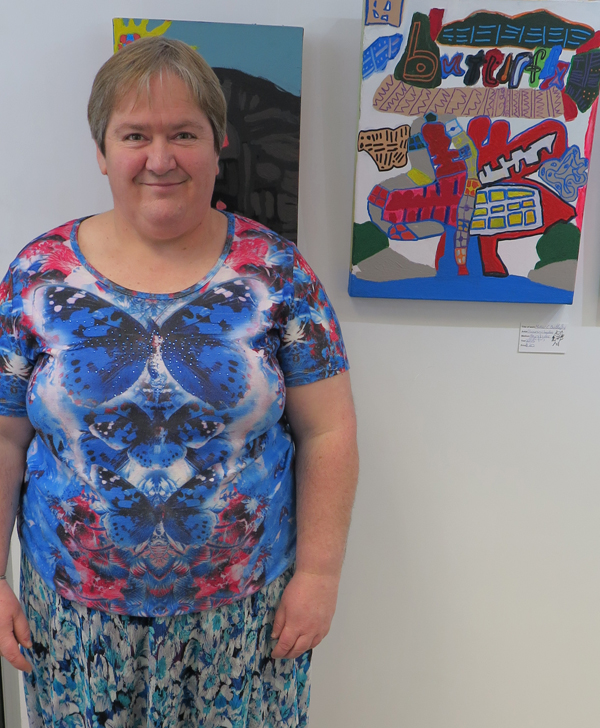 This group, called Alpha Omega, is an integrated playback theatre group of about 15 participants and includes actors from Alpha Art Studio, Thumbs Up in Petone and Active Youth Services.
Claire Hewitt has been working with Karin and the drama group for about two years. "It's good, it's fun and we did a show last year called What Friends Are For and we got tee-shirts out of it," Karin says.
Karin produced art from a young age and started working from Alpha Art Studio in 2011.
Karin enjoys using Molotow One For All Acrylic Pump Markers, which are high-quality professional paint pens that Alpha Art Studio discovered six months ago. "They give a paint finish but also control over the drawing and Karin likes doing the detail with the pens and the rest of the work with acrylics," Alpha Art Studio art tutor Eryn Gribble says.
Karin's first exhibition was in 2012 at Thistle Hall as part of a group exhibition called Set In Emotion.
Since then, Karin has been a regular exhibitor at Alpha Art Studio and also contributed work for Paper Planes, an exhibition of paper artwork, and recently entered the IHC Art Awards in 2015.
Karin's next project is working towards the Alpha Art Studio's Christmas Show, to be held on Saturday 28 November.
For the future, Karin says: "I want to do more paintings and be involved in more exhibitions and sell more paintings to people."
For more of Karin's work visit Alpha Art Studio or visit its website here.