Turning community on to the arts
Creative space: Turning Point Trust, Tauranga
Turning Point Trust's annual exhibition, which coincides with Mental Health Awareness Week in October, has turned into a regional event. Recycled Relics focuses on retro craft like knitting, embroidery and apron making.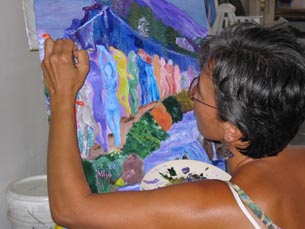 "Now that these artworks have made a comeback, we get people travelling to the exhibition from left, right and centre," says Arlene Foster, Turning Point's General Manager since 2002.
Recycled Relics has been running for the past six years. It is one of the ways that Turning Point maintains its involvement with the wider community.
Turning Point Trust was established in 1996. A mental health recovery centre, it offers a range of activities and vocational services for people living with mental illness and is located in the Historic Village, a community and arts hub in Tauranga.
"Our vision is to be a progressive, vibrant community with a shared focus that supports pathways for life," Arlene says.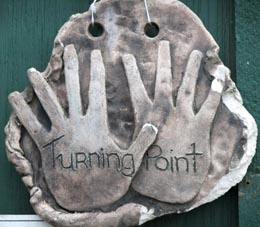 Some artists are involved with The Cargo Shed, an exhibition space, performance venue and art market managed by Creative Tauranga.
Others are involved with The Pivotal Artists, a creative group connected with Turning Point Trust. In March 2010, the inaugural Pivotal Exhibition was held at Creative Tauranga. The Pivotal Artists were also involved in Tauranga's inaugural art fair, held in downtown Tauranga in March 2011.
Fostering confidence
"There is quite a strong focus on sales, which provides income for the artists," Arlene says, "but more importantly, it helps with confidence, fostering independence and community connectedness."
Several artists will be submitting their artworks into the Museum of Everything, a London-based (but virtual) museum that showcases "the odd, the spectacular and the extraordinary", and celebrates "the creativity of makers kept outside the art realm", according to its website. The Museum of Everything also holds annual exhibitions in physical spaces such as the Tate Museum.
But despite sales and exhibition opportunities, the biggest successes are the everyday ones. "Like new artists gaining in self-esteem and confidence," Arlene says. "When they first arrive they are often nervous and say that they are not artists. Then they're saying, 'Hey, we can do this!' Also seeing people who come back and share their journeys – that is success."
Arlene's career began in social work. She's since been involved in community development and community art, and has worked as a performing artist and sculptor. "I see the value of art as a recovery tool."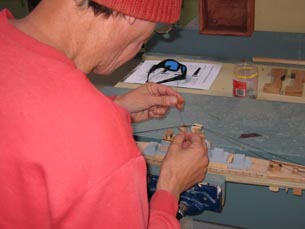 Approximately 25 per cent of Turning Point's programmes are dedicated to the arts, situated at its studio and Mind's Eye Gallery. Up to 20 people a day use the studio.
"The studio transforms into a gallery, and vice versa. It's great because we get ever-changing exhibitions," Arlene says.
Other programmes available range from laughing yoga courses to vocational and peer support services. All programmes focus on the same objective, which is mental health recovery.
For more information, contact:
Arlene Foster
General Manager
T: 07 578 6934
E: arlene@turningpoint.org.nz
W: turningpoint.org.nz