Visual arts in prison
25 May 2015
There's a great tradition of Visual Arts in Corrections which has been kept alive with the help of a number of committed Corrections staff, says Jacqui Moyes, Arts in Corrections Advisor, Arts Access Aotearoa.
Currently Arts Access Aotearoa works with 17 New Zealand prisons and they have about 8 art tutors teaching drawing, painting and sculpting.
According to Jacqui some prisons invest a lot of time and energy in visual arts programmes. "The benefits of these efforts are evident in the success of Mairangi Art Centre's 'InsideOut 6" exhibition, Christchurch's successful Arts in Corrections programmes and Waikeria Prison's ongoing relationship with their local gallery. Involvement in visual arts is of immense benefit to prisoners," Jacqui says.
Paul Whitehead, Principal Psychologist at the Department of Corrections, is currently based at Puna Tatari Special Treatment Unit for high risk violent offenders at Spring Hill Corrections Facility, and supports this view.
He heads a team of psychologists and programme facilitators who support high-risk prisoners with their rehabilitation.
"Outcome studies show that Art Therapy can address the antecedents to crime, improve communication, increase insight, change criminogenic behaviours, and decrease the likelihood of recidivism. In addition, the literature shows that art is a valuable intervention particularly with those men who are less likely to respond to typical verbally-based programmes," Paul says.
He says art helps relieve tension, makes the participants more receptive to what they learn in therapy, and the art work itself can be a direct expression of their journey of change.
Art messaging creates a positive atmosphere so that when people come into the unit they notice it and are able to admire the art and symbols around the place, says Paul. "Often notable community and government leaders come to look at specific pieces. Some of the art at Waikeria has been entered into art competitions and have done very well. It makes the public think quite a bit".
Art tutors
Paul Whitehead says art tutors do very important work.
"It's incredibly important when the men not only learn how to draw, sculpt, or carve but when they link it to their own therapy and past offending behaviour. It links to higher level goals and towards self-actualisation. It fosters a sense of mastery and allows them to develop an alternative means to express their thoughts and feelings in a way that is meaningful to them, their families and society," Paul says.
Jacqui Moyes, Arts Access Aotearoa, says in the past, the Arts Access Leadership Award has been given predominantly to the visual arts tutors employed in prisons.
"It's a real blessing to have access to tutors and the visual arts in prison. It gives offenders the opportunity to create something positive and give back to their community through charity, fundraising or gift giving. It's an opportunity for change," Jacqui says.
Jacky Morren has been an arts tutor for ten years and a year ago she was employed by the Department of Corrections to tutor prisoners in painting and drawing at Christchurch Men's Prison, Rolleston Prison and Christchurch Women's Prison.
"I just love it. I love working with people who want to learn. Sometimes groups are challenging but overall, I really enjoy it," Jacky says.
Jacky has found that group dynamics are always challenging and even more so in a prison environment. Members from different gangs could be sitting next to each other but would have to get along. "Art is a way for men to express themselves in a way not related to anger."
The courses generally run for two hours, once a week, over 8 weeks.
Beth Hill, art tutor at the Northland Region Corrections Facility, believes the arts build confidence in the men and gives them an outlet to express themselves in a safe way.
"I'm lucky that I get paid to do this. I love working here, I love my job. I'm so passionate about it. And that's something you find in the arts department here. We are all passionate. We understand human beings make mistakes, but these prisoners received their punishment. Now it's our job to support them in their rehabilitation and reintegration into society," Beth says.
She says it is important to have art tutors in prisons, especially if they are practicing artists as well. "My colleague, Kim Logue, and I have a broad knowledge of the arts. We understand what it's like to study art and be an artist and we can help the men prepare to continue with their art when they leave here".
She says the real power of the arts in prison is when it starts to really mean something and reflects what the person's about or the particular prison unit is about. The symbolic meaning rather than "now I can draw a landscape picture".
Examples of Visual Arts projects in prisons
Ann Byford is involved with a project in Spring Hill Corrections Facility's STU unit, working with a group of men for 16 weeks, making artworks to enhance the facility. The unit chose a theme of 'Reflections' and decided on five principles for the unit – honesty, trust, caring, responsibility and commitment. Photography, white board and sketches – the men also have a visual diary to record the development – in total there are 30 pieces of artwork.
Ann and Paul Whitehead were also involved in a project at Waikeria Prison. The NZ police in Hamilton were looking at providing some form of positive messaging to offenders when they were arrested and processed in the police station.
They envisaged that offenders would enter the police stations and see positive messages that would enable offenders to reflect upon while being processed at the police station. It was proposed that offenders awaiting criminal charges may want to see what prisoners have to say about that reality as opposed to a community or police artist. The police chose the final designs while at the same time the prisoners doing the project had to reflect on their own journey of change symbolise of their own rehabilitation. It's the story of the journey from darkness to light with the theme of a jigsaw. The prisoners then worked together to create twelve unique pieces that tell a story. As they go through the police station, they get to walk through and see the strategically placed artworks; it's like a jigsaw puzzle putting the sequence of paintings together and also each art piece is a series of jigsaws often that contain missing pieces and in which each painting is able to be deconstructed to the individual jigsaw piece within the painting, a jigsaw within a jigsaw with meaning in every piece. These art works are now displayed around the country in Police Stations, Community Probation Offices, Courts and Prisons. Read more
The "InsideOut 6" art exhibition was held last month. The sixth year running, this annual exhibition is the result of a partnership between Mairangi Arts Centre and the Department of Corrections.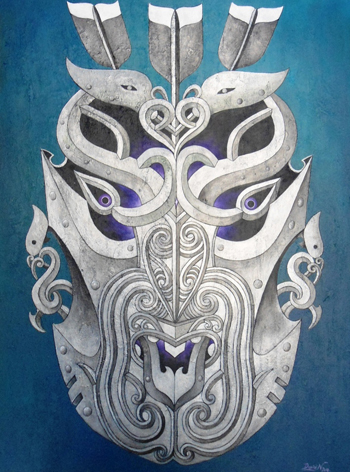 Through the 'Art in Prisons Programme' prisoners from Northland Region Corrections Facility, Auckland Prison, Mt Eden Corrections Facility and Auckland Region Women's Corrections Facility, produced works for the month long exhibition. A portion of the money raised from the exhibition will go to the Top Energy Rescue Helicopter for the essential service they provide to the Northland community. Read more
Christchurch artist and prison art tutor Corina Hazlett had the idea for a mural wall at Christchurch Women's Prison. The idea for the mural was one she had used before with cancer patients. She wanted to develop a similar collaborative work with prisoners at Christchurch Women's Prison. Self-Care Unit at Christchurch Women's Prison played a major role in the mural development and took responsibility for painting the background. The unit was a suitable space, large enough for the three panels to be painted and left out to dry. The mural, depicting tussocks on rolling sand dunes set against brooding skies, developed new skills and a sense of achievement among the women involved in the four-month project. Read more