Article
Arts Access Aotearoa
Art reaches out to Cannons Creek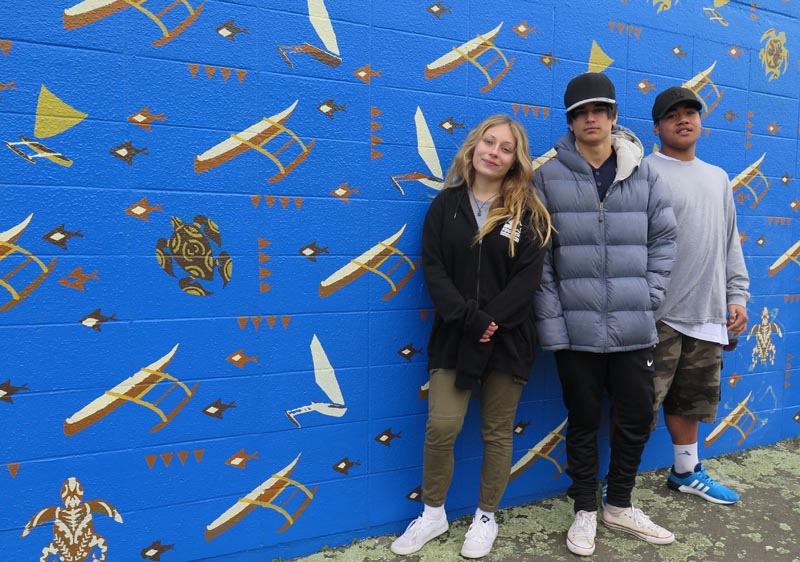 1 September 2016
Pride, confidence, team work, focus and escape are some of the benefits three Porirua students describe when asked about the weekly art sessions run by Chris Barrand, an artist and art tutor at Pablos Art Studios in Wellington.
Maddy Marshall, 15, Jonah Davis, 16 and Blaine Bethan-Taape, 14, attend the Porirua Alternative School in Cannons Creek. Paintings and stencil art add colour to the school walls while murals painted on concrete walls brighten the outdoor environment.
The Cannons Creek centre is a mish-mash of buildings and grey walls tagged with graffiti. There's the Cook Islands community hall, the Boxing Academy, the Porirua Whanau Centre, a basketball court and car park.
Pablos Art Studios' outreach programme
Every Wednesday for the past three-and-a half years, Chris has been running two-hour sessions with the Alternative School students as part of Pablos Art Studios' outreach programme, thanks to funding from the Todd Foundation.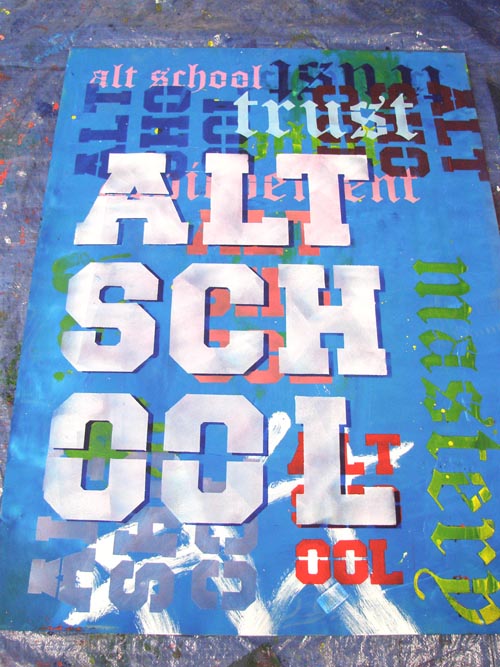 The three teenagers have been working with Chris for a year. "Chris is really good at explaining things and mixing it up so we can understand," Jonah says. "He tries to get us to express our feelings and take them over into our art. It helps a lot.
"I've learned how to take my time and get deep into the moment. Art puts me in my own world and even though I'm working with others, it feels like there's just me and the art. It's cool."
Maddy looks forward to the weekly sessions. "It takes my mind off other things and I get focused on doing it well. I feel good when I've completed something."
They all worked on a large blue mural, decorated with stenciled brown turtles, fish and outriggers. They reckon they'll feel proud to show it to their children one day and tell them, "I helped make that."
Blaine says that people have come into the school to find out who painted the mural. "They're amazed to find out we did it."
Showing his "true colours"
Maths and art are Blaine's favourite subjects, and he says art has enabled him to show his "true colours". To be himself rather than pretending to be someone "tough or cool".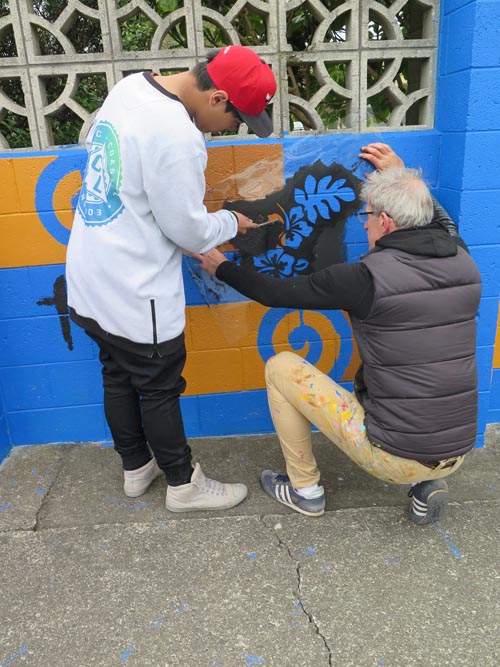 Chris, who has been tutoring art for 20 years, says the vibrant mural reflects the Cannons Creek community. It's also a metaphor for the teenagers' journey through life. "Sometimes when you're on the ocean, it can be incredibly stormy and at other times calm. It's a theme the students can identify with as they face their own challenges and achievements."
Chris says the students "learn by stealth" as they work through the different challenges involved in the art-making process. "The environment is more informal than the classroom but there's still a structure and intention that drives the process. It opens up rich possibilities for personal growth, self-awareness and positive connections.
"It's not about me and my skills. It's about being collaborative and enabling the artists to feel in control of their creative journey. Sometimes, they'll ask for guidance but it's always about them making choices and decisions.
"Art brings us together but it sparks all sorts of other things. At the end of a session, I can unpack stuff if I need to. So if someone is unhappy with what they've done, we can discuss it. It opens up valuable conversations."
Chris likes using stencils because it encourages the artists to be expressive and gives them confidence to continue and complete a project.
Working as a team
Maddy, Jonah and Blaine say that working on the murals has improved their relationships with each other because they've been working as a team. "We've helped each other, communicated better and learned more about each other," Maddy says.
They've also learned to discuss issues and reach agreement. For example, some people didn't like the bright blue paint suggested for the mural. There was "a big discussion" about the colour and a final decision was made based on what most people wanted.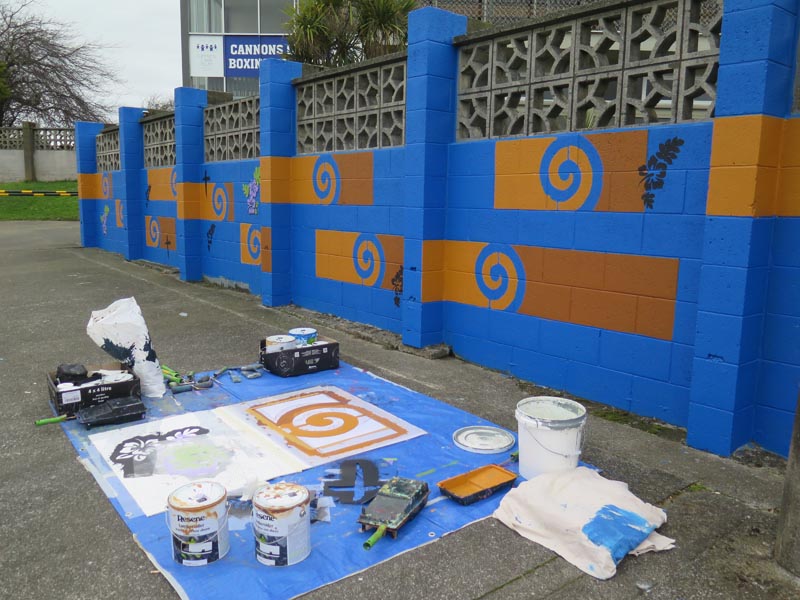 Although the project with Porirua Alternative School is drawing to an end, along with the Todd Foundation funding, Chris through the Pablos Art Studios' outreach programme also runs projects in the community with support from Porirua City Council.
Over the past nine years, Porirua City Council has promoted the creation of public murals as one of the ways to tidy up the city and reduce graffiti.
Richard Witheford-Smith, Co-ordinator of the Council's Graffiti Reduction programme, has commissioned a number of artists, including Chris Barrand, to work alongside the local community and create murals.
"Well-presented shops are the new normal now instead of what was once a chronically tagged environment," he says. "When young people engage in making art they feel a great sense of ownership and pride. There's been a significant reduction in tagging and Chris's projects have added to the momentum."