Article
Arts Access Aotearoa
Chamber Music New Zealand committed to arts for all
11 August 2016
By Daniela Pavez
Music is a universal language that can bring joy to everyone and yet the traditional concert hall is not an environment that suits everyone.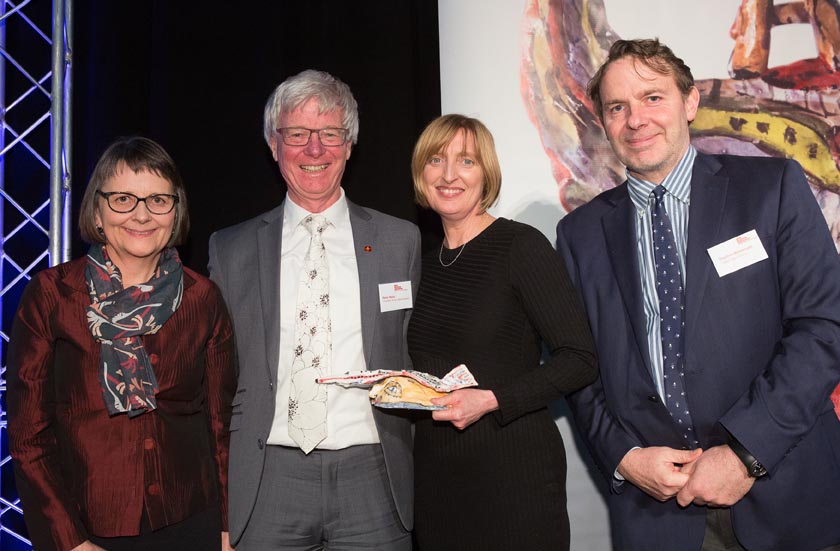 Chamber Music New Zealand has been presenting "relaxed performances" and workshops for people with intellectual disabilities since 2012. And in 2014, the organisation expanded its programme to include audio described concerts for blind and partially sighted patrons.
Sue Jane, its Education and Outreach Co-ordinator, has been managing the Accessible Concerts Programme for the past three years. "We're offering an alternative experience for people who find it challenging to sit quietly in a concert hall. For parents of young people with special needs, it hopefully takes away some of the stress and pressure, so they can relax and enjoy the music too."
During relaxed performances, audience members can move around the space, make sounds, interact and play along with the musicians.
Attending a relaxed performance with daughter
Rebekah Corlett attended a relaxed performance with daughter, Sophia. In her blog, she writes about arriving at a concert with other Mahinawa Specialist School students and their parents at Pataka Art + Museum in Porirua.
"I felt nervous, scanning the unfamiliar surroundings and mentally noting all the possible sensory nasties that have been known to send my daughter into an autistic meltdown … I needn't have worried. It was a relaxed performance, lovingly and respectfully prepared by Chamber Music New Zealand."
Its commitment to building new audiences and removing barriers to accessing classical music made Chamber Music New Zealand a worthy recipient of the Arts Access Creative New Zealand Arts for All Award 2016.
The judging panel commented: "Chamber Music New Zealand's ongoing commitment to developing new audiences for chamber music through its accessibility programme is impressive. Its workshops and relaxed concerts, in particular, are ground-breaking."
One example of Chamber Music New Zealand's touch tours and audio described concerts was the performance in Auckland by the Turnovsky Jubilee Ensemble. A special piece was played in total darkness to highlight the fact that members of Auckland's blind community were in the audience.
Of the 2016 touch tour and audio described concert by Les Talens Lyriques in Wellington, blind soprano and music teacher Lisette Wessling said: "The audio description makes me feel a full participant in the experience, not half a participant. Knowing where the players are placed, how they interact with each other, who is bowing, what the lighting is, the physicality of the performance, are all elements I would normally miss out on. CMNZ is a true example of how it should be done everywhere."
Valuable professional development
As well as encouraging new audiences and exploring innovative ways of enabling everyone to enjoy music, the accessible concerts are also valuable professional development experiences for the professional musicians.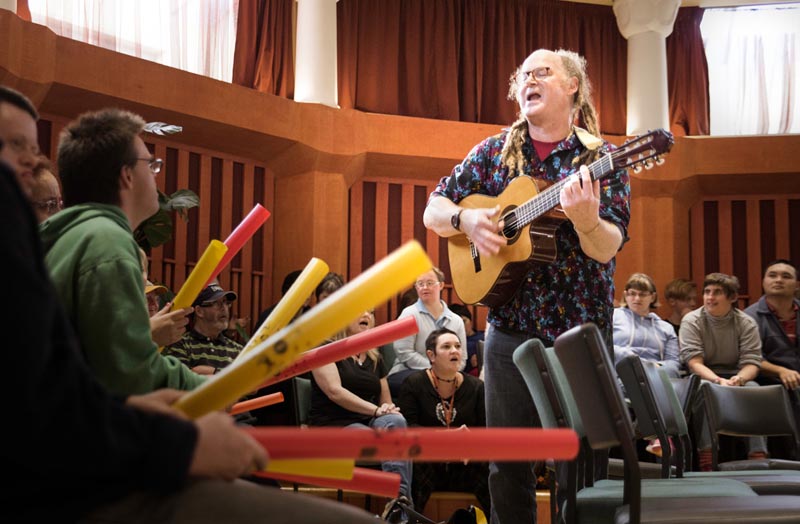 In a video, produced by Arts Access Aotearoa, Trio Amistad saxophonist Simon Brew talks about the rare and "special feeling" he gained during workshops with the students of Mahinawa Specialist School.
"As musicians we don't know why that happens sometimes, where a concert just feels so special and you come off with a buzz, an excited sort of feeling," he says.
"It was a reminder to me of the importance of music. Years ago, chamber music and concerts were social outings. By doing concerts that are more accessible, I think everyone could enjoy classical music more."
Called Connecting Through Music, the video also features community musician Julian Raphael as the workshop and concert facilitator for Chamber Music New Zealand.
Workshops the main part of process
He says the workshops are the main part of the process, culminating in the concert. "When you're working with music, other things don't seem to matter. Language, disability or different abilities. They're not really factors that get in the way of making music."
As part of its Strategic Plan 2015–2018, Chamber Music New Zealand will continue to make classical music more accessible via concerts and workshops, and is keen to provide training for musicians and audio describers.
As for mother Rebekah Corlett, she says: "This experience opened my eyes to the possibilities of increased accessibility to the arts for the entire disabled community in New Zealand. By thinking outside the box and with a bit of fine tuning, the arts can be accessible to everyone."