News
Arts Access Aotearoa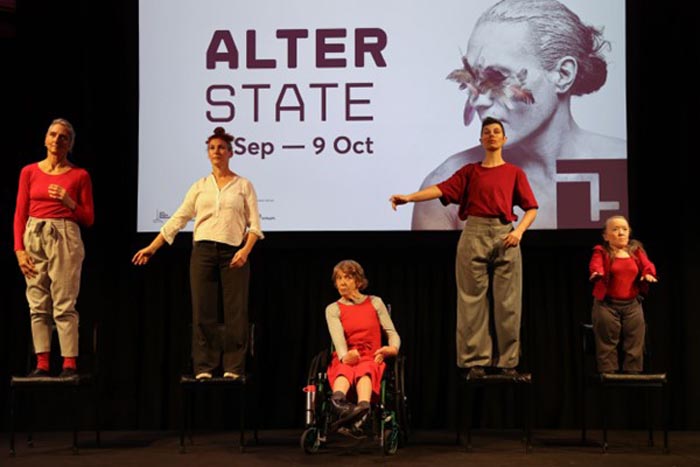 Alter State, Melbourne's inaugural disability arts festival, will make its debut at Arts Centre Melbourne from 12 September to 9 October 2022.
The festival will have both in-person and digital offerings and has been created in collaboration with Arts Access Victoria. The programme has theatre, circus, music, and family works from artists and companies from Australia and Aotearoa New Zealand.
What will the festival include? Aotearoa artist Rodney Bell's (Ngāti Maniapoto) autobiographical work, Meremere, will show at the Fairfax Studio from 29 September to 1 October. Meremere is compelling art, weaving stories from Bell's journey with dance, movement and theatre.
Exploring a new world of possibilities
The festival will feature two new commissioned works that explore a new world of possibilities with the debut of When The World Turns and Momentum.
Polyglot (AU) and Oilycart (UK) have come together to present When The World Turns. Co-directors Sue Gilles and Ellie Griffiths have overcome borders and boundaries to deliver this sensory work from 14 to 18 September.
Arts Centre Melbourne's public spaces will come to life with Momentum by Women's Circus. A circus ensemble will explore concepts of space, time and energy on the Main Lawn and Theatre's Forecourt from 15 to 19 September.
Workshops for youth participants
Aspiring creatives will have an opportunity to work with Back to Back Theatre with Come And Make Performance (CAMP) from 8 to 9 October. It is a series of workshops for participants from youth organisations Western Edge, Platform Youth Arts and St Martin's Youth Arts.
The festival will also include a range of collaborations. These include:
Wendy O'Neill, Arts Centre Melbourne, Creative Producer – Access and Inclusion, says: "Alter State is here. It's a bold newcomer to the arts world, ready to share stories and create moments that will excite the senses and captivate audiences.
"This inaugural programme has been curated to platform the incredible diversity of Deaf and Disabled artists across Australia and Aotearoa. We are thrilled to be presenting this alongside Arts Access Victoria and to open a new chapter for disability arts in the region."
Showcasing extraordinary talent
Hon Steve Dimopolous, Minister for Creative Industries, says: "Alter State is about showcasing the extraordinary talent Deaf and disabled communities bring to our creative industries, putting artists at the helm of a new festival that raises the bar on inclusive and accessible events for all."
Alter State has been disability-led by Arts Access Victoria and Foundation Artists Carly Findlay, Rodney Bell and Joshua Pether.
In November 2021 there was the Alter State digital launch. A range of broadcasted performances, workshops and discussions. Earlier this year, Arts Access Victoria CEO Caroline Bowditch was announced as the Creative Lead for the debut of Alter State.
"It is so exciting to be launching the 2022 Alter State programme. I feel that Arts Access Victoria's contributions to this project have brought a different perspective, raised different questions, and brought new voices and skills into the conversation."
Further details about programme accessibility and the digital programme will be provided in August 2022.