News
Arts Access Aotearoa
Short film Tama a first for Film Festival
1 August 2017
Tama, the first Deaf and hearing short film collaboration to feature at the New Zealand International Film Festival, will screen in Wellington (13 August), Christchurch (16 and 17 August) and Dunedin (18 and 19 August) as part of the Ngā Whanaunga Māori Pasifika Shorts Programme.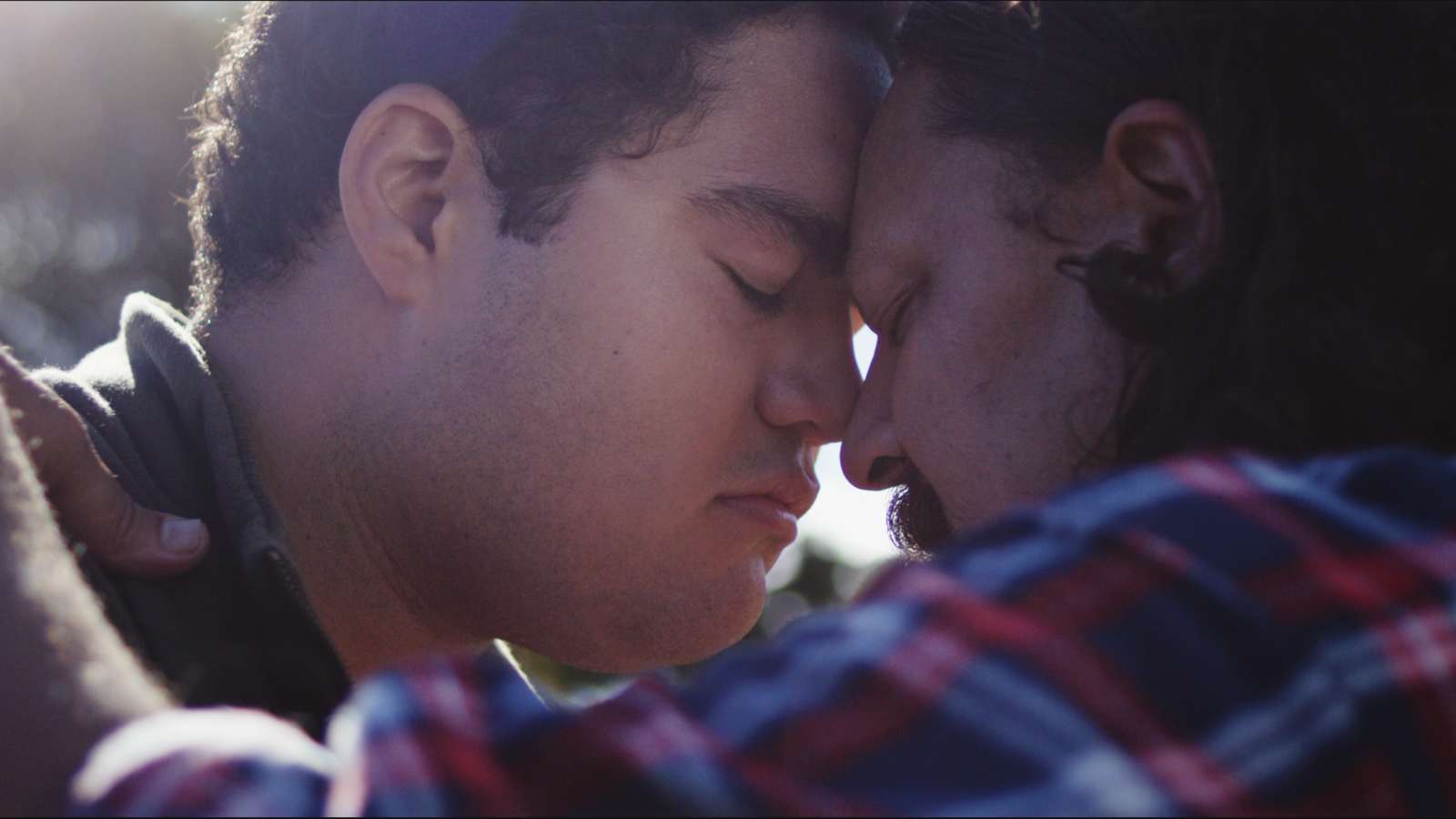 Filmmakers Jared Flitcroft (Deaf) and Jack O'Donnell (hearing) co-directed this short film with Deaf and hearing actors. Eric Matthews (Deaf) plays the lead role – a boy called Tama.
Tama is about a young Māori Deaf boy who wants to perform the haka. On a near-fatal car trip, Tama has to confront his family. In his struggle, he begins to grow from an undervalued youth into a proud young man.
Tama won four awards at the Wairoa Maori Film Festival In June 2017, including the Whenua Jury Prize for Best Māori Short Film, Best Actor (Eric Matthews), the Audience Choice Award, and the T-Tahiti Prize to send Jared Flitcroft to Tahiti in October to screen Tama as part of the T-Tahiti International Film Festival.
Tama was filmed in Ohariu Valley in Wellington. The cast and crew are from Wellington, Auckland, Christchurch and Hawke's Bay. It has already screened in Auckland.
It screens in Te Papa Soundings Theatre, Wellington at 1.15pm on 13 August; in Christchurch at Hoyts Northland 4 at 6.15pm on 16 August and 12pm 17 August; and in Dunedin at Rialto Cinemas at 2pm on 18 August and 6.30pm on 19 August
1. Where did the idea of Tama come from?
Jared: The idea of Tama came to me when I was 16 years old. I wanted to tell a story about the struggles of isolation and miscommunication. In order to be accepted into his family, this Deaf boy called Tama wants to learn the haka.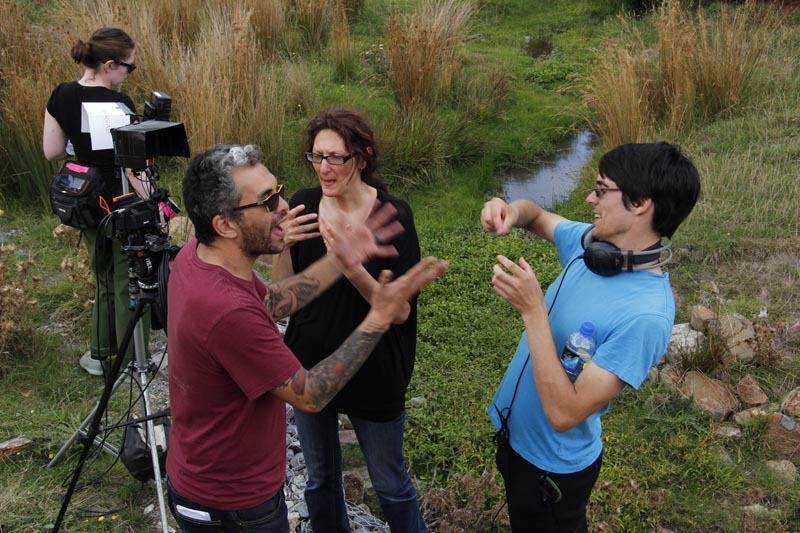 I rewrote Tama and showed it to Jack, whom I've known for many years from working in theatre. Then I went to film school and afterwards we decided that we really wanted to make this film together.
Jack: We took Jared's story and over the course of several years tightened it into a short film script. It was great having both of us involved in the process from the outset. Jared focused primarily on the visuals and working with the Deaf actors, and I focused on the sound and the hearing actors.
Both components of visuals and sound are crucial to the final product. For the Deaf audience, we really emphasised the low bass in the sound design to feel Tama's haka when it's played in a cinema. It was an exciting feeling.
2. What was it like working with a Deaf and hearing cast and crew?
Jared: It was a fantastic experience working with both hearing and Deaf people. We had an authentic Deaf actor, hearing actors, and Deaf and hearing crew all communicating with each other using our NZSL interpreters. The hearing crew also learned some NZSL as well and it was great to see more communication on the set.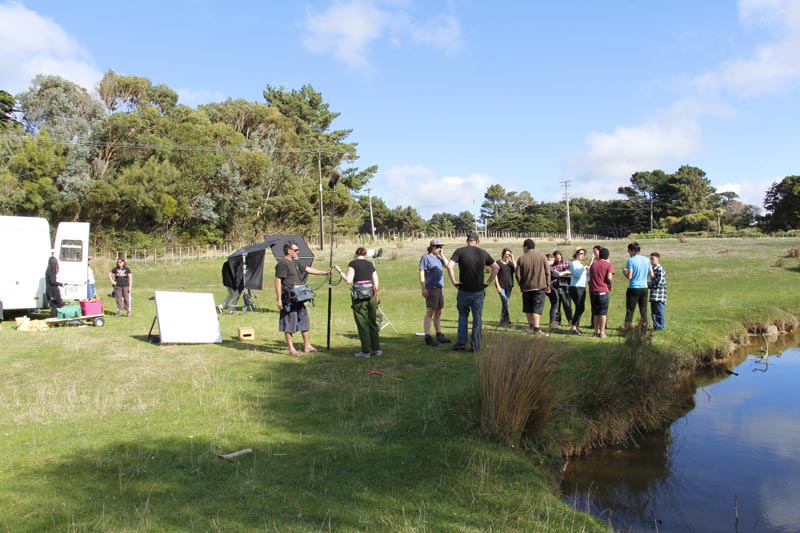 Jack: It was a challenging four-day shoot as we had two different languages and 30 cast and crew. We all had to communicate fluently while also trying to make a film! Because Jared and I had already worked for so many years on the script and storyboards, we had a solid idea of what we wanted and this helped enormously with pushing through our set-ups. Our aim was to tell the story well while also providing new opportunities. We hope to have more Deaf and hearing collaborate on films in future.
3. What message do you want to send by making this film?
Jared: I want to send a message that Deaf people are the same as hearing people: we just can't hear. This film is very much about building the collaboration between Deaf and hearing. There is nothing else like it and I'm really thankful that I have had a part in it. With acting, there are a lot of fantastic Deaf people out there who would love the chance to do this, and I hope to see more Deaf actors on screen in future.
Jack: It's been great over the last few years seeing more Deaf actors in the mainstream – such as in the Ukrainian film The Tribe, and from Hollywood, Edgar Wright's Baby Driver. It's been amazing to see the response this film has had in its festival run so far. Eric Matthews, who is a first time actor, won the best actor prize at Wairoa, and that speaks volumes about the talent of Deaf actors.
I also think it was a great collaboration, and the final film captures both the Deaf and hearing perspective.
About the co-directors
Jared Flitcroft is a Deaf filmmaker from Wellington. He graduated from Victoria University with a Bachelor of Media Studies. He was also the first Deaf person to graduate from the New Zealand Film and Television School. Since then, Jared has been writing, directing and working on sets of numerous films. Jared is the chairperson of New Zealand Deaf Film Inc. where he leads a team through workshops and collaborations with film industry professionals. He also chairs the biannual New Zealand Deaf Short Film Festival.
Jack O'Donnell is a graduate of Victoria University of Wellington with a degree in Film, Theatre and English, Jack O'Donnell has made a number of short films, documentaries and music videos. His first professionally directed film, Copper (2014), was selected for several international film festivals, including the Los Angeles Diversity Film Festival (2014) and the Rome CINDEAF Film Festival (2015). Jack works as a videographer, filming and editing corporate videos, theatre productions, weddings, and special events. He is currently in post-production on a feature length documentary about the Deaf/hearing theatre company Odd Socks Productions, and is in pre-production on the upcoming documentary, The Maata Project
Media contact:
Ashleigh Flynn, Producer
T: 022 410 8951
E: tamashort@gmail.com