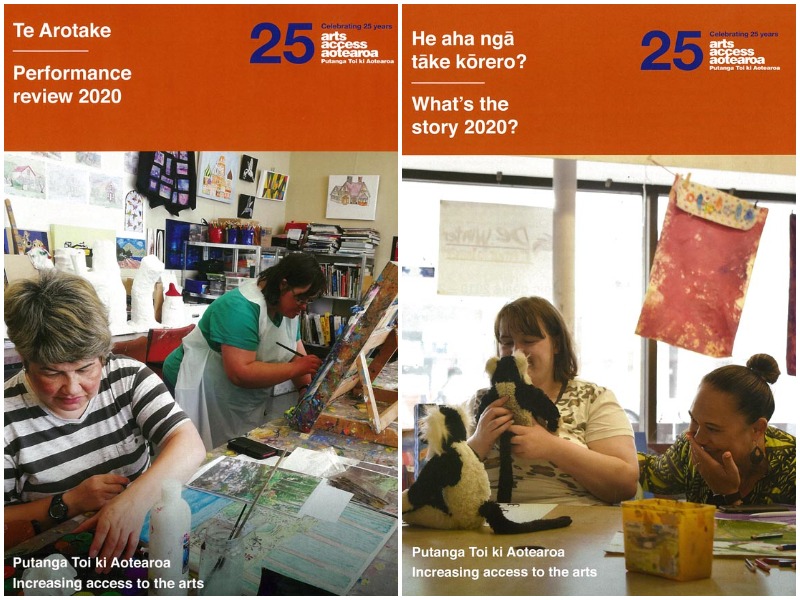 Te Arotake Performance review 2020
Cover image: Artists at C.S. Art, a creative space in Invercargill, engrossed in their art-making
He aha ngā tāke kōrero? What's the story? 2020
Cover image: Hon Carmel Sepuloni, Minister for Arts, Culture and Heritage and for Disability Issues, enjoys a visit to Studio2 in Dunedin during Creative Spaces Week 2020 in February Photo: Kerry Hodge Photography/Dunedin Fringe Festival
Grateful thanks to our designer Craig Christensen, Graphic Solutions, and to our printers, Coherent , for your ongoing generosity and support.
Arts Access Aotearoa in 2020
Scroll through the flipbook He aha ngā tāke kōrero? What's the story? 2020
He aha ngā tāke kōrero? What's the story? 2020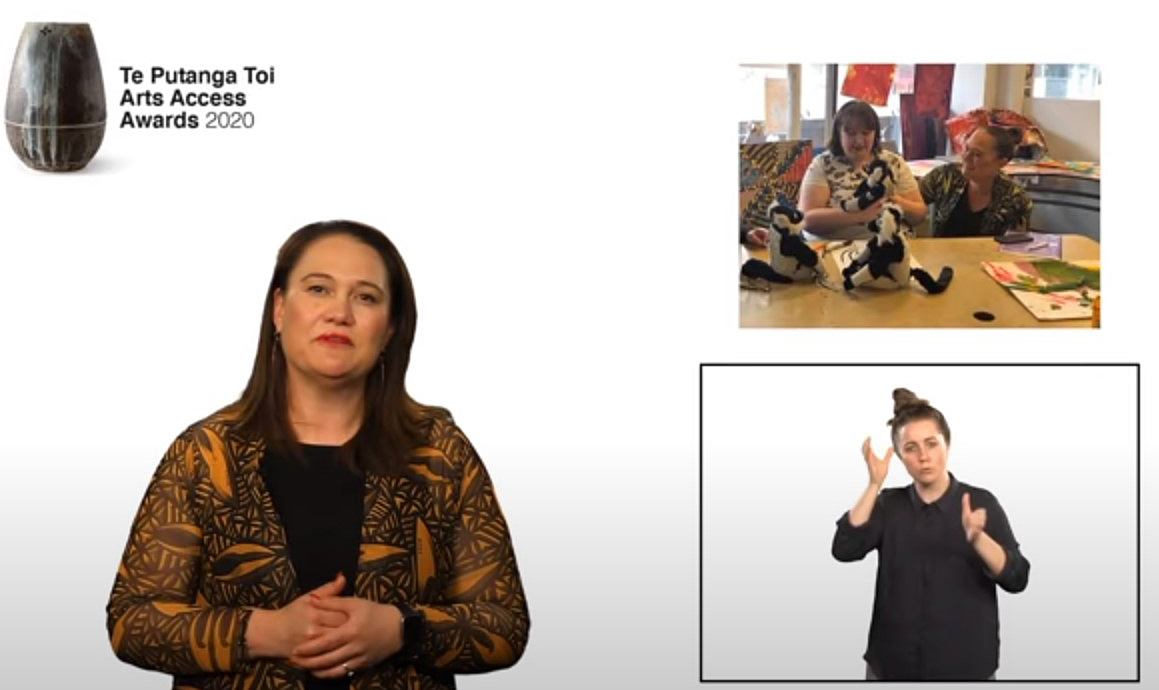 A year of doing things differently:
Chair and Executive Director's report on 2020
In 2020, Arts Access Aotearoa responded to the challenge of COVID-19 by demonstrating its values in action. "Kaitiakitanga: service to others and nurturing leadership in others" was particularly important as we kept our services and programmes open, assisting our stakeholders who support vulnerable people.
Many experienced hardship during the national lockdown and subsequent alert level disruptions. We were particularly proud of the way creative spaces used digital platforms to stay connected to their artists and communities during the lockdown.
The arts sector was significantly impacted and we commend them for their remarkable flexibility and innovation as they confronted the challenges of closed doors.
For Arts Access Aotearoa, it was a year of learning to do things differently and being flexible. Even though lockdown meant we were kept apart physically, digital conferences and meetings brought more people into the room than ever before ...
Download
He aha ngā tāke kōrero? What's the story? 2020 (pdf 2.26MB)
He aha ngā tāke kōrero? What's the story? 2020 (Word 179KB no images )
Te Arotake Performance review 2020
Arts Access Aotearoa's independent Auditor's Report for the year ended 31 December 2020 are published in Te Arotake Performance review 2020. This document includes its Statement of Service Performance, Statement of Financial Performance, Statement of Financial Position, Statement of Cash Flows, Statement of Accounting Policies and Notes to the Performance Report
Download
Te Arotake | Performance review 2020 (PDF1.35MB)