Article
Arts Access Aotearoa
Creative growth in California
29 January 2016
"The artists I see as contemporary artists, not artists with disabilities or even self-taught artists. Work that doesn't relate or respond to art history: that's how I describe what our artists do," says Tom di Maria, Executive Director of the Creative Growth Center, in a recent article published in the New York Times.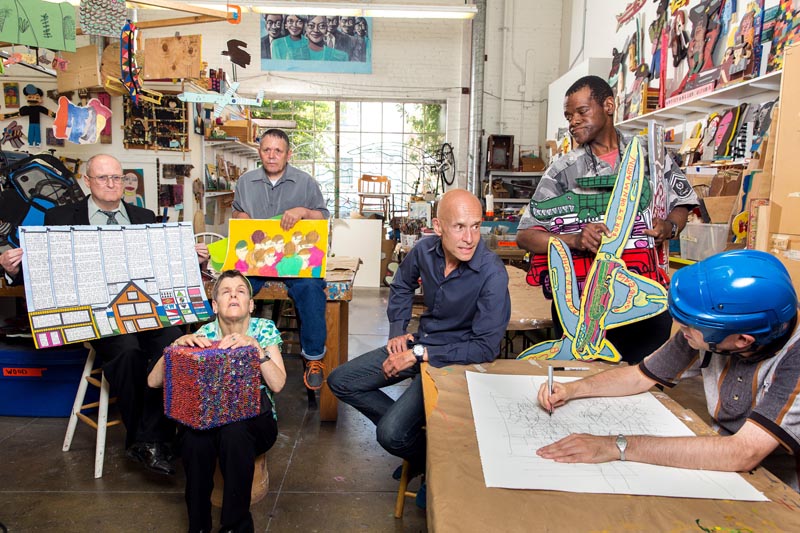 The Creative Growth Art Center is situated in Oakland, California. It's the world's oldest and largest art centre serving artists with developmental, physical and intellectual disabilities. Founded in 1974 by artist and educator Florence Ludins Katz and her husband psychologist Elias Katz, it was based on the then radical notion that people with disabilities could also be creative and artistic.
$1.8 million renovation campaign
Tom di Maria took over the reins of the centre in 2000 and in 2008 led a $1.8 million campaign to renovate the centre's facilities, which was operating out of an auto-repair shop.
"I wanted to establish the integrity of all the artists under my care, so the studio space had to be contemporary so the artists would seem contemporary," he said.
About 160 adult artists work at different times at the centre participating in drawing, painting, woodworking, printmaking, ceramics, rugmaking, textiles and mosaics.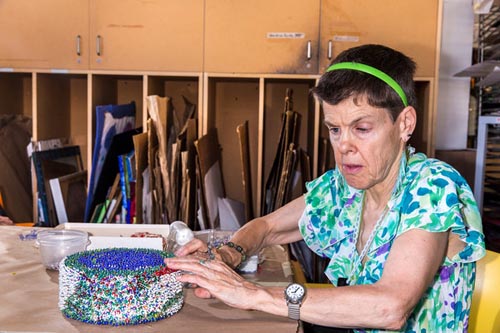 The New York Times article features Monica Valentine, who makes art with foam boxes on which she pins sequins and beads. She is blind and feels the difference in temperature of the beads and sequins.
Tom decided artists should work with artists. When funding came to an end in 2010, he hired new staff who are all professional artists and under orders never to guide or instruct unless asked to by an artist.
When Tom started in 2000, the main focus of his job was to promote Judith Scott's artwork because the board members felt her work was important but they didn't know what to do with it. Like many of the centre's participants she was institutionalised. She became Deaf as an infant and it wasn't picked up. Instead, it was thought she had a low IQ and was "retarded".
Rescued from distress and isolation
Her fraternal twin, Joyce, rescued Judith from her distress and isolation after 40 years separation and took her along to the Creative Growth Center. In 2000, Tom was visited by the Director of Lausanne's Collection of Art Brut and he made Judith the subject of a 2001 show that later travelled to New York, Hong Kong and Tokyo.
A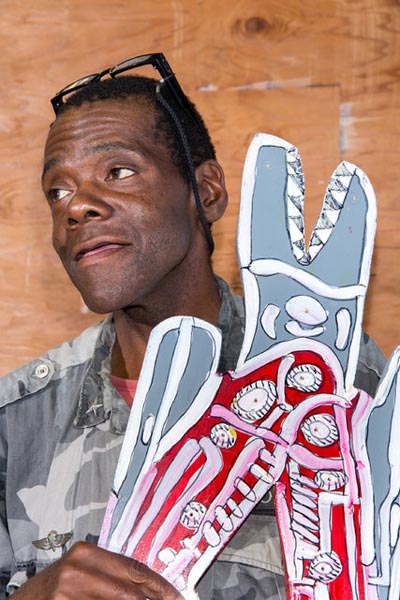 feature of the centre is its collaborations with the professional arts sector. Marc Jacobs and Paper Magazine worked with the centre's artists who designed tee-shirts modelled by Hollywood actors and famous models.
The market for the centre's work has increased since Tom arrived and he has put the prices for artworks more in line with other contemporary art. Artists from the centre's sculptures were initially priced at $200 and when they sold well, Tom increased the price to $500 and then $1500.
Tom tries to de-emphasise the artist's disability while recognising that for many collectors and critics the disability is central to the works' appeal.
Lawrence Kinder, Director of the Berkeley Art Museum and Pacific Film Archive ,says: "Might it be possible that the works' originality has something to do with the fact that those creating it have led unusual lives, under unusual pressures, which have caused them to view the world in unusual ways?"