News
Arts Access Aotearoa
South Auckland youth who are participants in the Nga Rangatahi Toa Creative Arts Initiative programme combine street smarts with stage directions for the 2014 season of "Manawa Ora" at The Herald Theatre, Aotea Centre, on 23 and 24 January.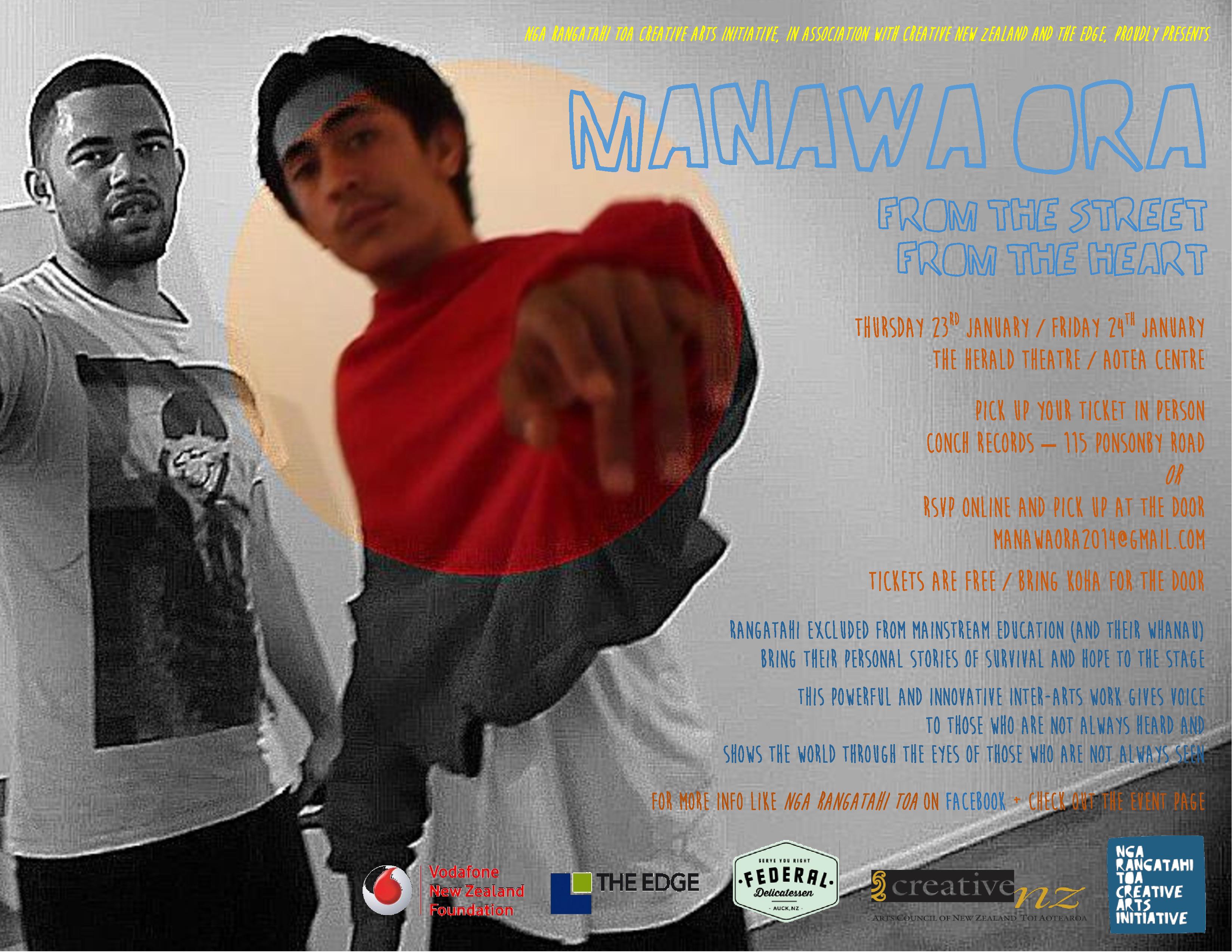 These young performers, who have been excluded from mainstream education, tell their stories of hope and survival in the sometimes chaotic and challenging environment they call "realness".
"This is what's real. It's the realness. This is my life and I want to tell my story," says Sipa Deidoe, a youth participant telling his story for the first time. "I never used to talk in public. I thought I'd get judged for being too hood but Manawa Ora made me think it's important to own my experience and let people know what it's like, what it's really like growing up in the hood."
Sipa was paired with actor Vinnie Bennett during a week of intensive one-to-one workshops and together, they devised a one-act play based on Sipa's sometimes harrowing life experience.
Stories from the street
Seven other participants from South Auckland were similarly paired with established actors, artists and musicians to devise works for Manawa Ora, telling stories from the street that validate both youth and mentor.
"Working with Sipa was humbling and I know the other mentors felt the same," Vinnie says. "To watch the kids grow as they gain confidence to tell their stories is awesome. Sipa's an artist and Manawa Ora has helped him be comfortable with who he is, and not feel 'less than' because he wasn't born into privilege and opportunity."
Creating opportunity is a core ingredient for community cultural development organisation Nga Rangatahi Toa, led by Creative Director Sarah Longbottom.
Theatre, music, performance poetry and visual art
"Using our celebrated one-to-one mentoring model, Manawa Ora is our first inter-arts programme involving theatre, music, performance poetry and visual art," Sarah says.
In 2012, the work of Nga Rangatahi Toa Creative Arts Initiative, in partnership with Artstation and the MIT School of Visual Arts in Auckland, received Arts Access Aotearoa's Big 'A' CQ Hotels Wellington Community Partnership Award.
"This work is a lifeline for each young performer," says Richard Benge, Executive director of Arts Access Aotearoa. "They build self-esteem and take positive steps forward with their lives."
Re-engaging youth
Manawa Ora is one of the intensive creative arts mentoring programmes used to re-engage youth who have fallen through the cracks and transition them into tertiary study or employment. All youth actors, artist and musicians in Manawa Ora are either in alternative education or are Y-NEET kids (Youth Not in Education, Employment or Training).
"Y-NEET is not a kind acronym and the stats are flat-out horrifying," Sarah says. "On any given day in this country, there are more than 28,000 young people between the ages of 15 and 19 doing nothing – disengaged, marginalised and silenced. But what we do works. We flip the script, we listen, we give hope. The stories of Manawa Ora are precious and deserve to be heard."
The performance begins at 7pm on 23 and 24 January. Entry by koha at the door. You can pick up your tickets in person at Conch Records, 115 Ponsonby Rd or RSVP to manawaora2014@gmail.com and collect your tickets at the door. For further information please contact Sarah Longbottom on 021 2777 585.