News
Arts Access Aotearoa
Mentor programme gets underway with training day
3 September 2014
"It's good to set goals at the beginning but it's also good not to be too attached to them," participants in the recent training day for Arts Access Aotearoa's Creative Space Mentor Programme were told.
Held at Studio One in Auckland on 28 August, the training day was led by Aly McNicoll, Director of the New Zealand Coaching and Mentoring Centre.
"Goals should be tailored to your needs and pitched to inspire you to action," Aly said. "In reality, however, your goals may well change and become clearer as a result of the mentoring."
Seven volunteer mentors and seven creative space mentees took part in the day, which included visits for the mentees to Spark Centre of Creative Development and Toi Ora Live Art Trust.
A formal structure
Mentee Samuel Nikalls was appointed Manager of Sandz Studio and Gallery in Hamilton six months ago. "The timing of the programme is perfect for me. It's great that it's a year-long project that has a formal structure to it."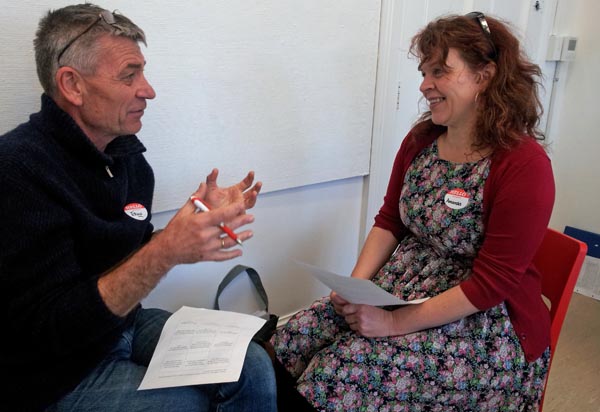 For mentee Amanda Reid, Programme Manager at Te Awa Korowai on the Kapiti Coast, one of the benefits of the training day was meeting others who worked in community-based creative spaces.
"As a manager at a creative space in transition, my goals are about successfully managing the transition," she said. "Having a fresh perspective from a voice of experience will hopefully support me in that process."
Aly McNicoll was one of the team who set up a a not-for-profit management programme at Unitec in 1996. She also led last year's training day in Wellington for Arts Access Aotearoa's pilot mentoring project.
"Extreme sports of management"
Aly described management of not-for-profit organisations as the "extreme sports of management".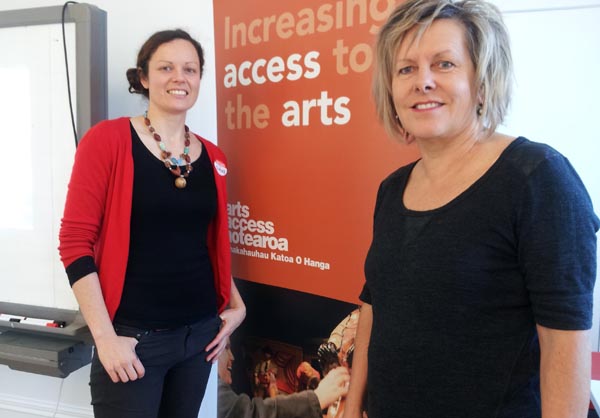 "Not-for-profit organisations take on impossible tasks and then have to do them with minimum resources," she said. "That's why we need mentoring to build the capacity of leaders in the sector.
"Good leaders in this sector are people who can cope with complexity, ambiguity and uncertainty. They ride the roller coaster of changing governments and funding contracts."
Commenting on the mentees participating in the year-long programme, Aly said they were already passionate about their work with creative spaces and their artists.
"This is about giving them the tools and support they deserve so they don't burn out and we don't lose them to other sectors. It's about enabling them to grow, and to feel valued and satisfied in their work."
Networking opportunity
Another benefit of the training day was the networking opportunity it provided. For Monica Evans, a Project Co-ordinator at Toi Ora Live Art Trust, a highlight of the day was "meeting people from all around the country doing similar work. It made me feel part of a community."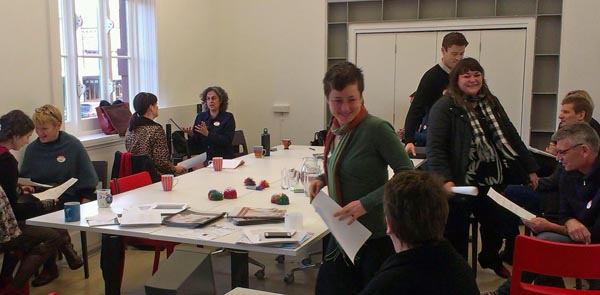 As for the mentors, Aly said they also get a lot out of the process. "It's a chance to develop their own skills, and reinforce their thinking around leadership."
The four other mentees are Rohana Weaver, Community Support worker and Tutor, Alpha Art Studio, Wellington; Pauline Denton, Co-ordinator, the Art Centre, Helensville; and Diedre Dahlberg, Manager, Creative Journeys, Palmerston North; and Bridget Donohue, Community Support Facilitator, 249, West Auckland.
Each mentee was matched with one of the mentors who had attended the training day. The mentors are Maggie Gresson, Executive Director, Artists Alliance; Ana Terry, artists and educator; Don Hunter, artist and director; Jeremy Smith, Manager, Olveston House; Lisa Howard-Smith, Manager, Auckland North's Family an Community Services; Erwin Van Asbeck, Manager, Toi Ora Live Art Trust; and Kim Morton, community worker, Christchurch.
Arts Access Aotearoa thanks Creative New Zealand, Pub Charity, The Lion Foundation, and all the people who donated to the Boosted campaign, for supporting its Creative Spaces Mentor Programme 2014/2015.