News
Arts Access Aotearoa
Rembrandt Remastered New Zealand Sign Language Tours
15 June 2015
Rembrandt Remastered New Zealand Tour 2015 opened in Wellington this month at the New Zealand Academy of Fine Arts, celebrating one of Europe's greatest artists. It will include three New Zealand Sign Language tours with Deaf tour guide Theresa Cooper.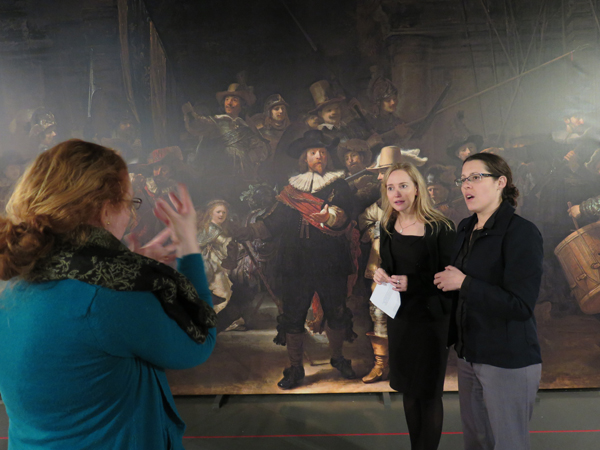 Latest techniques in digital photography, means the public have the opportunity to see a group of Rembrandt's masterpieces digitally remastered to their original condition.
The 57 works are full size and displayed in chronological order with accompanying text that tells the story of the individual pictures and Rembrandts' life.
Rembrandt made 330 paintings in his life and these paintings are now spread across more than 18 countries around the world. They are held in national art galleries as well as private collections, some of which are very difficult to access by the public.
Other Rembrandt paintings have been damaged or stolen, the original mastery no longer being accessible to people today.
Arts Access Aotearoa assisted John Dow, Rembrandt Remastered New Zealand director, to organise the three New Zealand Sign Language Interpreted tours.
"These digital images of Rembrandt's masterpieces hold stories of people and events 400 years ago. A tour by a Deaf guide in NZ Sign Language is an example of specific audience development and accessibility." Richard Benge, executive director of Arts Access Aotearoa says. "This is an excellent example of audience development by the organisers that opens up a world of knowledge and appreciation".
The New Zealand works on display include

The Nightwatch 388.4 x 504.6 cm
Danae 185 x 203 cm
The Anatomy Lesson of Dr Nicolaes Tulp 169.5 x 216.5 cm
The Polish Rider 116.8 x 134.9 cm
The Jewish Bride 5 x 166.5 cm
The Syndics of the Amsterdam Clothmaker's Guild 191.5 x 279 cm
Exhibition information
Venue for the Interpreted tours: New Zealand Academy of Fine Arts, 1 Queens Wharf (next to Museum of Wellington City and Sea)
Dates and times:
Sunday 21st June – 2-3PM
Saturday 27th June – 2-3PM
Thursday 2nd July 11am – 12pm
Booking is essential.
Text Marianna: 027 727 3870 with your preferred tour date and how many attendees.
Or e-mail Marianna.Churchward@vuw.ac.nz
The tour is free with the cost of the exhibition entry fee:
$10 per person
$5 for young people aged under 13 years old
For more information on the exhibition read more here
Your invitation
Watch and listen to Theresa's video invitation here