Media Release
Arts Access Aotearoa
MEDIA RELEASE: Ōtautahi Creative Spaces
5 July 2018
Findings from research, to be launched in Christchurch on 9 July, demonstrate the "profound" impact of Ōtautahi Creative Spaces' programmes on artists' mental health and wellbeing.
Analysis of the innovative arts programme by Ihi Research and Development has revealed how it has helped those involved to become more connected and resilient with improved social skills.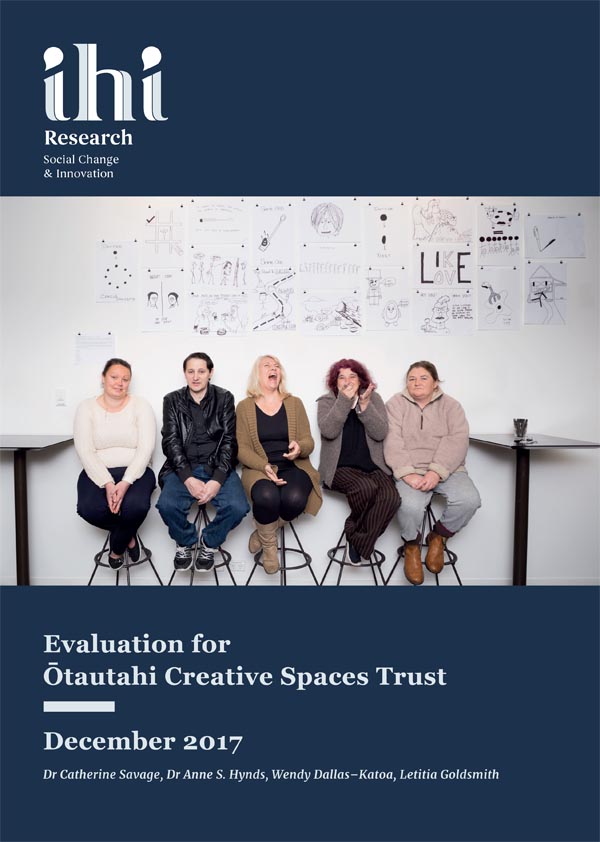 Ihi Research and Development Director Dr Catherine Savage says the research reveals there are many therapeutic and positive impacts associated with being an artist in a highly creative, resourced and safe community of practice.
"Being engaged in individual and social art-making activities can have a profound impact on people's mental health and can strengthen general wellbeing," she says. "We found that identity as an artist, rather than as a person with experience of distress, is the catalyst for change."
You can download the report, Evaluation for Ōtautahi Creative Spaces Trust.
Ōtautahi Creative Spaces was set up in Christchurch in 2015 with a goal of boosting wellbeing, social connection and resilience through creativity.
Its purpose was to respond to the high levels of mental illness, distress and trauma following the earthquakes by using a creative practice aimed at supporting vulnerable people to live full, aspirational and creative lives.
The findings come as no surprise to Ōtautahi Creative Spaces director Kim Morton. "The research backs up what we've always known: that providing a creative outlet for people with poor mental health helps to grow self-worth and self-esteem, and leads to new connections and friendships.
"Belonging and feeling valued"
"I've witnessed the extraordinary changes that artists have made in their lives, with renewed purpose and energy, a strong connection to other studio artists, and development of their creative practice. The artists inspire and encourage each other. It's all about belonging and feeling valued.
"Our team of highly skilled and supportive practitioners encourage and challenge the participants to expand their skills and knowledge and give them the confidence needed to lead fulfilling lives."
She believes organisations like Ōtautahi Creative Spaces have the potential to do even more to support people with compromised mental health, and is calling on the Government's Mental Health and Addiction Inquiry to address the current inequities in funding.
"Despite evidence showing the impact of creativity on health and wellbeing, there's a real lack of funding consistency across the country.
"Some district health boards provide substantial funding for arts and health programmes while in areas like Canterbury there is no health funding invested in arts and health.
"The mental health system in Christchurch is under particular pressure and organisations like ours could do so much more if the funding was available."
Qualitative analysis of the programme
The research is based on interviews with 20 participants, and qualitative analysis of the programme was conducted by Christchurch's Ihi Research and Development. Funding for the research was provided by Red Cross.
Other research findings include:
The programme provides participants with a distraction from their mental health condition and an opportunity to concentrate on something positive.
Ōtautahi Creative Spaces enables participants todevelop new mindsets, learn new skills, and have pride in accomplishing something different and challenging.
As a result, new artists feel more connected to their family, friends and communities.
Participating artists explain how the process of learning new art-making skills has impacted on other aspects of their lives, such as reducing smoking and getting fitter.
Participants says they feel more resilient as they take risks and learn new creative techniques and improved social skills, both within the creative programme and also in the wider community.
You can download the report, Evaluation for Ōtautahi Creative Spaces Trust or email Kim Morton for a copy.
For more information, interviews or images
Kim Morton, Director Ōtautahi Creative Spaces
T: 022 064 7963 E: kim@otautahicreativespaces.org.nz
Catherine Savage, Director Ihi Research and Development
T: 027 777 9111 E: catherine@ihi.co.nz