Media Release
Arts Access Aotearoa
Simon Kerr's journey through art
MEDIA RELEASE: Arts Access Aotearoa
30 March 2017
An exhibition featuring artwork by Simon Kerr, On the Way to the Opera with the Drug Lord and Mr X, will open at the Potocki Paterson Art Gallery in Wellington on 7 April.
So who is Mr X of the exhibition title? Kerikeri artist and former prisoner Simon Kerr says that on the night of 18 August 1993, there was an escape from the maximum security prison at Paremoremo in Auckland.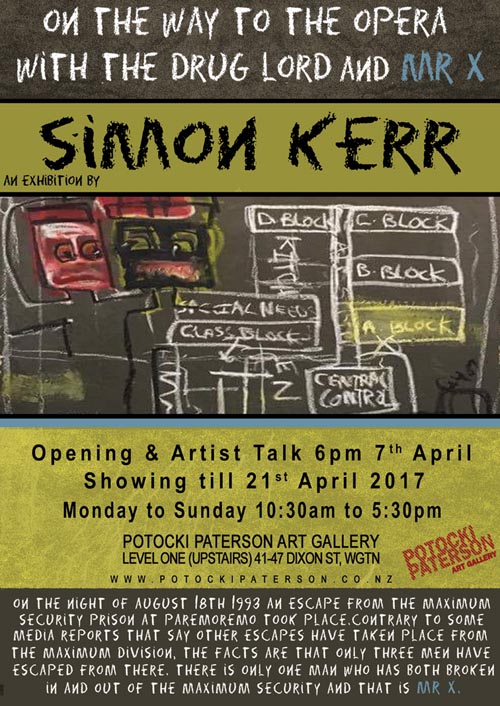 "Contrary to some media reports that other escapes have taken place from maximum security, the facts are that only three men have ever escaped from there," Simon says. "Only one man has both broken into and out of the maximum security prison and that is Mr X."
Born in 1961, Simon was 16 when he was first sent to Mt Eden Prison in Auckland. In the 1990s, he was the leader of a group of safe-crackers known as the Hole-in-the-Wall Gang and staged a number of escapes from prison.
During his last prison sentence, served at Northland Region Corrections Facility from 2011 to 2015, he started making art.
"Apart from love, art is the only thing I'm really passionate about," he says. "Corrections provided me with a vehicle to develop that passion.
"Prisons don't change people until people change prisons, and whoever it was that was in a position to allow the art programe at Northland Region Corrections Facility, I give them my sincere thanks. And to my art tutors, Sandra and Beth, 'I owe you so much'."
Staggered by his talent
Simon's talent was quickly recognised by his art tutors. Kerikeri artist and critic Mike Nettman says he was staggered when he first saw what Simon was producing.
"I looked over his shoulder to see what he was doing and I thought, 'My gosh, this man is incredibly talented," Mike recalls. "I asked him what he did before he was in prison. And he said to me, 'I robbed banks'. I said I meant what was his occupation and again he said he'd robbed banks. From the age of 15, he'd been robbing banks and that's all he knew."
Sixth solo show
Simon was released from prison in late 2015 and lives in Kerikeri with his partner and their two young daughters. His first solo exhibition, where all his work was sold, was at the Whangarei Art Museum in January 2016. The Wellington exhibition is his sixth solo show.
"I hope this exhibition will encourage others not to be deterred by obstacles and to free themselves from the mould they've become stuck in," Simon says.
Simon says his art is two things: a narrative of his personal journey and his observation of the world along that journey. "I'm passionate about telling my story and my view of the world but I've never trained as an artist."
Mike Nettman says Simon has opened his soul for people to view. "It's very honest work. He doesn't want to learn about technique and he doesn't have to because he is a storyteller in his art and it is very powerful stuff."
On the Way to the Opera with the Drug Lord and Mr X runs from 7 to 21 April at Potocki Patterson Gallery, 41-47 Dixon St, Level 1, Wellington. The exhibition opens at 6pm with an artist talk at 7pm.
For more information, please contact:
Iona McNaughton, Communications Manager, Arts Access Aotearoa
T: 04-802 4349 / 021 799 059 E: iona.mcnaughton@artsaccess.org.nz