CHANGE AT THE TOP: Thank you for your nine years of service as a trustee, Dr Karen Webster, and welcome to Arts Access Aotearoa's new Chair, Lynley Hutton. The Board and staff presented Karen with two etchings by Maisie Chilton. Read more about Maisie's art
Kaumātua, patrons and trustees
Arts Access Aotearoa is governed by a board of trustees. Richard Benge is the Executive Director and Lynley Hutton is the Chair.
Kaumātua
The Venerable Wiremu (Bill) Kaua ONZM, JP (Ngāti Porou, Ngāti Kahungunu, Ngāti Horowai, Rongowhakaata, Rakaipaaka, Te Aitanga Hauiti)
Founding patron
Mel Smith CNZM, Wellington: BA, Graduate Henley College Oxford Senior Executive Programme, Templeton College Oxford Leadership Programme and Former Ombudsman.
Patron
Miranda Harcourt ONZM, Wellington: A leading New Zealand actor, Miranda Harcourt has worked with the Deaf community. She has also worked in the drama-therapeutic field with physically and intellectually disabled people. In addition, she has worked with men and women in prisons throughout New Zealand.
Patron, Arts Access Accolade
Dame Rosemary Horton DNZM, QSO, QSM, Auckland: Dame Rosemary Horton is a philanthropist and mentor for New Zealand charities. Her passion over 40 years has included disabilities, the arts and health. Dame Rosemary has been the patron of the Arts Access Accolade and mentor to the organisation since 2014.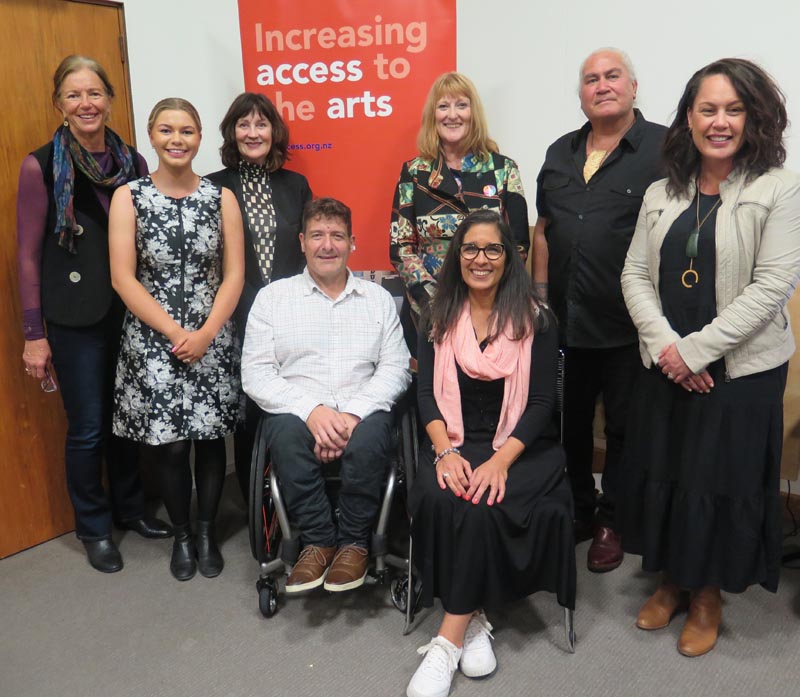 BOARD MEMBERS: Back row: Dr Karen Webster (former Chair until August 2021), Ruth Smithers, Lynley Hutton (Chair), Te Aturangi Nepia-Clamp, Jo Burrell. Front row: Paig Sullivan (youth representative), Stew Sexton, Frances Turner. Absent: Olivier Lacoua
Trustees
Lynley Hutton, Chair, Wellington: has more than 25 years of leadership experience across the government, private and education sectors. She has held a number of senior management roles with responsibility for staff, associated budgets and work programmes, including oversight of very large infrastructure investment portfolios. Lynley has been self-employed for the past 5 years, enabling her to devote more time to writing, as well as contributing to the community by volunteering on a number of organisations' committees and boards.
Jo Burrell, Wellington: Of Ngati Pahauwera descent, Jo is the Manager, Strategic Integration at ACC's Health Partnerships team. Jo is responsible for the oversight and management of business unit strategy to support the delivery of the scheme to all New Zealanders. With more than 25 years' experience in the health sector, Jo has comprehensive insight into the barriers impacting access, and champions connected leadership to solve complex organisational and social problems. She is a proficient operational leader with years of experience in managing change, budgets, resources and crisis (COVID-19) whilst still maintaining a people-centric leadership style. She has a Master Advanced Leadership Practice (distinction) from Massey University.
Olivier Lacoua, Christchurch: Olivier is experienced in hotel management, leadership and financial performance. As General Manager of CQ Hotels Wellington from 2010 to 2017, the hotel became the first accommodation facility in New Zealand to achieve a gold rating by Be. Accessible in 2011. Olivier is a member of numerous boards and involved with various charities. He has also fundraised for New Zealand Red Cross, running 100 marathons by 2020. In 2012, he was awarded the Chevalier de l'Ordre National du Merite (Knight Order of Merit of France) and in 2017, he received the Arts Access Accolade.
Te Aturangi Nepia-Clamp, Gisborne: of Ngāti Ruapani, Ngāti Porou, Rongowhakaata, Kahungunu and English descent. He has more than 40 years' experience in promoting and delivering art projects, pioneering new thinking particularly in Māori art in public places and making art available for all. He is an experienced board member and a cultural arts consultant with a deep understanding of Māori tikanga. A Winston Churchill Fellowship recipient, he has received numerous art awards, commissions and grants as a carver and sculptor.
Stew Sexton, Wellington: has run his own company AbilityDis Consulting since 2010, specialising in promoting the inclusion of people with disabilities into all areas of society and focusing on accessibility training. Since 2010, Stew has been involved at a governance level with CCS Disability Action. He was Vice Chair of the national board from 2012 and 2014, returning to its Wellington governance committee and becoming the Chair in 2016. Also in 2016, he was appointed a director of Odd Socks Productions, which promotes and facilitates the use of New Zealand Sign Language in the arts.
Ruth Smithers, New Plymouth: An experienced senior executive and director of small business with an extensive background across both public and private sector organisations. Ruth has worked in health and social services development and delivery for 30 years, most recently as Deputy Chief Executive for Tui Ora, a large regional health and social services kaupapa Māori NGO. She has well-developed general and specialist management expertise, plus strong business acumen. Tertiary qualifications include a Master of Business Administration (Distinction) from Massey University.
Frances Turner, Auckland: a management consultant with more than 25 years' experience, ranging from IT project leadership with Ernst & Young and Carter Holt Harvey to co-founding The New Zealand Dance Company and leading the Royal New Zealand Ballet as Executive Director. She is a Toi Ora Live Arts trustee, and has served on a school board and multiple arts boards. Under her leadership, the RNZB implemented a Commitment to Accessibility policy. She holds a BS in Accounting and MIS from Pennsylvania State University.