News
Arts Access Aotearoa
Wheelchair stage lift free for Wellington venues
13 June 2013
Positively Wellington Venues, home to the only portable wheelchair stage lift in New Zealand, will lend the lift at no cost to any organisations or venues in the Wellington region.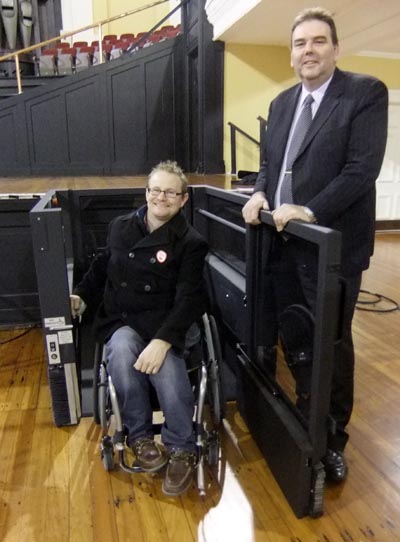 Funded through a grant from the Performing Arts Foundation, the new wheelchair stage lift gives easy access to the stage for people requiring a wheelchair: for example, speakers, university graduands and performers.
Craig Woolliams, Director of Facilities and Operations for Positively Wellington Venues, says the wheelchair stage lift is improving the accessibility of its venues: Michael Fowler Centre, Opera House, St James Theatre, TSB Bank Arena, Wellington Town Hall and Shed 6.
"Access in our venues is extremely important," he says. "We are constantly learning different ways of making Positively Wellington Venues more accessible to the community and the wheelchair lift is contributing to this."
Positively Wellington Venues is happy to lend the wheelchair stage lift free of charge to organisations or venues in Wellington. "We want the wheelchair lift to be used as much as possible. It's very mobile and we would deliver it to any venue wanting to use it."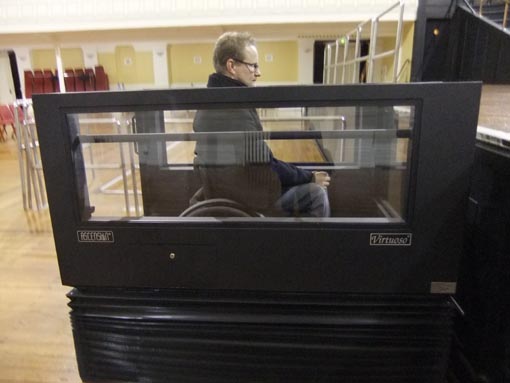 Kendall Akhurst, a wheelchair user and trustee at Arts Access Aotearoa, sees real value in the stage lift not only for people in wheelchairs but for anyone with mobility issues unable to walk up steps and on to the stage.
"This is a fantastic initiative for Wellington and will open a lot of doors for people with mobility issues," he says. "I've been to events where I was the speaker and I've had to speak at ground level below the stage, simply because the stage wasn't accessible to me.
"I've also been to award ceremonies where I haven't been able to get up on to the stage for my award."

Requests for easy access
Investigations for a wheelchair stage lift began after Positively Wellington Venues received requests from universities to find easy access to the stage for disabled graduands at graduation ceremonies.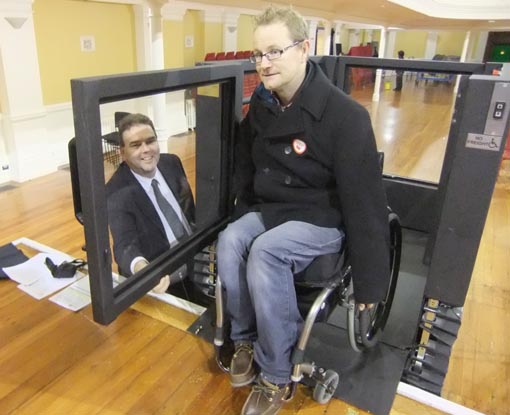 "We initially looked at building one but it was too expensive," Craig says. "We decided that the best and cheapest way would be to purchase one from overseas and the Performing Arts Foundation was happy to fund the project."
Craig is a member of the Arts For All Wellington Network, which is facilitated by Arts Access Aotearoa. "Being involved with Arts Access Aotearoa gives us a support mechanism for understanding some of the values regarding access to our venues. Access to our facilities for disabled members of the community is something we look at when we discuss ways to improve our services."
For Craig, the biggest benefit of being a member of the Arts For All Network is to gain knowledge and insight. "For someone like me who has never experienced disability, it helps to understand potential issues for people who require different ways of accessibility so that we can improve them."
Contact Craig Woolliams (E: craig.woolliams@pwv.co.nz T: 04 801 4046) if you would like to borrow the wheelchair stage lift for your organisation or venue in Wellington.