News
Arts Access Aotearoa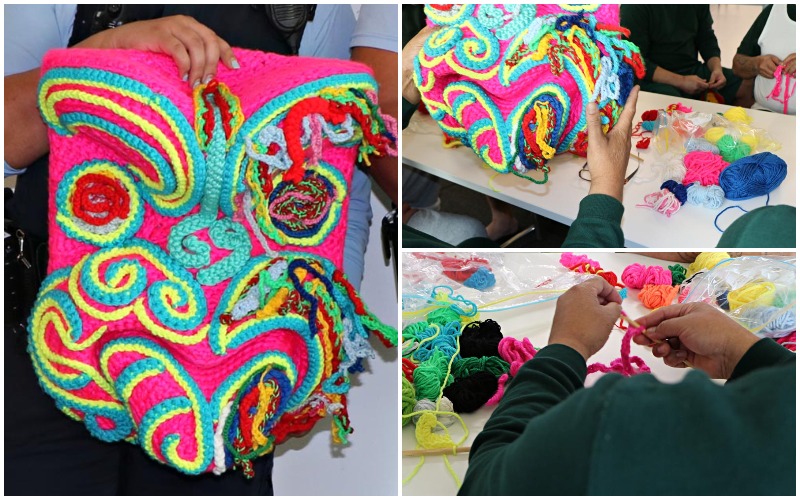 Who knew that a brightly-coloured contemporary creative twist could infuse a renewed passion for the age-old craft of crocheting, and elevate traditional Māori concepts to a whole new level of modern art?
It's happening in New Zealand, and also at Mount Eden Corrections Facility (MECF), thanks to artistic Auckland couple Lissy Robinson-Cole and Rudi Robinson.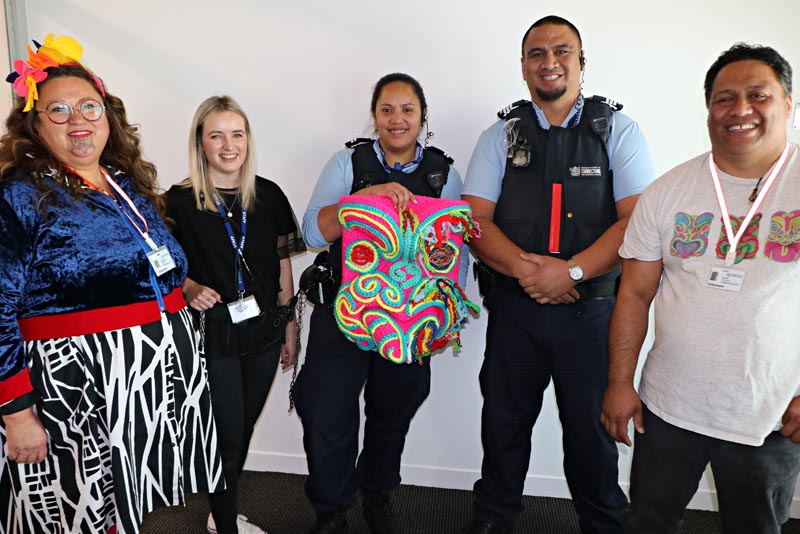 MECF Regional Volunteer Co-ordinator Ghissy Lee says Rudi, who was taught to crochet by Lissy, worked with a group of 22 men in in the Papa Unit of MECF.
"They created a three-dimensional sculpture of Harakoa, the kaitiaki of joy," Ghissy says. "Each of the men contributed individual trimmings they have crocheted themselves, such as squares, chains and hearts. These were assembled to cover a polystyrene sculpture of Harakoa carved by Rudi."
The completed sculpture is now on display in the MECF visits hall.
Learning to crochet reminded some of the men of their nanas and led to the sharing of childhood memories with one another in the crochet class. Another participant was also inspired to crochet a beanie for his young son.
The men's contribution to the Harakoa sculpture is meaningful to them. "It makes you feel you're worth something," says one of the participants.
It seems as though a revitalised crochet revolution is taking New Zealand by storm. Lissy and Rudi are showcasing their colourful crocheted Te Ao Māori-inspired installations in art galleries, and they also decorate whatever crosses their path – be it neighbourhood fences, their house, and even their car.
"Learning to crochet is easy and quick, and so therapeutic," explain Lissy and Rudi.
"It's all about the loop and connecting, just as we are all connected through our whakapapa. Our kaupapa is about joy and love; the joy and love we have deep in our hearts, thanks to the love we have received from our whānau, friends, and the world."
The couple is working on an ambitious personal project at present: crocheting a multi-coloured wharenui, six metres long and five metres wide. They want to tour it throughout New Zealand, stretching people's imaginations and teaching everyone to connect through the art of crochet.
Plans are also under way to deliver another ten-week crochet programme at MECF following the success of the first course.