A journey of restoration
22 September 2010
When men in the Faith Based Unit at Rimutaka Prison heard about a young girl with leukaemia they wrote her a song, made a recording and sent it to her at the Starship Children's Hospital in Auckland.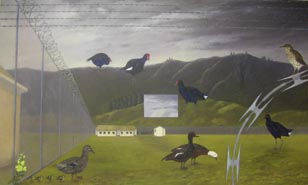 Encouraging the men to look outside themselves and give to others is part of the philosophy of the Faith Based Unit and the other programmes run by Prison Fellowship New Zealand.
As a Christian, volunteer-based organisation, Prison Fellowship New Zealand focuses on providing men and women in and out of prison with the life skills and spiritual development they need to re-enter and integrate into society.
"We believe that when people enter prison they begin a journey of restoration," says Robin Gunston, National Director, Prison Fellowship New Zealand. "And the arts are a huge part of that journey."
Coming out of prison is a frightening experience for many. "In prison, you're told what you're going to do every day. You come out and bang, you're on your own. Once you've been inside for more than three years, most of your relationships tend to be very weak or broken. So the more positive community links we can provide, the less likely it is that people will re-offend."
Providing outlets for expression
That's where Robin sees the arts playing a particularly important role. "Arts activities give people something enjoyable to do. They provide access to groups of people who share your interests and can help you. They are also low cost and above all, they provide an outlet to express yourself – something that is of enormous benefit for the men we work with."
Prison Fellowship New Zealand has extensive networks in communities across the country. It works with many organisations and individuals, including all the churches, Prison Chaplaincy New Zealand, the Salvation Army and PARS.
It has more than 1100 volunteers who visit prisons on a regular basis to assist prison chaplains. In addition, a core group of several hundred volunteers work actively across its core programmes: the Faith Based Unit, Sycamore Tree, Angel Tree and Target Communities.
The only faith based unit in New Zealand, its focus is to provide men in the final stages of their prison sentences with the skills needed to integrate into the community on release. The unit, opened in 2003, can accommodate up to 60 men at a time, most of whom are there for between 8 and 12 months.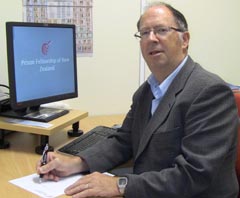 The arts and creative expression are an important part of the unit, Robin says. There's kapa haka, singing, music, art, reading and writing – in fact, most arts activities the men express an interest in.
"Our philosophy is that every person is an individual with particular needs and we work with them on that basis," Robin says. "The men's needs are put first – whether it's self-esteem, family, artistic needs or career prospects."
Leadership roles encouraged
Just over half the men in the Faith Based Unit are Maori. A number of them have been in the Maori Focus Unit and Prison Fellowship New Zealand encourages them to take a leadership role in the kapa haka team.
Music is also an important activity in the unit. "There wouldn't be a day without singing. Again, it's the men who lead it."
There's also access to a keyboard, guitars and amplifiers. And a volunteer visits the unit and gives piano lessons.
Carving is another activity undertaken in the unit. "We get a lot of visitors to the unit and the men often carve special gifts for them," Robin says.
So how successful is the Faith Based Unit? Prison Fellowship New Zealand is currently monitoring 41 men in the Wellington region, who have been out of prison for two years. Of these, only two have returned to prison.
"We know, because the men tell us," Robin says, "that the Faith Based Unit is the best thing that's happened to them in the prison system."