Media Release
Arts Access Aotearoa
MEDIA RELEASE: SOUNZ
ACTIVE youth in concert with Julian Raphael
25 May 2017
Composer Julian Raphael and community group ACTIVE will present a new work, We're Gonna Get Along, in concert on Saturday 27 May. The song cycle was composed by Raphael as the 2016 SOUNZ Community Commission for the young people's singing group.
We're Gonna Get Along is a personal narration and musical exploration about the ACTIVE group. Words for the commissioned work came from ideas expressed by the young people themselves.
The SOUNZ Community Commission brings together New Zealand professional composers and community groups so they can work in partnership to create and perform a new work. It was established in 1999 and has resulted in works for diverse groups such as recorder choir, experimental sound artists and children's theatre. The Commission is sponsored by an anonymous donor and administered by SOUNZ.
The concert is a collaboration between Raphael's Community Music Junction, ACTIVE Youth Group and the Wellington Community Choir. It's the first time the Choir is hosting a special New Zealand Music Month concert in its 12-year history.
Songs by Kiwi bands
In addition to the SOUNZ Community Commission work, Raphael has arranged songs by Kiwi bands Crowded House, The Mockers and The Mutton Birds for the concert, featuring the Choir as both lead and backing vocals.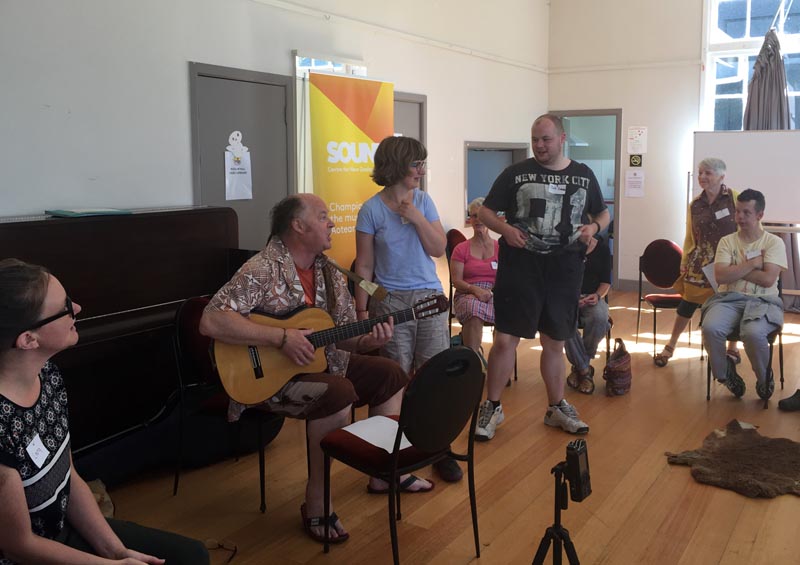 A band of local musicians Nick Granville, John Rae, Pat Bleakley and David Dell will accompany these songs.
Julian Raphael is a community musician, music educator, composer and performer from Wellington. ACTIVE, part of IDEA Services (Intellectual Disability Empowerment in Action), aims to enable, empower and support young people with intellectual disabilities.
"We are having a wonderful time," Julian says. "Our Friday morning sessions with ACTIVE are joyous and there is much excitement of the impending concert, which will be a momentous occasion for many of the young people."
SOUNZ Executive Director Diana Marsh says: "As one of our key projects, the Community Commission reflects SOUNZ's core values of collaborating and working with different communities. We are delighted to be supporting Julian's collaboration with the young people of ACTIVE."
SOUNZ Community Commission composer Julian Raphael and Wellington Community Choir in Concert, 7.30pm Saturday 27 May, Salvation Army Citadel, Vivian St, Wellington. Tickets are $25 ($15 concession) available from choir members or by emailing WelComChoir@gmail.com
For further information and interview requests contact:
Sanna Lounasto, Communications Manager
SOUNZ Centre for New Zealand Music
T: 04 801 8602 E: sanna@sounz.org.nz