An artist's journey from dark to light
13 September 2012
By Brendan McBryde
Lena Durham, an artist based in Hamilton and a champion of creative healing, is one of the 62 artists featuring in the exhibition "Original Voices", presented by Arts Access Aotearoa and curated by Stuart Shepherd.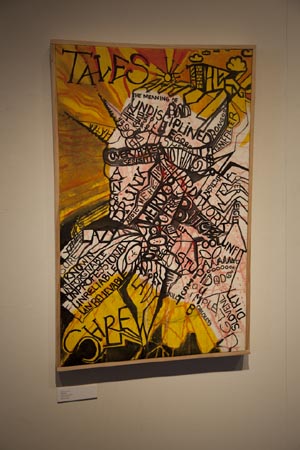 Her exhibition work, Tales of the Shrew, has been described by Stuart as "a powerful and graphic image … raw, difficult, angry, vulnerable, broken and completely real".
Lena says she's been told that she was always good at drawing. Her creative instinct manifested itself too early for her to remember although she recalls the "sense of joy" she felt from an early age when she was painting or drawing.
When she began work in retail, she gravitated toward visual merchandising responsibilities – her keen visual eye an asset in her work.
Through contacts Lena made when she was working in libraries in Tauranga, she discovered Centre 401, a charitable trust in Hamilton "funded on a shoestring" and helping people recover from mental illness. The Centre 401 Trust is run by past and present mental health service users, offering peer support and workshops.
A monthly magazine is published with content from members. A radio station is in the works, and The Urban Oasis is the name given to a number of outdoor spaces designed for relaxation and co-operative development. The centre advocates "creative healing over clinical treatment". It's something that Lena readily identifies with.
Working at Centre 401
Employed at Centre 401, Lena provides one-on-one support, and also co-ordinates events and creates promotional material.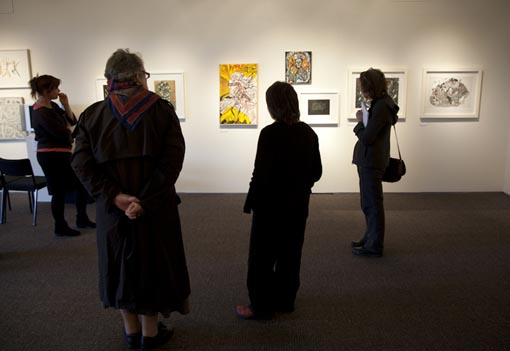 Lena believes that "creative expression is a vital part of the recovery process". Her work, Tales of the Shrew, captures a piece of her own journey through clinical depression. Painted during some of her most difficult times, she says that she is the proverbial shrew, represented as a white stallion storming through a city. Strong and intelligent though it may be, it appears bloody and broken, intertwined with scrawled words like "unforgivable", "childless" and "slovenly". They're words that cause the stallion to falter.
Creative expression of themes
These themes were not just the product of her artistic mind. They encroached on every part of Lena's life. Although they were crippling, Lena says her ability to identify the themes and express them creatively is what ultimately gave her power over them.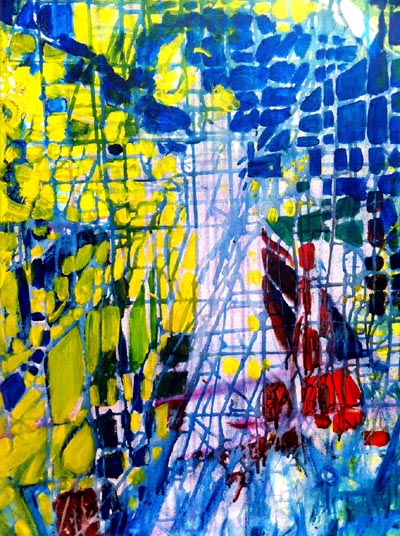 It's been more than ten years since Lena painted Tales of the Shrew – now a reminder of some "very dark times".
Her recent works explore thick layering of paint, combined with the effects of background illumination. Lady in the Light is one of a series of works symbolising her return to the light of health and wellbeing. She says the contrast in her works is "definitely about the journey from dark to light", referencing her own journey back to lucidity and mental strength.
"It is overwhelming and gratifying to have been selected for this exhibition," Lena says. Although she has sold work to friends before, she says that her art has always been a process for herself. This will be her first opportunity to have work available to the public.
"Original Voices" runs at Pataka Museum of Arts and Cultures in Porirua until 23 September.