Article
Arts Access Aotearoa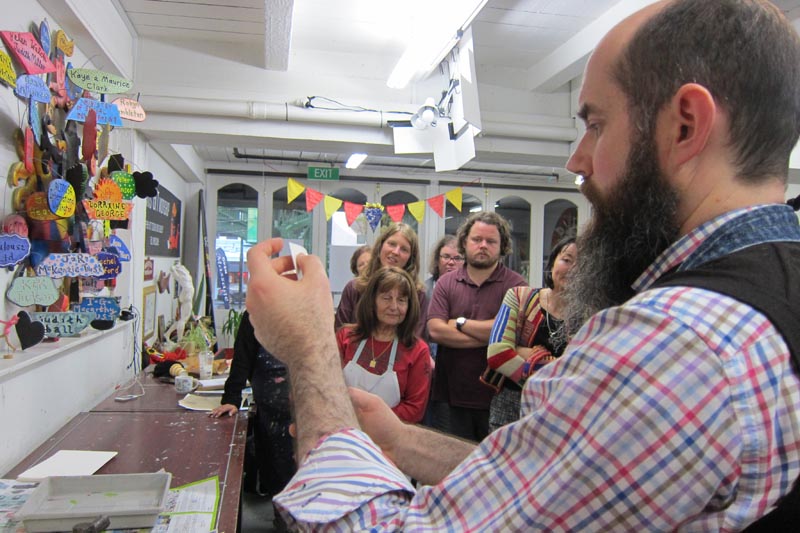 Andrew Mitchell is an artist and has worked at Vincents Art Workshop in downtown Wellington since 2005. He is its Senior Art Tutor.
Andrew is passionate about inclusion in the arts and says that seeing the look on an artist's face when they exhibit or sell an artwork for the first time is the best part of his job.
Vincents Art Workshop was set up in 1985 as an inclusive space where everyone is welcome to come and create. It provides access to arts and craft facilities, skilled tuition and materials within a supportive environment. Visit the Vincents website.
In this Q&A interview, Andrew answers three questions put to him by Arts Access Aotearoa.
1. What does your role as Senior Art Tutor involve?
This role involves mentoring and training other tutors and volunteers; organising our programme of Tuesday workshops; planning and curating monthly exhibitions in Vincents Gallery; and working with all the talented artists who work in our studio.
I also assist our Kaiwhakahaere with the operation of the studio. This includes ensuring that new artists are welcomed into our space, and that their needs and concerns are heard and responded to.
It also includes the maintenance of any equipment in the studio and making sure Vincents is a safe and inspiring workspace.
One of the things I enjoy the most is sharing the skills and experience I've gained from my lifetime of art-making. One of our key philosophies at Vincents is that tutors will teach in a way that recognises that both tutor and artist have much to learn from each other.
At first, this took me a while to get used to but I am forever grateful for the things I continue to learn from interacting with such a wide range of people.
Some of the artists who come to us have had extremely negative experiences learning art, often in the education system as children. I see my role as helping to turn that around so that art and creativity can offer healing.
2. How do you build a cohesive team?
I believe communication is very important. It's crucial to check in with my colleagues about how they are doing on a day-to-day basis, and find ways for tutors to develop their own creative potential in the way they teach.
Part of my role is to identify any training and development needs within our tutor team, and to provide ways for this to happen. We do a lot of in-house skill sharing, but we're always looking for external training opportunities as well.
I try to recognise different skills and strengths within the tutor team and make the best use of those skills. Our tutors are practising artists in a wide range of mediums and have a lot of knowledge to offer. The life skills that staff have are also very important to the way we relate to the users of our studio.
3. How does your own art practice inform your teaching?
In my own art practice, I'm quite hard on myself and it is sometimes quite a stressful process! So I wouldn't necessarily want to encourage that way of working.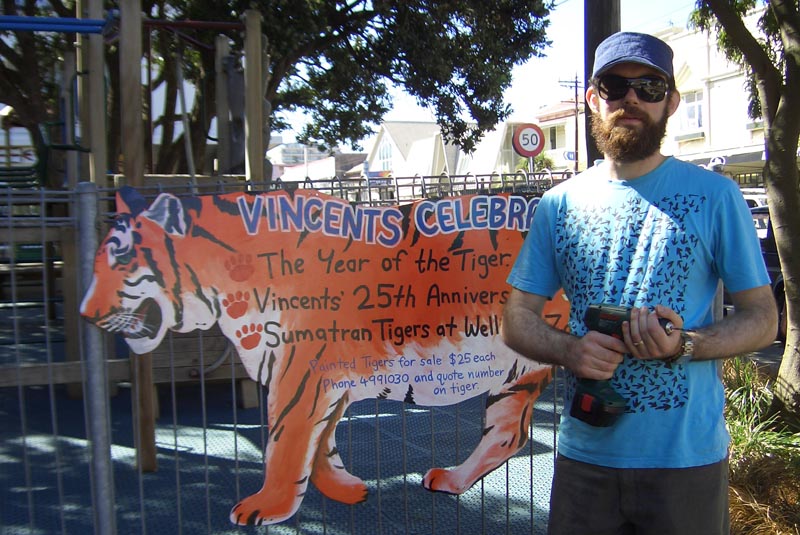 However, my methodical and precise process has definitely informed the way I teach. The good part of this is my ability to break down complex art-making processes into achievable steps, and I apply this whenever I teach a class.
I love problem-solving and that's another thing I love about working in a creative space. For instance, knowing what glue not to use in a particular situation, which I have often learned the hard way.
When I create an artwork, I always want to have learned or refined a skill or technique while making it. If I haven't, I will usually be disappointed. So I always encourage other artists to regularly evaluate their own work and question whether or not they've learned from their previous creations.
As artists, we are often the harshest critics of our own works but we can use that as a tool to create even more impactful work.
This interview is part of a series about the role of arts tutors and facilitators in creative spaces around New Zealand. For more information about Vincents Art Workshop and other creative spaces in Wellington, visit the creative spaces directory.
Also read Insights into art tutors at creative spaces.