Art in and out of office hours

10 December 2013
By Susie McShane
Eryn Gribble is an assemblage artist. In other words, she finds objects and transforms them into pieces of art. These objects range from bent and battered container lids to rusty bottle tops, discarded Lego pieces and animal bones.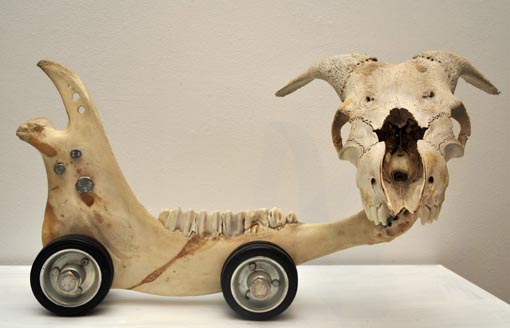 Eryn, also an arts facilitator at Alpha Art Studio in Wellington, says that initially she used these materials out of necessity. She was a student on a tight budget and art supplies were expensive to buy. Being resourceful, she used the materials that were freely available.
Now, however, the "junk" has become her material of choice. The treasure hunt involved in sourcing these items gives her a thrill and she says that working with the organic shapes of the objects is a challenge.
Giving new life to old objects
Buying off-the-shelf products now seems "too easy" and takes some of the fun out of the creative process. Giving new life to old objects that would otherwise be discarded also gives her huge satisfaction.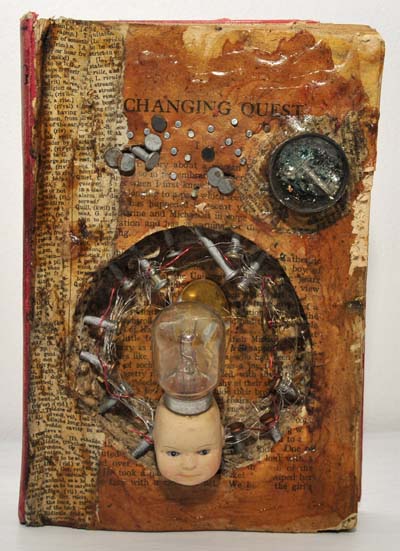 "I am a vegetarian but I don't have an issue working with bones," she says. "Giving a life more meaning, a second life, can only be a good thing in my eyes."
Through her assemblage art, Eryn is also setting out to merge art and craft. "Some people turn their noses up at craft. I wanted to take craft out of its original context and bring it into the fine arts arena to help shift attitudes and give craft the recognition it deserves."
Eryn's craft enterprise is called Salvage Sister. Through this, she sells her recycled home wear, journals, accessories and jewellery in shops, at markets and online.
Originally from Hamilton, Eryn moved to Wellington five years ago to study at The Learning Connexion in Lower Hutt, where she gained a diploma with honours in art and creativity.
Since 2011, Eryn has been working as an arts facilitator at Alpha Art Studio, a creative space for people with intellectual disabilities. "I love people and I love art. I didn't put the two together for a long time, which seems silly now."
Community events and workshops
Eryn has been involved in community events and workshops for many years – drawn by their "inclusive vibe" and the fact that they are often free or low-cost to attend.
She worked as a relief art tutor at Vincents Art Workshop, an inclusive creative space in central Wellington, before getting a fulltime position at Alpha Art Studio.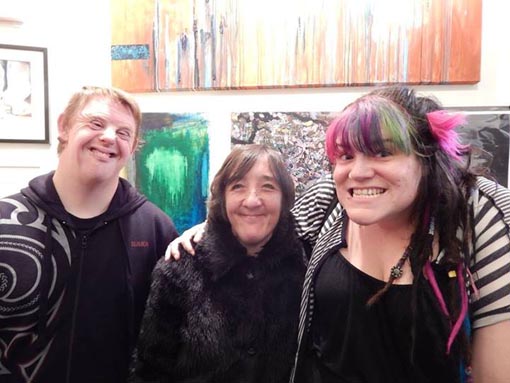 She says that working with learning disabled people has made her much more adaptable. "As an arts facilitator at Alpha, you have to be very flexible. The artists have a whole range of skills and requirements. Regardless of how much planning has gone into a session, you just don't know how a piece of work will turn out.
"You have to run with that, embrace it for what it is, and be happy with it. You can't come into a session with set expectations."
Working at Alpha Art Studio has also influenced Eryn's approach to her art. "The artists who come to Alpha Art Studio get as much from the creative process as from the end product.
"I used to get preoccupied about what my art was going to turn out like and if it was going to be good enough. I would stress if it turned out differently to how I had envisioned it and forgot to just enjoy the in-between stage. Now I make a real effort to enjoy the process of making."
Eryn facilitates a wide range of art workshops from jewellery making to photography, as well as life skills.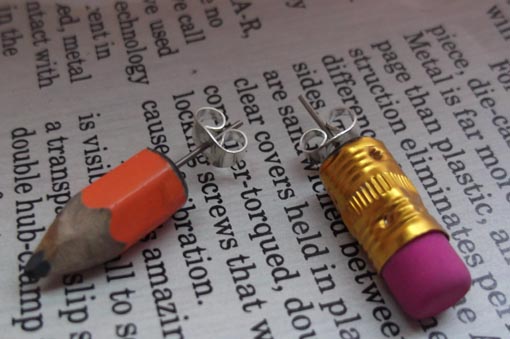 Working on art projects during the day keeps Eryn inspired and motivated to continue creating her own art out of office hours. She reflects that a lot of her artist friends don't get time to practise at all and she feels very lucky to be able to combine her two passions.
"On a good week, I spend ten hours a week at my studio at Nautilus Creative Space in Owhiro Bay. It's based in an old diesel mechanics warehouse, which houses talent of all different types – from tattoo artists to jewellers and rock climbers.
"Art can be a lonely endeavour at times so it is nice to have that social element and be able to sit down and have a chat and a coffee with the other artists."