Article
Arts Access Aotearoa
Art space responds to Christchurch mental health crisis
14 October 2016
"My mental health was suffering severely but with this process, and the support of Ōtautahi Creative Spaces and the people who work here, I'm creating. Not just on canvas but in my world and my daily life. It's a very powerful way of healing."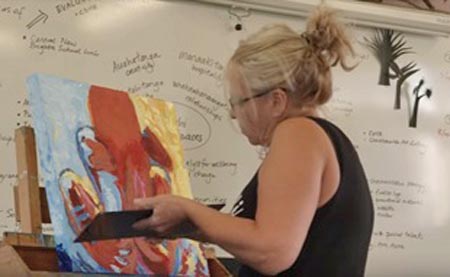 These are the words of Narelle, a former counsellor, who says the Christchurch earthquakes "deconstructed" her life. "It made me question a lot. Trauma was the experience: it changed my living, my work, my mental health."
Narelle is one of several artists speaking in a video about the health and social benefits of attending Room 5, a project run by Ōtautahi Creative Spaces in the Phillipstown Community Hub in Christchurch.
The video is part of a series called Christchurch Dilemmas, directed by filmmaker Gerard Smyth. Funded by NZ On Air and made with support from RNZ, the six-part series examines the major decisions facing Christchurch five years on from the earthquakes that devastated the city.
"It's changed my life for the positive"
Room 5 artist Sue says: "I love Mondays. I can't wait for Mondays. It's changed my life for the positive. I was quite a negative person. I didn't think I could do art until I came here and now I'm doing a certificate in art."
In May 2016, Sue gained a scholarship and started a distance delivery course through The Learning Connexion in Wellington. "If I get upset I sit down and do art, and after five minutes I'm back to being on a level basis. My life's amazing now."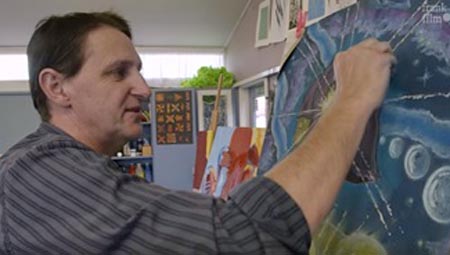 Another Room 5 artist Kerry says: "Coming here helps me socialise and doing art helps me express what's inside and bring it on the outside. People talk about 'post-earthquake' but we're never really free from it, are we? We never know when we're going to get another one. You're always living with constant uncertainty."
The biggest challenge for Ōtautahi Creative Spaces Trust is trying to meet the demand from people wanting to access its art and creativity groups. Right now, there's only funding to run sessions on Mondays and Wednesdays.
"Huge demand for our programmes"
Manager Kim Morton would love to see Room 5 open every day of the week. Based on her conversations in the community and with mental health support workers, Kim estimates there are at least another 200 people who would benefit from attending the art and creativity groups.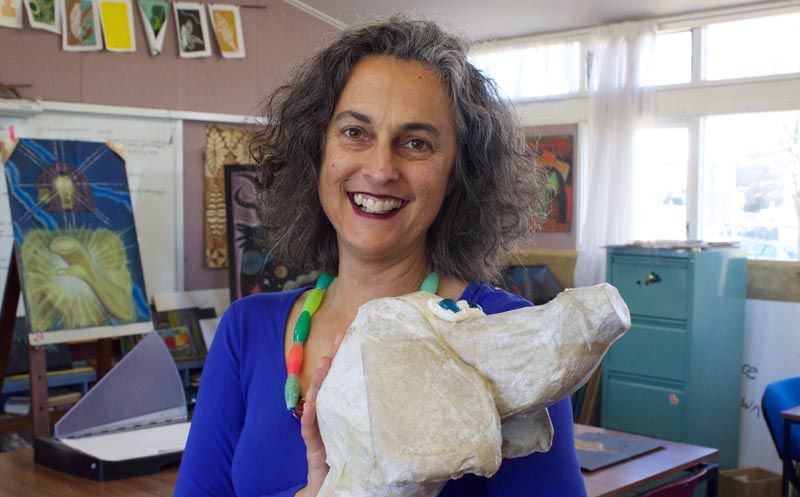 "There's a huge demand for our programmes and we can't absorb the numbers of people wanting to join us," she says. "With more resources, we could do so much more and lighten the heavy load on Christchurch's mental health treatment services."
Another video in the Christchurch Dilemmas series examines the mental health crisis in Canterbury. It shows a huge increase in demand for mental health services: for example, emergency mental health presentations have increased by 104% and psychiatric emergency assessments by 124% since the earthquakes.
Positive outcomes for participants
Kim and the art workers at Room 5 list the positive outcomes they have seen in people attending the groups. These include:
improved wellbeing and reduced social isolation
increased confidence and communication as they mentor newer members, plan exhibitions and sell artworks
development of art skills, along with increased educational and employment opportunities
a greater sense of empowerment over their lives.
"We set up after the earthquakes because we know the power of creativity and its potential to make us feel good about our lives, connect with others, and express our thoughts and feelings," Kim says.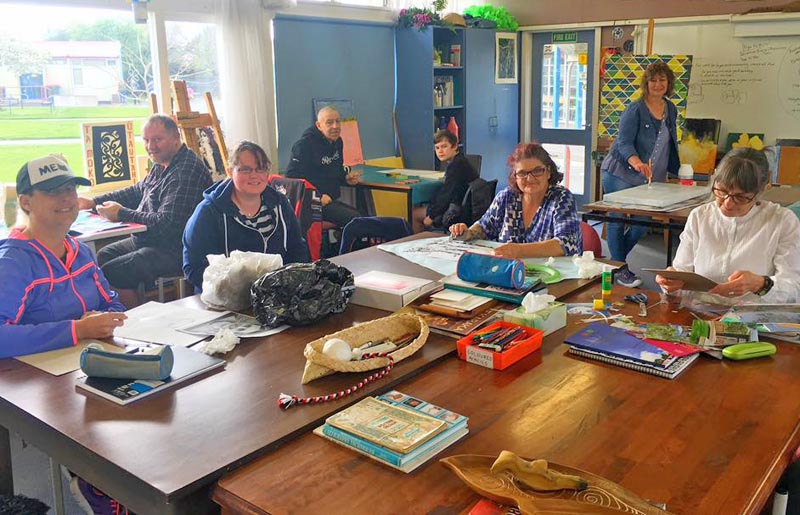 "Being creative alongside others is a powerful tool for resilience and recovery. It's as much about the social connection as it is about the art. Combined, they are a force for transformation."
The kaupapa (principle or belief) of Ōtautahi Creative Spaces Trust is "Building wellbeing and social connection through creativity". It caters for all skill levels and aspirations, and focuses on creativity rather than on mental illness and distress.
Artists shape the space and welcoming environment
"We provide the space, experienced arts workers and quality art materials," Kim says. "But the artists really shape the space and create a welcoming, inclusive and inspiring environment.
"People can bring support workers or whānau. We work in small groups with a high ratio of tutors to participants."
The art and creativity groups are currently funded by The Rātā Foundation, the Christchurch City Council's Strengthening Communities Fund, Lottery Community and the Rotary Neighbourhood Fund.
However, additional funding is needed to expand the programmes. "Investment in Ōtautahi Creative Spaces is an investment in the health and wellbeing of our communities," Kim says.
Please contact Kim Morton (T: 022 064 7963 E: kimm@ihug.co.nz) if you would like to talk about funding and support for Ōtautahi Creative Spaces.