Art encourages rehabilitative thinking
15 April 2011
Christchurch artist and prison art tutor Corina Hazlett has been using art to encourage rehabilitative thinking among young people in Canterbury Prisons for the past 14 months.
Prompted in part by the work of psychologist Urie Bronfnrenner, which emphasises the influence of the environment on the developing child, Corina brainstormed ideas with her youth art class at the beginning of the year. She was wanting to find common themes in their early lives that may have led them to the paths they found themselves on.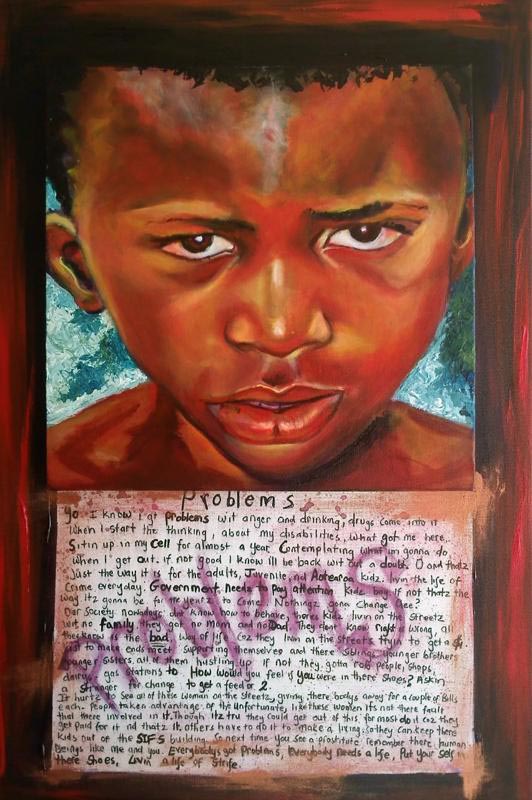 She asked some of the big questions. What would breaking the cycle of crime mean for them? What difference did they feel they could make in their own lives?
She also used a number of well-known whakatauki, including "Taku reo, taku ohooho, taku reo taku mapihi mauria" ("My language is awakening, my language is the window to my soul"). These stimulated more thinking and more art.
Using a mixture of drawing and writing, the participants are creating works that respond to some of these questions. The responses are very moving, Corina says. "I'm often blown away to see that beyond the arrogance of youth, there is an amazing depth of thinking and empathy for others."
The completed works will be featured on four panels. "We hope to auction these pieces at the beginning of next year, with money being donated to the Christchurch earthquake appeal."
Collaborative work
This year's work in the youth art class evolved from an artwork called Problems, created last year. This is a collaborative piece inspired by an invitation from the New Zealand Academy of Fine Arts in Wellington to its membership to submit work for Artists and Activists, an exhibition focused on environmental issues.
Corina responded to the invitation by taking the environmental theme into her youth art class. She collaborated with one of the writers, who had written a piece simply called Problems.
"When I read it, I said to him, 'This is such an expressive and personal story". We decided to collaborate and so I painted a portrait of an anonymous young man, included the writer's text into the work and submitted it for exhibition."
While there was genuine interest in the piece at the New Zealand Academy of Fine Arts, artists had been asked to respond to physical environmental issues. There was no provision for work that would reflect the social environment.
Instead, Corina used her membership to the Saatchi online global art network and submitted the work, where it was exposed to a worldwide audience via the Saatchi Online Showdown Exhibition.
Deep crisis among youth
Moana Tipa, Prison Arts Advisor for Arts Access Aotearoa says the prisoner's writing draws attention to the deep crisis among at-risk children and youth in Aotearoa New Zealand. It also illustrates that the arts can offer a rehabilitative voice of possibility and hope.
In Problems, the writer describes the problems of anger, drinking and drugs, and the life of crime that some young New Zealanders lead. The following is an extract. This work is unedited. Click here for the complete, unedited work.
Our society nowadays don't know how to behave theres kidz livin on the street wit no family, they got no Mum and no Dad. They don't know right or wrong, all they know is the bad way of life coz they livin on the streets tryin to get a $ just to make ends meet supporting themselves and their siblings, younger brothers, younger sisters, all of them hustling up . If not, they gotta rob people, shops, dairys, gas stations to
How would you feel if you were in their shoes? Askin a stranger to get a feed or 2.