Storyteller shares skills with men in Rimutaka Prison
26 June 2013
Geraldine Buckley, who visited New Zealand to perform as a storyteller at the Southland Festival of the Arts 2013 in Invercargill, went with Arts Access Aotearoa to conduct two creative writing workshops involving 60 men in the Drug Treatment Unit at Rimutaka Prison.
A professional storyteller since 2010, Geraldine Buckley has Irish ancestry but was born in England and later moved to the United States, where she still lives. Her first experience of teaching creative writing in prisons was in 2004 at the Maryland Correctional Training Center in Washington DC.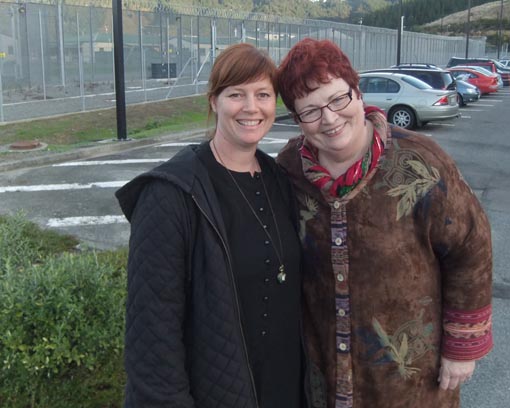 Geraldine volunteered at the Maryland Correctional Training Center for two-and-a-half years. She was appointed its chaplain in 2007 and continued to share her creative writing and performance skills with the prisoners.
In the two-hour workshops facilitated at Rimutaka prison, Geraldine told a story, talked about the structure of writing a story, and gave the men some writing exercises.
For ten minutes, the room was silent as the men wrote a story. When Geraldine asked if anyone would like to tell their story to the group, several men stepped forward. The workshop finished with a haka performed by the men.
Arnie Martinez, Acting Clinical Manager (Care NZ), and several of the counsellors took part in the workshop sessions.
Bringing out the best in every participant
"Geraldine brought out the best in every participant that day," Arnie says. "The writing as well as the sharing of the stories provided an opportunity for the men to understand and appreciate the different backgrounds they came from. At the end of the workshop, I witnessed men stepping forward and presenting their written creative stories in front of the audience.
"The workshop had a good fit with the CareNZ mission and values. It contributed towards our work by helping to empower the men, helping to restore a sense of self-worth and belief in themselves and their abilities."
The Drug Treatment Unit at Rimutaka is one of nine in prisons around New Zealand (eleven Drug Treatment Programmes are run within these units). All the Drug Treatment Units contribute to reducing re-offending by treating drug and alcohol problems amongst prisoners. CareNZ provides Drug Treatment Services for eight out of the nine units.
To teach creative writing to prisoners, you need to have experience as a creative writing teacher. Geraldine lists four other key skills needed for anyone teaching creative writing in prisons. These are:
being a good writer/storyteller and wanting to pass on your skills to others
encouraging the development of writing skills in the people you teach
motivating and enabling people to succeed
having empathy and an understanding of the people you're teaching.