Artwork inspires new brand
13 June 2012
Artwork by Alpha Art Studio artist Shaun O'Riordan has inspired Arts Access Aotearoa's new brand. Called Pop Culture, the work has been purchased by the organisation and hangs in pride of place in its office.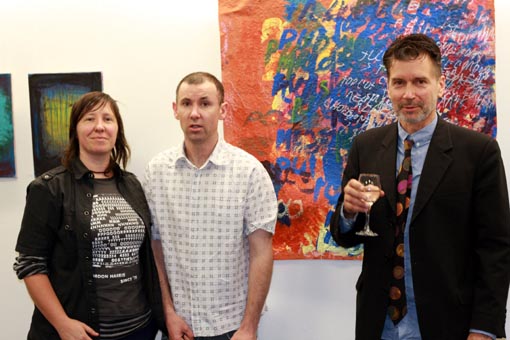 Pop Culture featured in Arts Access Aotearoa's inaugural creative spaces exhibition Make/Believe at Bowen House Exhibition Space in 2011. Curator Stuart Shepherd described the artist's work as "physical and energetic text-based graffiti".
Shaun has been working at Alpha Art Studio for the past seven years. Co-ordinator Joanne Ridley is enthusiastic about Shaun's artwork. "Shaun has autism and has a lot of nervous energy, which is reflected in his work. Painting provides an outlet and helps him manage his anxiety. This struggle unfolds on the canvas."
Words repeated back to him
Joanne describes a method Shaun uses to calm himself. He likes his words repeated back to him, and she believes the text he uses in his paintings imitate this process. "Shaun writes and paints words, then scribbles them out. Once he's followed this process and scribbled out the words, he's able to move on to something else."
Shaun's work reads like stream of consciousness, she says. Working from the right of the canvas, he scribes his favourite things – eighties pop music, stereos and magazines. It was the music that inspired Pop Culture, which he painted in 2011.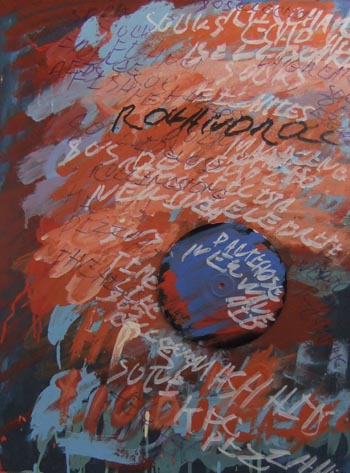 It's on a "floating" canvas so that it's free-standing from the wall – something that suits the work, Joanne says.
Richard Benge, Executive Director, Arts Access Aotearoa says Shaun's text-based work reflects the vibrant contemporary art being produced by artists working in creative spaces.
Shaun enjoys getting out in the community and going out for daily walks. "He usually discovers something on his walks, like a restaurant or advertising posters. Then he'll come back to Alpha Art Studio and search for what he's just seen on the internet," Joanne says. "He'll study the online menu, for instance. He becomes fixated and this is what drives his work."
Shaun regularly enters the IHC Art Awards and has been highly commended several times. He also does photography but painting is the artform he loves most.