News
Arts Access Aotearoa
Attitude Artistic Achievement Award to Salem Foxx
4 December 2015
Salem Foxx could have let Asperger Syndrome exclude him from social situations but his passion and dedication to dance put him centre stage last night when he won the Attitude Artistic Achievement Award at the 2015 Attitude Awards.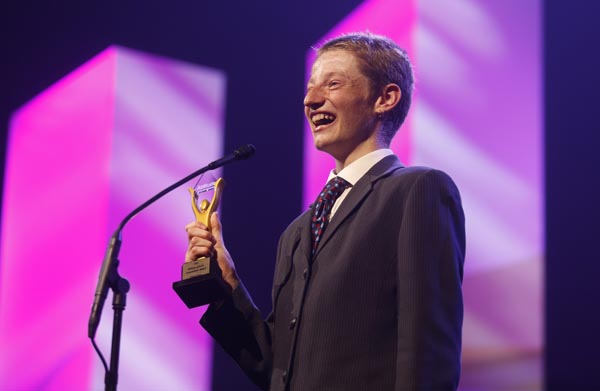 The 15-year-old dancer from the Kapiti Coast has danced his way to a long list of achievements, whether in ballet, jazz, tap, lyrical or acrobatic dance. For the first time this year Salem performed en pointe – a ballet style usually reserved for girls – and was placed first in his debut en pointe competition.
The Attitude Awards celebrate the excellence and achievements of New Zealanders living with a disability. This year's winners were announced at Auckland's Viaduct Events Centre and hosted by television news presenter Simon Dallow.
The overall Attitude ACC Supreme Award was won by teenager Muskan Devta.
International attention
Organisations around the world have started taking notice of Salem's talent. For one, Salem was awarded the International Naturally Autistic People's Award for Performing Arts at the World Autism Festival 2015 in Vancouver on 4 October.
Back in New Zealand, he's performed as Daddy Warbucks in a production of Annie, and has been busy in the studio choreographing more than 20 dance solos, duos and group works.
Salem has previously danced with the Royal New Zealand Ballet and been selected by the New Zealand School of Dance as a Junior Associate.
Helping other young dancers
Too old for these positions now, Salem has turned his talents to helping other young dancers. He assists in teaching Grade One and Two ballet classes at the Hayley Johnson Academy of Dancing. He also manages a blog that showcases his training and routines to other young dancers.
Other Attitude Award winners are Otis Horne (Courage in Sport), Nick Chisholm (Spirit of Attitude), Rachel Callander (Making a Difference), Michael Johnson (Sport Performer of the Year), CQ Hotels Wellington (ACC Employer Award) and Nicholas Brockelbank (Junior). Gary Williams was inducted into the Attitude Hall of Fame and Sean Prendeville won the Attitude People's Choice Award.
The Artistic Achievement Award is sponsored by the IHC Foundation. Other sponsors supporting the Awards include: Westpac, Drake Medox, Ministry of Health, Barfoot & Thompson, Air New Zealand, Lion Foundation, Invacare and the Wayne Francis Charitable Trust. For the eighth year, ACC is principal sponsor of the awards.