News
Arts Access Aotearoa
Audio described musical at Circa Theatre
25 April 2017
Circa Theatre in Wellington will present a touch tour and an audio described performance of Penny Ashton's new musical, Olive Copperbottom, on Sunday 21 May.
Circa Theatre is offering a special price for this show of $30 to all members and guests of Blind Citizens New Zealand and the Blind Foundation.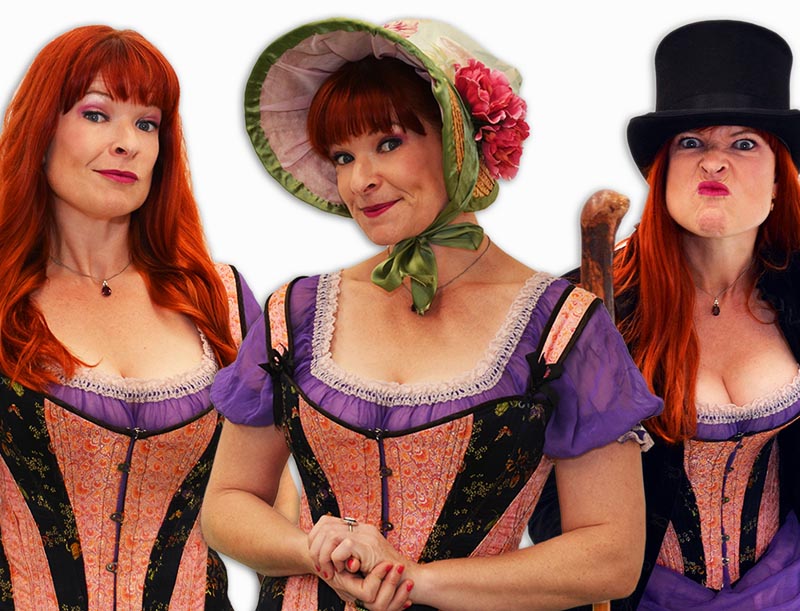 Audio description is a narrated commentary for blind and low vision patrons that describes what's happening on stage in between the dialogue or songs: for example, new scenes, settings, costume, body language, facial expression, movements across the stage and sight gags. An audio describer talks into a microphone to provide the commentary. This is transmitted to wireless receivers and headsets worn by the audience members. It does not affect hearing members of the audience.
This is the first time that one of Penny Ashton's shows will be audio described. "As someone aspiring to Dickensian output, I can think of no better audience to appreciate the 11,500 words I deliver in 75 minutes than people who will be very focussed on the dialogue."
Following the sold-out successes of Promise and Promiscuity, Penny Ashton swaps Austen for Dickens and brings orphaned hero Olive and a squalid gaggle of Victorian characters to pox-ridden London life.
Will Olive find a family among the brothels, toffs and gruel? Or will Mrs Sourtart, Mr Fivestars or even Mr Goodsort break her heart as well as their teeth? A rollicking one-woman musical journey that will fulfil your greatest expectations and be the best of times.
Delivering several laughs a minute
Billed as "a new musical by Charles Dickens and Penny Ashton", Olive Copperbottom has already played in Auckland. Reviewer Nik Smythe writes on Theatreview: " … Penny's here to deliver laughs and so she does: several per minute, for a relentlessly loquacious eighty or so minutes; no mean feat for a solo performance, with commendably consistent energy to boot … This affirmative lampooning of the celebrated author's literary conventions is propitiously matched by the musical curation, arrangement and execution by musical director Robbie Ellis and his (recorded) five-piece chamber orchestra … Yes Penny, please do keep showing off, we love it at least as much as you do."
The touch tour begins at 3.45pm and the audio described performance at 4.30pm. The Circa Café will be open from 3pm for food and beverages.
To book tickets for Olive Copperbottom call the Circa Box Office on 04 801 7992 or visit in person at 1 Taranaki Street. Please indicate at the time of booking if you are a member or guest Blind Citizens New Zealand and the Blind Foundation; and/or require a headset.
Circa Theatre is a member of Arts Access Aotearoa's Arts For All Wellington Network.
Nik Smythe talks to Jesse Mulligan on RNZ about Olive Copperbottom.