Audio Described Aotearoa's dream of increasing the number of Māori and Pacific audio describers has taken a step closer to reality, thanks to a grant from Manatū Taonga Ministry for Culture and Heritage.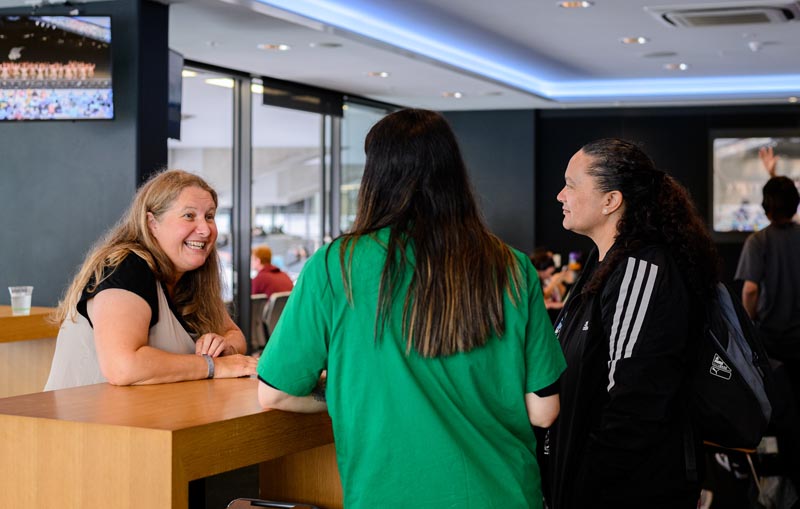 The grant of up to $150,510 will support Audio Described Aotearoa to train 12 Māori and Pacific audio describers, in collaboration with blind consultants. Audio Described Aotearoa co-founder Nicola Owen says that blind consultants will play a crucial role in the training process.
"This is a kaupapa we've hoped for and planned over many years, and is the starting point of a long-term dream to enable blind, Deafblind and low vision people across the world to engage live and online with arts and culture from Aotearoa," Nicola says.
The impetus for the project was prompted by requests from the blind, Deafblind and low vision community, and from arts organisations themselves.
"Increasingly, arts organisations have been requesting audio describers who can uphold the kaupapa of the art," Nicola says. "It's important to have describers fluent in te reo Māori and with a strong understanding of kapa haka or Pacific performance."
Bringing fresh perspectives to all audio description
Audio Described Aotearoa aims to train the audio describers in three main locations to describe Māori and Pacific performance, and also bring fresh perspectives to all audio description.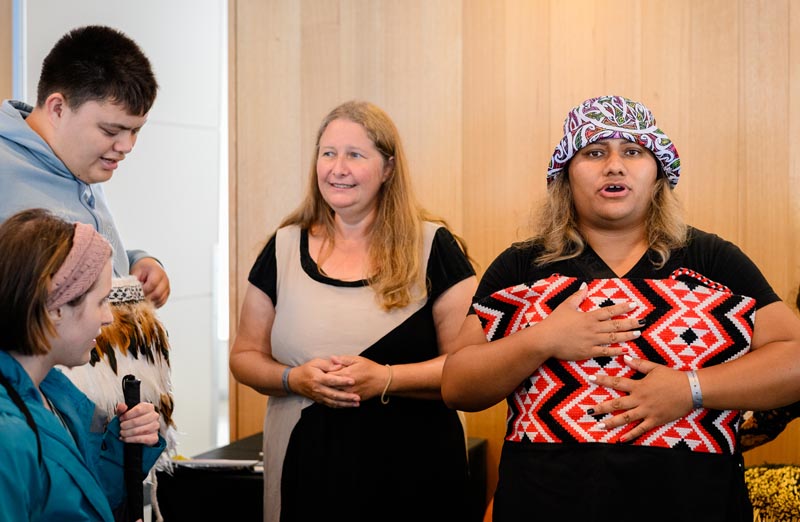 "All of the knowledge will be shared so we build a trusted network of people who support and challenge each other to keep improving," Nicola says.
"Paid blind consultants have always been a vital component in our work, offering feedback on our descriptions and promoting accessible practice to arts organisations. We want to use this project to enhance their role."
"Tasters" of the audio description project were two touch tour and audio described events. led by Audio Described Aotearoa and hosted in Te Roopu Waiora's accessible lounge during Te Matatini over the weekend of 24 to 26 February.
Alanah-Jay Harris (Ngāti Kahungunu, Mgāi Tūhoe and Ngāpūhi) audio described performances firstly for blind and low vision students at the Homai Campus School of BLENNZ (Blind and Low Vision Education Network NZ) in Auckland, and then for adults.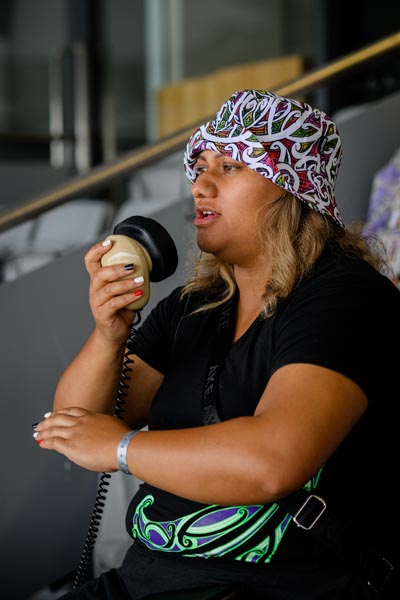 It was the first time Audio Described Aotearoa had provided audio description at Te Matatini. It was also a first for student Lyric Rawiri-Josephs. In a Stuff article, she said: "It felt like we were part of it as well, rather than missing out on the visual side of it. There are so many events blind people would like to be a part of but we miss out."
Nicola says online work done with the Royal New Zealand Ballet during the lockdown in 2020 showed how important audio description is in reaching a large global audience.
"In a few years' time we want Aotearoa to be a place where online audio description extends to Māori and Pacific arts; where films like Whina and Muru come with audio description tracks written and recorded by Māori describers; and where Disney films like Moana, with the soundtrack recorded in te reo Māori, also have te reo Māori audio description."
She says that training Māori and Pacific audio describers is just the start. "This project is the jumping-off point and we're aiming for other benefits. One is to have people from within the communities talking directly to arts producers and funders, and telling them what they want to have described."
Another aim is for blind, Deafblind and low vision Māori and Pacific peoples to be able to engage with cultural performance to enhance their sense of connection to community.
"We know that many people feel excluded from the arts and audio description is the first step to bring them into our theatres and concert halls. In the longer term, we hope this will lead to increased participation. For example, if we could build a strong lexicon of audio description for kapa haka, there is a chance that more young blind people might feel confident participating alongside their sighted peers."
The arts are an important way of promoting cultural awareness and understanding, Nicola says. There are many other blind, Deafblind and low vision people in New Zealand who know, for example, what kapa haka sounds like but want to know what it looks like and what it means.