News
Arts Access Aotearoa
Award recognises Herald arts reporter
11 August 2016
There are myriad social, cultural and economic benefits attached to the arts, says Dionne Christian, Arts and Books Editor at The New Zealand Herald, and the inaugural recipient of the Arts Access Media Award.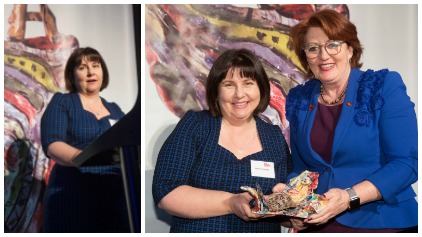 For Dionne, the arts open our eyes to the wider world, provide opportunities for self-expression, and foster tolerance and acceptance of other viewpoints.
"The world needs more arts and I see my role as championing this, but also keeping a watchful eye on the politics of arts. Stories about inclusion are important because I think everyone should have access to the arts.
"My feelings around access and inclusion are the reason I'm keen to write about arts programmes in a variety of settings."
The Arts Access Media Award recognises an individual who has demonstrated leadership and excellence in reporting on accessibility and the arts. It also acknowledges the role of the media in promoting an inclusive society, where disability and mental health and wellbeing are part of a diverse, creative society.
Arts and books coverage
Dionne joined The New Zealand Herald in January 2016 and says she usually has three to four pages a week for arts coverage and two pages for books coverage.
"I have a lot of editorial freedom, and I do all the planning and story placement on these pages. I like strong New Zealand content about what's on and profiles of New Zealand artists across all fields and backgrounds."
Since starting at the Herald, Dionne has written stories about Arts in Corrections; Tim Bray Theatre's programme for vision impaired theatre-goers; the programmes run by the Department of Corrections; a profile of blind, best-selling comic book writer and artist Richard Fairgray; and the launch of Auckland Council's Arts and Culture Strategic Action Plan, designed to make arts and culture a part of the everyday lives of all Aucklanders.
In addition, she tries to get more coverage of the arts in the news pages throughout the week and says the news team is "super-supportive" of this.